Going For Gold Also In HFN This Month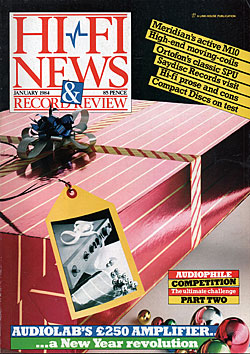 Also In HFN This Month In 1984
AUTOMATED BROADCASTING
Robert Follis reports from Tokyo on a radio station that can dispense with live broadcasters.
HI-FI WRITERS – PROSE & CONS
John Seabury examines what readers want from reviewers.
BEETHOVEN, BLUES and BARREL ORGANS
Peter Turner looks at the work of British enthusiast record company Saydisc.
BRYDEN THOMSON
The Scottish conductor in discussion with Andrew Keener.
DIGITAL PROCESSOR
Martin Colloms passes a critical glance over Sony's PCM 701ES.
FOUR HIGH-END MOVING-COILS
Martin Colloms auditions the van den Hul (EMT) MC-1, Kiseki Purple Heart, Audio-Technica AT37E and Koetsu Red.
AFFORDABLE AUDIOPHILE AMP
Martin Colloms reviews the new Audiolab 8000A amplifier and, along with Paul Messenger, talks to its designers Derek Scotland and Philip Swift.
DRIVING THE M10
Alvin Gold takes a listen to Meridian's awesome top-line active loudspeaker.