Focal Chora 826 Loudspeaker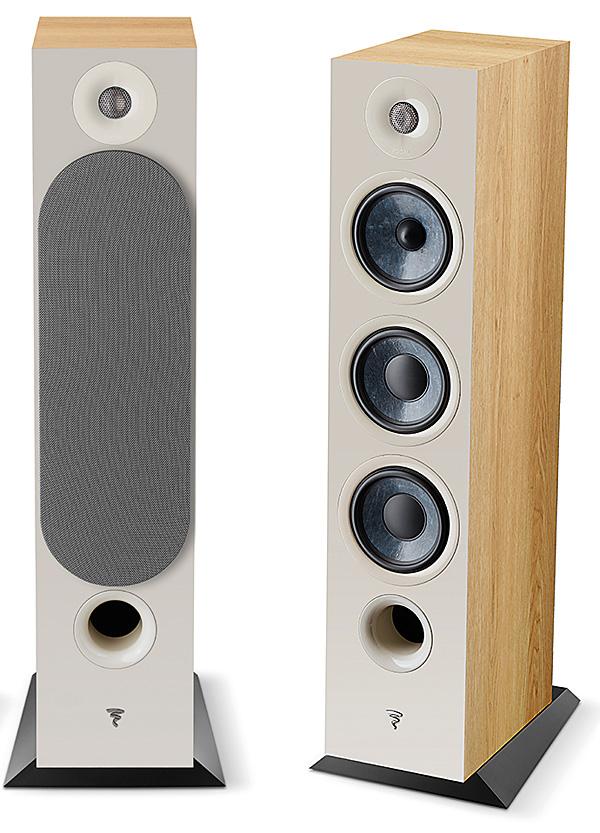 As Focal replaces its Chorus range of high-value speakers with a new Chora lineup, we test the flagship floorstander
Time waits for no one – especially if you're a speaker manufacturer. Focal knows this, and will regularly refresh its ranges to maintain its competitiveness. That said, the popular entry-level Chorus lineup [HFN Jun '08] has held sway for longer and only now is it superseded by the high-value Chora range.
As is typical of the huge Saint-Étienne, France-based manufacturer, the Chora speakers come in sizes to suit everyone. The compact Chora 806 standmount costs just £599, the petite 816 floorstander is £1099 and the not-inconsiderably proportioned Chora 826 reviewed here is £1299. Clearly, the prices have been pared down and size has been pushed up. Indeed the Chora 826 is seriously capacious for the money, and at 1053x303x388mm (hwd) and 22kg it certainly has the look and feel of a substantially more expensive speaker. 'High perceived value' from a 'sleek, modern design' is how the company's product sheet describes it.
Fun With Fibres
It's not just about cabinet size, though. The Chora range also introduces the company's new 'Slatefiber' cone material, which is claimed to be light, stiff and well damped all at the same time. The Chora 826 sports twin 165mm Slatefiber woofers and these hand over to the single 165mm Slatefiber midrange driver at 270Hz. This runs up to 2.7kHz where the 25mm aluminium/magnesium alloy inverted dome tweeter takes over.
Unusually this tweeter is concave rather than convex, which is said by the company to make it less directional. What's more, the suspension between the dome and its bracket incorporates Poron, a material having a property Focal describes as 'shape memory'. The arrangement has been derived from the beryllium tweeter employed in its premium Utopia range, which was first launched in 1995, and is employed to reduce distortion.
Matters Of Style
Each of these four drivers is inset neatly into the front baffle, with concealed mountings. At the bottom of the speaker's frontal plane is a largish bass reflex port that's claimed to be specially profiled for maximum efficiency. Meanwhile, the supplied grille affixes magnetically over the bass and midrange drivers only, leaving the tweeter exposed. This minimises the grille's potential effect on high frequencies while bringing a more elegant look to the speaker as a whole.

The cabinet – as you might well expect at this price – is not the most solid in absolute terms. For example, the time-honoured knuckle-wrap test produces a sound that suggests it's a structure considerably less thick and well damped than the pricier Focal Aria 948 [HFN Aug '15] that I reviewed several years back. Having said that, the cabinet here can certainly show some rivals at this price point a clean pair of heels when it comes to its perceived sturdiness.
Like its stablemates, the Chora 826 comes in a choice of what the company perhaps somewhat pretentiously calls 'on-trend colours', which encompass black, light wood and dark wood finishes. The vinyl wrap of the black version supplied was done to a high standard, but some rivals offer piano gloss at this price, which to these eyes, at least, is nicer still.
At the bottom of each cabinet is a substantial base that is tilted upwards, says Focal, to aid time alignment. This bolts into the base of the speaker and itself holds four carpet-piercing spikes, also supplied. To the rear of the cabinet can be found a pair of inset single-wire binding posts, designed to take cables terminated with banana plugs or spades, or which have bare wires.
I found this loudspeaker extremely easy to set up, aside from the hassle of wrestling it out of the big packing carton in which it arrived; indeed the instruction manual stipulates that it's a two-man lift. Once unpacked it is a case of experimenting with positioning and then – once in the sweet spot – adding the spikes. In my listening room, it worked well when located just 30cm from the rear boundary wall and slightly toed-in.

Thrill Seeker
At this price, no large floorstanding speaker is ever going to be the world's most transparent sounding, and so it proves with the Chora 826. However, Focal's design team makes up for this by ramping up the thrill factor. The result is a fulsome, impactful and expansive-sounding speaker, one that boasts a sizeable sound that's fast and feisty but which neither seeks nor wins any prizes for neutrality. Rather, the retail proposition here is of a larger and punchier loudspeaker than you would anticipate for this kind of money.