Emotiva XPA HC-1 Power Amplifier Page 2
With my pair partnered with Emotiva's XSP-1 preamp [
HFN
Oct '18], I was eager to hear Led Zeppelin's 'Kashmir' [Physical Graffiti; Swan Song 8122795795], a track with a lumbering, relentless rhythm that I imagined would suit the amps down to the ground. And even with the phaser effect given to John Bonham's drums robbing his snare hits of ultimate attack, his drumming still sounded forthright and metronomic, an ever-present accompaniment to Robert Plant's mystic lyrics and the stop-start instrumentation. The string chords that prelude Plant's 'Oh, I've been flying' were particularly well-handled, being both weighty and incisive.

A genre classic 'Kashmir' may be, but I felt the XPA HC-1s yielded a more impressive performance with music fuller in tone, faster in tempo and more straightforward in production. 'SOS', from Take That's surprisingly dance-centric Progress album [Polydor 274 847-4], thundered along with the HC-1s in the driving seat. Quick-fire and bass-rich, there was a real sense that every last drop was being squeezed out and with none of the various musical elements swallowed up by the pounding – but never flabby – bass.
Double Bass
Switching to the sheer energy of Moving Fusion's drum and bass epic 'Turbulence' [Drum And Bass Arena; Warner Dance WSMCD160], the result was the same. While the track starts calmly enough, a swirling tapestry of electronic beeps and whirrs above crisply delivered percussion, it then explodes into life when the thick, roiling bassline enters the fray. Here the XPA HC-1s snapped into action, gripping tightly on to the fluid low-end and following it through its peaks and troughs. My speakers seemed to double in size…
The XPA HC-1s steer clear of excessive warmth or brightness, but might be considered a little dry in their pursuit of sonic neutrality. So, those seeking a warming hug from their stereo set-up may want to seek out speakers with a more full-bodied approach. Nor does the sound have the assured smoothness and power of some pricier amplifiers.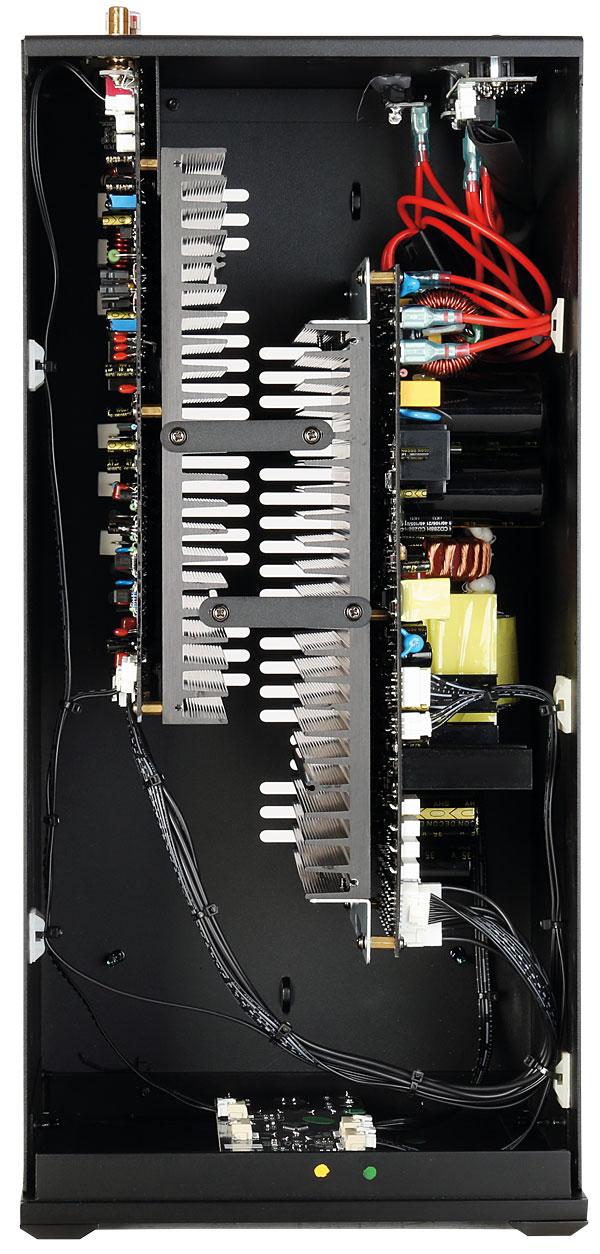 Tidal Wave
Still, it's the ability to impart bass weight and slam that marks the XPA HC1 out from less powerful amplification, and this encouraged me to frequently step upwards on the XSP-1's volume ladder. There's tangible power here and you'll want to use it, because at lower listening levels the XPA HC-1s' star attractions – their dynamism and scale – are dimmed. 'Too Young To Know' by UFO [Phenomenon; Chrysalis 50999 5 04440 2 1] bounced along amiably enough at a family-friendly volume, but gained a fizzing energy and midrange crunch when the amps were given a push.
Happily, these amplifiers are just as adept with music that seeks to stir emotions through orchestral swells and charismatic crescendos. John Williams' 'Theme From Jurassic Park' [Tidal Hi-Fi] may have no driving rhythm behind it, but its melody hit like a tidal wave made from string, brass and wind instruments, while the soaring violins and diving cello of Max Richter's 'On The Nature Of Daylight' [The Blue Notebooks; 130701, CD13-04] had me breaking out in goosebumps. Value these amplifiers for their muscularity, but don't discount their musicality too.
Hi-Fi News Verdict
Emotiva's simple-to-install Class H monoblock amplifier proves consistently entertaining and easily outshines its budget price tag. An impressive performer combining a lust for the low-end with dynamic ability, it will tempt audiophiles looking to take their 'separates' adventure to another level without breaking the bank. There's not much about the XPA HC-1's aesthetics to charm you, but its sound surely will.