DeVore Fidelity O/baby Loudspeaker Page 2
There is something else to consider if you're tempted by the O/93 but need to look to the O/baby, which is that it's measurably less sensitive than the O/93. To give you some point of reference, the numeric display on my ARC REF 6SE/75SE pre/power amp [
HFN
Jan '21] read '45-60' with the O/baby but only '30-35' with O/93 for the same in-room levels.
Shock And Awe
According to the factory specification, there is only a 3dB difference, 90dB for the O/baby vs 93dB for the O/93 but do refer to PM's independent findings for the exact differences in sensitivity and behaviour in practice. Admittedly, the display on my preamp is an arbitrary scale and not a measure of actual SPLs from the loudspeakers, but it certainly provided a visual indication that for a given output the O/baby needed quite a bit more power than did the O/93.
What was immediately apparent, after a few weeks listening solely to LS3/5As for our recent round-up [HFN Jun '23], was that the midband and the soundstage of the O/baby were giving me exactly what I love – no, make that worship – in the aforementioned BBC miniature. It was so instantaneous that I was rendered speechless (literally, not figuratively) such was the shock of the O/baby's initial burst.
At the time, I was comparing an early UK stereo pressing of Cream's Disraeli Gears [Reaction 594 003] with the mono, half-speed mastered 2016 reissue [Reaction/Universal ARHSLP001]. It was just a spontaneous case of pulling out both LPs at once. Neither are exactly audiophile-grade recordings, but the O/baby was so revealing, the space it fashioned so cavernous, that even with the mono mix of the recording I could hear into the performance to discover microscopic details. Cream's second album is no Casino Royale, but never have I heard 'Sunshine Of Your Love' with such scale, such grandiosity.
Piano Lessons
They exposed another O/baby talent, that of being the perfect tool for comparing pressings. This was repeated with a suspect, iffy copy of The Beatles' Abbey Road [no label or catalogue number, hence the mystery]. No amount of cleaning removed the ticks. Hmm… if this is a pirate, wow! The wee DeVores got the drumming so right that I could barely contain myself during the break in 'Carry That Weight'. Did I crave the larger O-models for even more of the experience? No more than drinking Le Difese makes me dream of Sassicaia: I have learned to accept what I have in context, be it price, size, or type of technology. The O/baby had rendered a noisy, possibly unkosher pressing of a familiar album not only more involving, but less of a challenge to endure.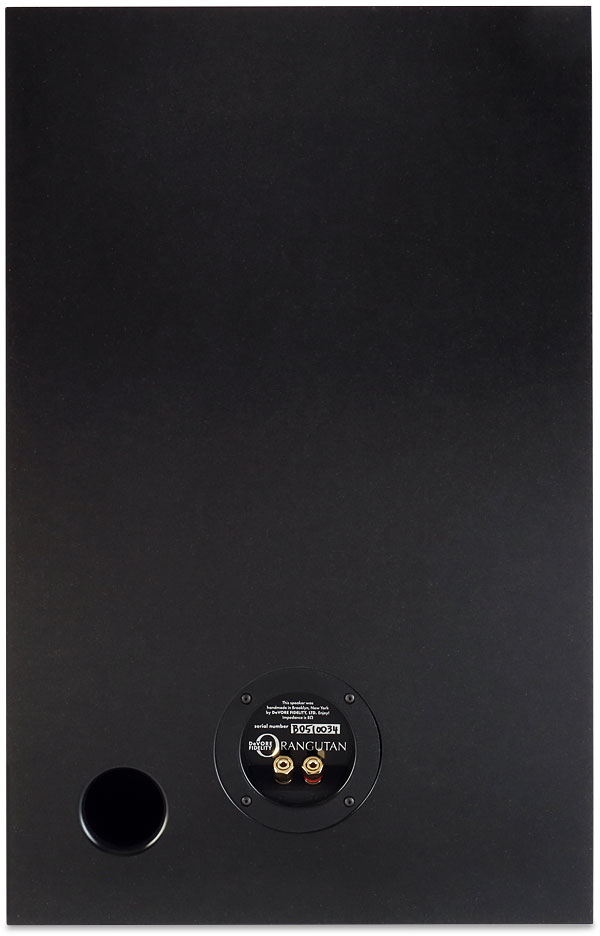 Dealing with such extremes, it was only natural that I also turned to recordings as good as I have ever experienced. I put on Roger Williams' Academy Award Winners [Kapp KTL4082, open-reel tape], his piano readings of 'Gigi', 'Days Of Wine And Roses' and other film score classics, with the backing of a large orchestra. Oh, baby…
When a loudspeaker this size places a grand piano in my room, something magical is happening. The dimensions were so lifelike that I was hearing layers of sound above and outside the edges of the O/babies. It almost goes without saying that the piano appeared as lifelike as the real one that sits 14in from my writing desk.
Boxing Hero
What rattled me is that the O/baby is not some 6ft tall megalith with ten drivers or exotic tweeters. Of those you expect such generous soundstage dimensions. Instead, the O/baby is the very antithesis of what now defines high-end speakers. A ported box. A simple crossover. Two conventional drive units. And yet what it did with George Beverly Shea's Christmas Hymns [RCA FTP-1031, open reel tape], a 1961 'shaded dog' era recording with a vocalist who sounded like Tennessee Ernie Ford, was to have me enraptured by 'Silent Night'. In June. And I am not even a Christian.
Then came Martin Denny's Hawaii [Liberty STL-7488C, open reel tape], music reinterpreted from the film, including 'Sukiyaki' aka Kyu Sakamoto's 'Ue O Muite' with astounding percussion to match Ringo's work on Abbey Road, above. But the coup de grace? The opening salvos of The Eagles' The Long Run [Mobile Fidelity UDSACD2234 SACD], where you could hear the stretching of the skins on the drums.
DeVore's O/baby is, as far as my 53 years as an audiophile and 43 as a devotee of the LS3/5A allow me to judge, exactly what has been eluding me. Not only does it let me indulge in all of the virtues of that tiny BBC monitor (which maintains its supremacy for its size), but with lower octave reach and maximum levels needed either to fill a large room or simply to satisfy a taste for either deeper bass or more SPLs.
Trojan Horse
Most specifically, the O/baby replicates the imaging and midband vocal reproduction that characterises the LS3/5A and which I have never truly found until now in a larger system, irrespective of the bonuses of added bass or greater playback levels. So I will leave you with an analogy, as hackneyed as any but the only one I can muster: imagine your favourite car, then double the horsepower. This is no baby. It's a giant.
Hi-Fi News Verdict
Only four speakers ever brought me to tears: Apogee's Scintilla, the Wilson Sasha DAW, LS3/5As and now DeVore's O/baby. I'm not suggesting what I heard can be duplicated even if one assembled the exact same system, as I bow to the synergy with my room. What is telling is that I spent seven straight hours in there just for the first session, transfixed. For size, if not price, these have no rivals I can name.