D'Agostino Progression Integrated Integrated Amplifier Page 2
At this point, though, I must state that I was mainly interested in the unit's line-level performance, both single-ended and balanced, because I can control and depend on the sources. Hence my feeding of the review sample with assorted CD players and DACs, and two phono stages to compare with the phono board.

Simply Irresistible
Although the main speakers used for this review were Wilson Audio Sasha DAWs [HFN Mar '19], I couldn't resist listening to the Progression Integrated through the diminutive Falcon Acoustics LS3/5As [HFN Jan '19]. I was almost afraid to hook them up to this amplifier, because their power handling is – how do I put this? – their Achilles' Heel. Fortunately, the amp's rotary has a lot of travel when you adjust the levels for a precise setting, so I didn't sacrifice tweeters or woofers.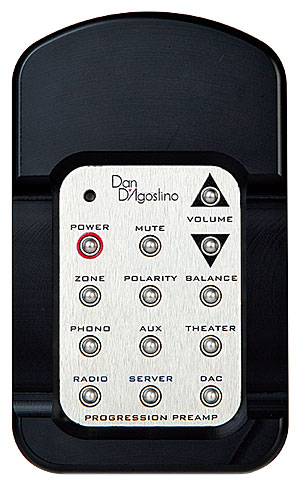 And I am glad I tried this unlikely pairing, because the Falcons sang when fed from the Progression Integrated. The first track I played was the 12in single of Aretha Franklin's 'Respect' [Atlantic 5046727630], wanting to hear a song I knew intimately, which would exploit the LS3/5A's raison d'être: the reproduction of voice.
Here I made two instant discoveries. The first is that the phono stage is, in short, superb, and will prove irresistible to those who favour a warm, almost valve-y sound. The second is that the Progression Integrated tempers the usual D'Agostino traits of authoritarian, you-will-sit-still-and-behave presentation with a more relaxed feel. It's almost as if someone fed Dan a couple of Mogadons.
Not that 'Respect' is about dozing off. The impact of the sax solo, following Aretha's powerful pipes, was indicative of the amplifier's speed and power, even if the overall level-related thrills were by necessity reined in by a small two-way monitor that could never exploit this Progression's abundant wattage. Detail was exceptional, with nuances like the backing vocalists' 'Whoops' enjoying their own spaces behind the Queen of Soul.
Rock God
Connecting the Wilson Sasha DAWs, I cranked it up. Oh, does this amp rock! Confusingly, however, it did so with an air of civility, which is not quite what you expect during moments of head-banging excess. I realise that those two qualities seem mutually exclusive, but not here. Ordinarily, 'politeness' is a compliment for, say, chamber music, but it's an affront for sweaty soul music, heavy metal or even disco. But the Progression Integrated amplifier does the D'Agostino shtick without ever seeming overpowering.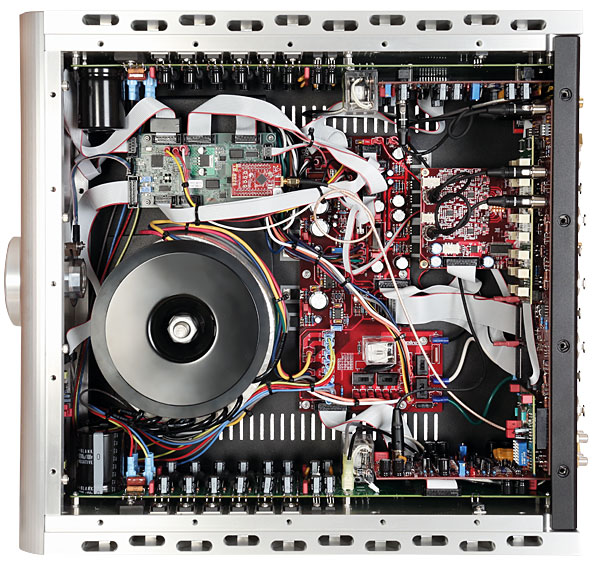 As my Otari MX5050 open-reel is balanced-output-only, it was perfect for listening to Chasing The Dragon's sampler on ½-track, 15ips tape. This has no catalogue number, but the selection is mainly classical, including a superb version of Mouret's Rondeau, a brass performance that exploited the Progression Integrated's speed, attack and undeniably dazzling command of transients. The clarity alone was enough to endear this to veteran D'Agostino fans, but even more impressive were the openness and the soundstaging – specialties of the tape label.
Full Fat
Because such tapes seem to make everything sound better than it should, I turned to CDs to counter any unfair advantages open-reel bestowed upon the Progression Integrated. The Band [Capitol/Universal UICY-40185] is one of those Ultimate HQ/MQA discs that you have to import from Japan at great cost, but they sound so good that they're hard to resist.
Via the Progression, Levon Helm's drumming sounded perfectly fat and thwack-y throughout, while the nasality of the vocals on 'Up On Cripple Creek' had a realism that almost matched the vinyl from the 50th anniversary reissue.
While the Momentum Stereo still offers a perceptible, added measure of control and extension, the Progression Integrated isn't far behind. It is, for so many reasons, arguably no less rewarding, in the hoped-for manner of a less-expensive model relative to a dearer unit in a catalogue. Which is as it should be.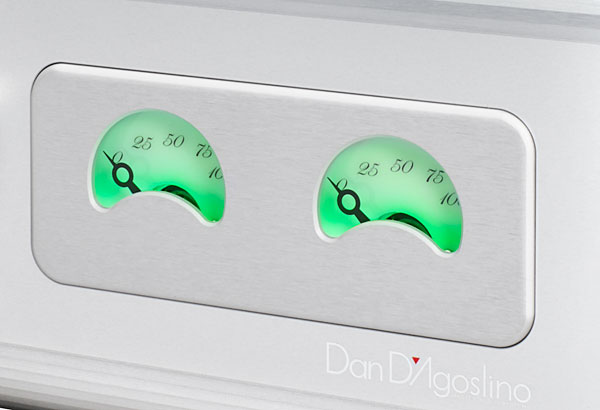 Running them side by side, the Progression Integrated's amplifier section is undoubtedly less bold, less forceful than the costlier Momentum Stereo. But the differences were so minute as to cause a bit of head scratching. I had to keep reminding myself of the Law of Diminishing Returns, acknowledging that the Progression customer is not the same as the Momentum client.
It was the subtlety of George Benson's guitar work on The Other Side Of Abbey Road [A&M Records 82839 3028 2] that showed how two amplifiers from the same designer can sound different, yet share common ground.
Sorry about this, folks, but an analogy from the world of wine best illustrates this: the Progression Integrated is to the Momentum what 'second growth' wines are to Premier Cru. For someone like me, who can't afford £800-a-bottle reds, there are, blessedly, plenty of astounding second growths. So, for you teetotallers: the Progression Integrated is to the Momentum what Le Volte is to Ornellaia. And that spells 'Bargain'.
Hi-Fi News Verdict
Like I said, put preconceptions to one side: I expected a brutal, commanding martinet of an amplifier, yet the D'Agostino Progression Integrated proved to be as listenable as my preferred valve alternatives. Free of fatigue-inducing nasties up top, and with rich and warm lower registers, it's a component that will win hearts as much for its jewel-like form as it will for the performance. A Momentum for the masses!