Copland CSA150 Integrated Amplifier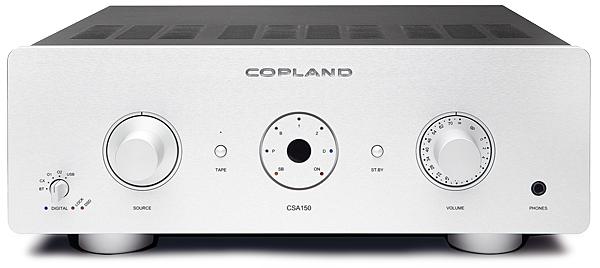 Danish brand Copland beefs-up the power supply to its all-singing, all-dancing CSA100, crowning its range of tube hybrid integrated amplifiers with this heavyweight model
Not long into my audition of Copland's CSA150, I began to feel a little annoyed that, at some point, I'd have to unplug it and send it back. Reviewer remorse isn't quite as galling as buyer remorse, but it is still 'a thing', and this £4988 hybrid tube integrated had given me a bad case of it. Hybrid? Yes, for the CSA150 looks to be an upscaled CSA100 [HFN Aug '20] combining a 6922 double-triode and solid-state FETs in its preamp stage, driving a bipolar transistor amplifier output. Perhaps keen to avoid overselling the benefits of this architecture, Copland warns buyers not to expect 'the warm and nice, coloured charm of some older tube designs'.
This amplifier certainly looks spectacular in the aluminium finish of our sample (black is also offered as an alternative), and operationally it's a pleasure to use. Above all that, it sounds musical, confident and completely unfatiguing which, perhaps, is to be expected from a brand already held in high regard by many audiophiles. The question here, however, is whether the CSA150 represents enough of an upgrade over that aforementioned CSA100, which offers the same broad feature set, a lower claimed power output and, at £3498, a more accessible price tag.
Tubular Sells
Danish manufacturer Copland is a tube specialist. In the past, the company has made devices without valves, including CD players, but look at the current lineup of DACs, preamps, integrateds and power amplifiers and you'll always find a tube somewhere in the mix. I use 'current range' advisedly, as it includes models – such as the CTA405 integrated valve amplifier [HFN Aug '07] – that have now been in production for over a decade.
Copland, then, is clearly a brand that doesn't like to rush things, or follow the hi-fi herd, which explains why the CSA150 has no interest in networking. Yes, for an extra £200 it can be fitted with an aptX Bluetooth module, but I'd imagine more buyers will opt instead for an external network player. Or maybe they won't, as the CSA150 offers plenty on its own.
First and foremost, you get the promise of greater power and better suitability to a range of loudspeakers than the more affordable CSA100. There is a caveat here, for while that model wasn't exactly underpowered in its 100W/8ohm (180W/4ohm) rating and while there's an increase here to a specified 150W/8ohm (230W/4ohm), PM's independent lab tests indicate there's little practical difference in the amps' dynamic power.
With no networking connection, this probably can't be considered a full member of the just-add-speakers club, but it still has the flexibility to perform as a system centrepiece. Analogue sources are handled by balanced XLR and a quartet of RCA inputs (including tape and phono); digital hook-ups are on USB-B (you'll need to download the Amanero driver for Windows PC use), two optical, and one coaxial. There are also pre-out and tape out connections, plus a full-sized headphone socket serviced by Copland's custom preamp.
Lighting The Way
All bar the latter of these connections sit nicely spaced on the amp's back panel below high-quality binding posts [marked as 'inverting speaker polarity', because the amp flips absolute phase – see HFN Aug '20]. There's a little more room here than on the CSA100, the machined aluminium chassis now 164mm rather than 135mm high, but it's still an easy fit on a hi-fi rack.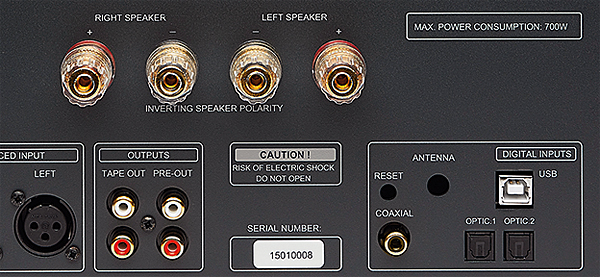 The CSA150's connectivity is identical to that of the CSA100, right down to the absence of an MC stage on the phono input, and the styling is no different either. Like all of Copland's amplifiers, it looks gorgeous, with a symmetrical front panel layout that places large source select and motorised volume controls either side of a central wheel of LEDs. These light up to signify source and standby/on status while a secondary dial switches between digital sources, and an LED lights up when playing DSD files.
Some of the labelling is Lilliputian, but it took me very little time to fall into step with the CSA150's operations – I have experienced amps that entice with LCD displays but manage to be much more unwieldy. A paucity of user options (there are no DAC filters to experiment with here, for example) goes some way to streamlining the process, but Copland should still be applauded for delivering an amp that feels intuitive. The system remote handset is less of a hit as it's also designed for use with the CD players that Copland appears to have stopped making (they're absent from its website). A refresh might be in order!

Character Building
If you want clarity, subtlety and precision from an amplifier, Copland's flagship doesn't disappoint. Unsurprisingly, it packs the punch and drive of a solid-state design, but to deem it 'warm-sounding' would be erroneous even if it certainly leans in that direction. Anyone getting an audition should also be prepared for a smoothness, even a gentility, to the CSA150's presentation. Treble harshness is not a concern, the tuning here favouring silk over sparkle.