Carver M-400 A Cube Also in HFN this month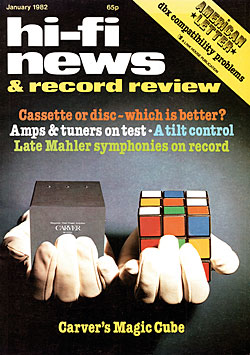 Also in HFN this month in 1982
AMERICAN LETTER
Peter Mitchell on the latest happenings Stateside.
NOVEL TONE CONTROL CIRCUIT
John Bingham offers a simple single-knob 'tilt' design.
CASSETTE VERSUS DISC
Angus McKenzie begins a study of brands and types.
CASSETTE TAPE: part three
J H Hansen completes his survey of brands and types.
THE dbx 'Z' PROBLEM
Peter Mitchell shows how an impedance mismatch can play havoc with noise reduction.
FM RADIO
by Angus McKenzie.
AUDIO PATENTS
Barry Fox brings news of the latest audio patent filings.
GUSTAV MAHLER: THE LATER SYMPHONIES
Edward Seckerson considers the recordings of Nos 5 to 10.
FIVE AMPLIFIER/TUNER CONFIGURATIONS
Gordon King tests and assesses the Dual CV1450/CT1450, JVC AX-7/T-X6L, Pioneer A9/F9, Sansui AU-D5/TU-S5 and Sony TA-AX5/ST-JX5.