Canton Reference 9K Loudspeaker Page 2
Used too close to walls, that yawning bass port might cause some boom: the company suggests a distance of between 20cm and 1m between the rear of the speaker and the wall behind it, and I'd err toward the greater distance for the tightest, cleanest – but still massively impressive – bass. Also, don't forget that slight toe-in to help firm up the stereo image
and tame any over-enthusiastic treble. Canton recommends a five-degree toe-in, but do experiment with slightly more, depending on how the speakers respond in your room. And it's worth a bit of playing with position: get it right, and the Reference 9Ks are capable of remarkably coherent and focused stereo imaging, with an excellent three-dimensionality.
Having come to the Reference 9Ks after a weekend of exposure to the worst vagaries of the high-end at the Munich show, I approached these speakers with just a little trepidation. But I needn't have worried, as within just a few tracks they'd won me over with their mature sound and the completely stress-free listening experience they offered. Designer Frank Göbl describes the aim of the speakers as 'cultivated refinement', and he won't get any argument from me on that score.

Get The Picture
The Reference 9Ks offered a lush, detailed and natural sound with 'Para Bellido' from Dave Arch's True Colours set [Linn CKD 678], with a great combination of bass weight and control, plus lovely instrumental textures and detail. Yes, they do lack a little ultimate weight compared to much bigger speakers, but for price and size there's no sense of anything significant being missing from the music. Soundstage 'pictures' are realistic, deep and focused.
And they can turn on the scale when required, for example with Elton John's Lockdown Sessions [EMICD 2051] cover of 'It's A Sin', slamming out the rhythms and the large-scale production like speakers much larger, but with that tight control one expects from a compact box. This same quality also serves well the filigree detail on the Akademie für Alte Musik Berlin reading of Bach's Brandenburg Concertos [Harmonia Mundi HMM 902686.87].
Confident Cantons
Above all, while these speakers are just so superbly pleasant to listen to, whatever you choose, don't take that to mean they're polite or tempered. I heard them sounding neat but rather menacing with Genesis's 'Carpet Crawlers' [The Last Domino?, Virgin 3542876], before they turned on the orchestral drama with the Vienna Philharmonic/Dudamel recording of Mussorgsky's 'Night On Bald Mountain' [Pictures At An Exhibition, Deutsche Grammophon 479 6297]. Here they revealed the fabulous low bass in the horn, snap and drive in the strings, plus bags of woodwind character. There's nothing small or 'playing out of their skins' here, just weight and confidence, drama and slam.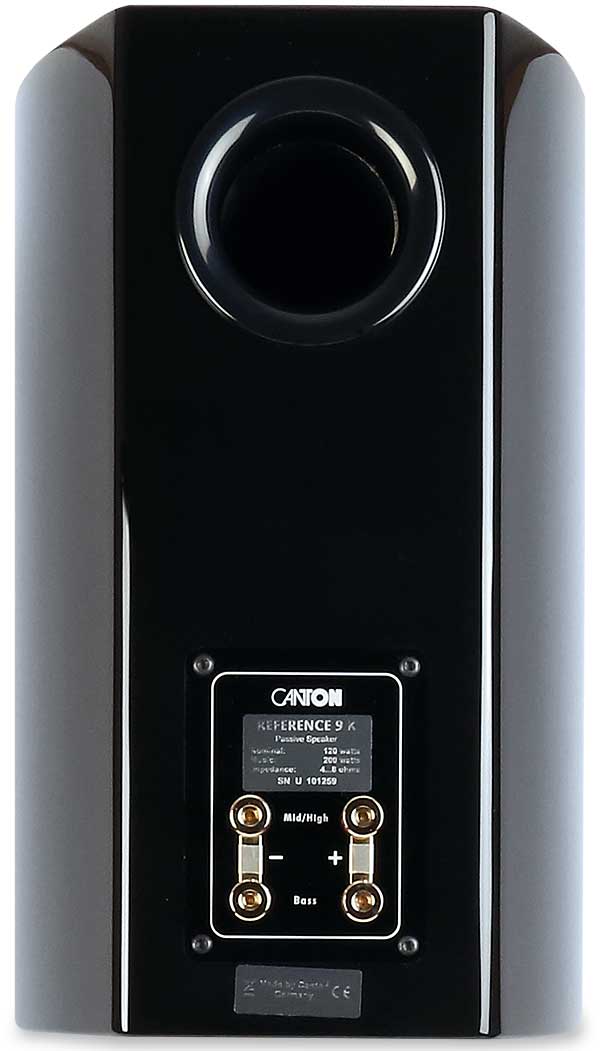 Even the fast picking of Sturgill Simpson's 'Shamrock' [The Ballad Of Dood & Juanita, High Top Mountain Records 36800CD] doesn't catch them out: there's so much presence and 'in the room' feeling, with deep, resonant bass and sharp-edged fiddle. They also attack hard with the 2021 remaster of Be Bop Deluxe's 'Dangerous Stranger' from Drastic Plastic [Esoteric Records PECLEC62745], before delivering a laidback performance of the introspective album closer 'Islands Of The Dead', with Bill Nelson's acoustic and electric guitars superbly focused.
More proof of all-round talent comes in the goodtime boogie of The Faces' 'Too Bad' [A Nod's As Good As A Wink…, Warner Bros. WPCR-13254]. The '9Ks tear through the track, from the fuzzed-up guitar to the acoustics, with Rod Stewart giving it full hoarse attack for just the right pub rock sound. This is a rocker, in top hat and tails…
Hi-Fi News Verdict
Okay, so the little Reference 9K speakers might lack the full impact of huge floorstanders, but they can still shake the room in convincing fashion without any stress, and for all their politeness with the audiophile stuff they can let loose and have a good time when required. If you want a sophisticated, mature and very refined small speaker, but with some serious weight, these are among the best in their class.