Bryston BR-20 Network/DAC Preamp Page 2
An early example of this was Lynyrd Skynyrd's southern-fried cover of Elvis Presley's 'Heartbreak Hotel' [Endangered Species; Capricorn Records, 44.1kHz/16-bit FLAC]. The BR-20 opened-up this fun, loose, three-minute acoustic jam, laying out each element for me to survey and savour, from the ultra-fast picking on an acoustic guitar to big-bottomed bass. The reverberant vocal track sounded wonderfully huge, and the whole thing was carried along by a swinging rhythm.
But it was the dimensionality of the soundstage that got me. The BR-20 placed singer Johnny Van Sant forward of the drums, but still shy of the triple guitar parts, which reached out to my seat. There are occasional piano licks thrown in here too, and the BR-20 had no trouble finding space for them. It was a shut-your-eyes-and-listen performance.

Soaring Highs
Sticking with CD, James Horner's 'Apollo 13 (Main Theme)' [Apollo 13 Original Motion Picture Soundtrack; Geffen/Universal] showed the Lynyrd Skynyrd ditty wasn't a one-off. The BR-20 again presented a deep soundstage, but here it was a massive orchestra of strings, brass and military-style drums. These are harder timbres and textures to pull off, but it did so with an excellent grasp of detail and dynamics. Long-held solitary bugle notes carried an attacking leading edge and gentle decay, followed by insouciant, shimmering strings.
The ringing guitar riffs of AC/DC's 'For Those About To Rock (We Salute You)' [For Those About To Rock; Atlantic], naturally had less panache to them, but laid to bed any fears that this preamp would turn up its nose at such distorted fare. It found the inflections of Angus Young's playing and the gravelly growl of Brian Johnson's vocals. When the solo hits, the track becomes quite cacophonous, but this preamp kept it all in check.
Partner With Power
It's possible that the BR-20's articulate and descriptive disposition might be a little too insightful for some tastes, as it can encourage you to focus on musical details rather than, perhaps, the music itself. Careful consideration of partnering equipment is warranted, as it should be at this price. I ran it through a 300W Bryston 4B3 power amp [HFN Jun '16] and my regular B&W 705 S2 standmounts – this set-up yielded remarkable results, but I can imagine less capable amplification and/or brighter speakers emphasising the BR-20's mid and high detail.
Its transparent nature doesn't come at the detriment of bass response, but anyone hoping for a velvety-rich, warm low end will typically realise a performance that's more about detail and focus. This was apparent with the metallic, digital throbs and forceful beats of The Prodigy's dance track 'Poison' [Music For The Jilted Generation; XL Recordings XLCD 267]. Norah Jones' 'Cold Cold Heart' [Come Away With Me; Parlophone, 192kHz/24-bit] also showcased delicate and airy highs – particularly the vocal and upper register piano – but complemented them with a double-bass that avoided any bloom or coloration, sounding deep without being overrun by the percussion.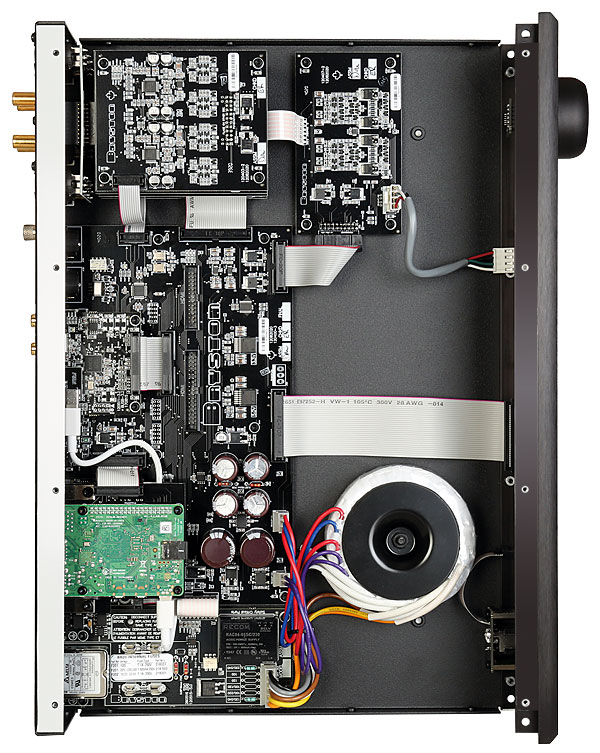 Flying Floyd
So – faithful tone, expressive mid, low-end poise and laser-focused detail – what's not to like? A runout of Pink Floyd's 'Wish You Were Here' [eponymous; EMI, 96kHz/24-bit FLAC] encapsulated this performance, beginning with a quietly skilful presentation of the AM radio-style intro, and then throwing a spotlight on David Gilmour's now-legendary acoustic guitar melody, doing full justice to his repertoire of tight vibrato, pitch-perfect string bends and finger slides.
As you'll probably know, the track continues to grow in stature, and the way it flowed through this digital diva was a total pleasure. I wish you'd been here to hear it...
Hi-Fi News Verdict
DAC, network streamer and preamplifier combined, Bryston's BR-20 certainly gives you a lot for its ticket price. In an ideal world there'd be a bit more refinement to both its physical appearance and control platform, but it's an astonishing performer able to dig deep into the detail and nuance of tracks across all genres and sampling rates. Lace up to a potent balanced power amp and enjoy the show!