Brinkmann Spyder turntable Page 2
The Brinkmann Spyder is neither of these, treading a carefully judged path between the two extremes to offer a well-rounded, neutral reading of the recording. Indeed, it is very even, measured and detailed, without being in any way a killjoy. In the great analogue scheme of things, that's surely what most people want.
It's always fun to kick off the auditioning period with a particularly poor recording, and so it was that my well-campaigned pressing of 10cc's How Dare You! [Mercury 9102 501] was deployed – scratches, crackles and all. 'I'm Mandy, Fly Me' proved an unexpected treat via my reference Lyra Dorian MC, delivering a powerful sound that had something of a master-tape feel to it. So while the Spyder takes a tempered view of what it's being asked to play, it's still clearly detailed enough to capture the recording's natural energy.
There's a surprising amount of dynamic scale to its sound that is notably less compressed than with other decks. When the music gets loud, the Spyder happily conveys this without breaking into a sweat, yet it can eke its way deep down into the spaces between the notes to capture the subtleties of the music. This is an authoritative-sounding turntable that takes everything effortlessly in its stride.
A Fog Clears...
The Spyder has great technical ability: it is an extremely stable-sounding device, devoid of the speed issues that plague lesser turntables. This brings great focus to the sound, which lets it excavate masses of low-level detail. Things snap into place and one feels like the fog has lifted from the recording. The effect is clear everywhere, from its deep, extended bass – which starts and stops snappily – to the treble, which is finely etched, spacious and crisp.
In the midband you find yourself fixating on the beauty of vocal harmonies, for example, or the purity of aggressively struck steel guitar strings. Cue up a classic rock track like Kate Bush's 'Babooshka' [Never For Ever; EMI EMA 794] and you're greeted with an impressively deft rendition of those opening arpeggios with their stinging attack transients – which lesser turntables invariably slur. Only a few select direct-drive turntables do better on this particular song, which is really saying something.
Scale And Stature
Indeed the Spyder is devoid of any nasties that distract the listener – disc surface noise seems very low, the deck's 'drive train' keeps vanishingly quiet and the tonearm tracks most securely. Another enjoyable aspect of its character is its particularly fine soundstaging.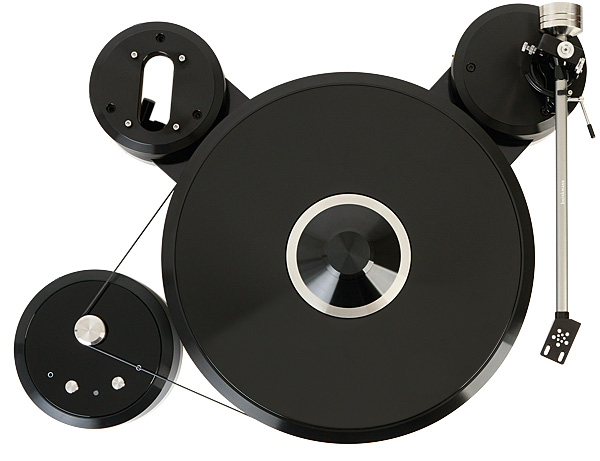 For example, Steely Dan's classic 'Rikki Don't Lose That Number' [Greatest Hits; ABC Records AK-1107/2] almost seemed as if it had been electronically enhanced. What is a good but pretty unremarkable recording suddenly assumed a scale and stature that I rarely hear, pushing far left and right, with excellent depth perspective too.
It was as if the studio had somehow been magically beamed into my listening room, giving an almost ethereal quality thanks to all that space around the various instruments in the mix. This meant I could easily discern each individual player, and enjoy hearing every one of the talented session musicians playing along with one another in a sympathetic and organic way. Everything was located accurately inside the soundstage, staying 'nailed down to the floor' even on dynamic crescendos.
A Subtle Lilt
The Brinkmann Spyder's superb soundstaging certainly made Handel's Messiah [Dunedin Consort & Players; Linn Records CKH 312] a delight, but there was more to it than that. It's perfectly possible to have technically adept turntables that still end up making the music sound rather uninteresting, but the Spyder is not one of them.
Although one would never say it was emotionally exuberant, it boasts a pleasing wholesomeness as the rhythmic aspects of the music are pieced together in a clear and enjoyable way. On this excellent recording, the Spyder proved able to let the orchestra breathe, serving up a subtle, lilting quality. Even on big crescendos it remained calm and collected at all times. Overall then, it's a pretty flawless performer.
Hi-Fi News Verdict
In the great scheme of high-end turntables, Brinkmann's Spyder is a redoubtable device. It offers rhythmic ease, great clarity, a smooth tonal balance and expansive soundstaging – making it a highly enjoyable listen. Factor in its excellent finish, flexible design and overall engineering, and even at this price it is fine value. Those fortunate enough to aspire to such a thing should consider it an essential audition.