Boulder 866 Integrated Amplifier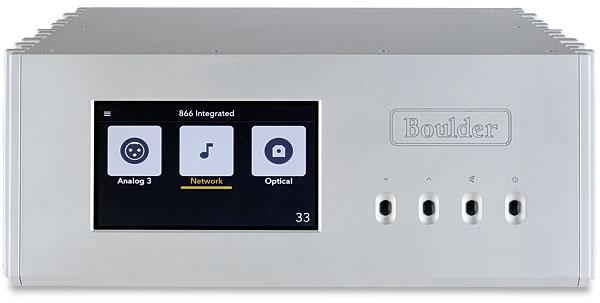 Boulder by name and industrial design, the 866 integrated is no mere rolling stone. With optional streaming and huge power under the bonnet, it's an unstoppable force
The Boulder story begins in 1984, with the release of the 500 Power Amplifier. A professional audio company back then, Boulder's stereo model was destined for music studios and broadcast suites, but founder Jeff Nelson soon realised the hardware had domestic potential too, resulting in the 500AE 'audiophile edition'. Today, nearly 40 years and an expanded product portfolio later, the Colorado-based manufacturer remains a darling of the high-end hi-fi scene, albeit one whose designs still have a 'pro audio' air about them.
So too does the company's ethos. Boulder's hardware appears built to last – right down to engraving, rather than printing, the logos and text onto its milled aluminium chassis – and it's not one to respond to every trend shift with a new release. A case in point is the 866 reviewed here which replaces Boulder's 865, the marque's first integrated amplifier, launched way back in 2007.
Tantalising Option
The 865 was, says Boulder, expected 'to find a niche in places where space or budget prohibited the use of separate products', and this idea continues in its replacement. The 866, at 44cm wide and 19cm high, is reasonably compact, and the base price of £13,499 can be considered affordable next to, for example, Boulder's £165,000 3060 stereo power amp, or its 1110/1160 pre/power duo [HFN Sep '21], which sells for £52,500.
There's a choice of 866, too: analogue-only, or a £15,999 model, tested here, fitted with Boulder's digital/network module. That price difference is surely small enough to make the all-singing, all-dancing 866 the more tantalising option, but it's good to see Boulder accommodating those who've already invested in a separate digital front-end – perhaps its own 812 DAC/preamp/headphone amp.
The extra connections of the digital 866 are found on the centre of the backplate, and consist of AES, optical, Ethernet and a quartet of USB ports, which are all USB-A for use with (self-powered) storage devices. These inputs feed dual-mono AD1955A-based DAC stages and 'proprietary software and DSP to optimise the data', including up/oversampling. There's also integrated Wi-Fi, plus Roon and Apple AirPlay compatibility, and even Bluetooth, although the latter isn't mentioned anywhere in the 866's manual – dig into the input settings and you'll find it there. UPnP playback is also supported.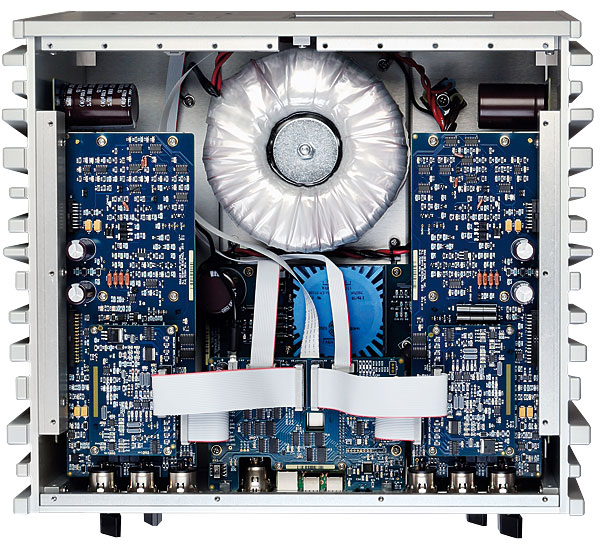 For the 866's three analogue inputs, Boulder, as usual, favours balanced XLR connections, leaving those with unbalanced sources dependent on adapter cables, while thumbscrew speaker terminals are chiefly designed for spade terminations. Add in the absence of USB-B for computer audio, and any line/preamp outputs, and it becomes clear this integrated is intended as something of an 'island' for compact, high-end systems.
Meet The Panel
Just as the 866's connections might be viewed as a little unconventional, so are the methods of control. For one thing, there's no physical remote – out-of-the-box operation is instead via front panel interface/buttons or Boulder's own app, which is available for both iOS and Android devices. However, a generic RF handset costing £15 can be added as an optional extra, the necessary receiver being a small USB dongle that sits in one of the 866's inputs.
The new display is rather slick. Once the amp is powered up – a process that takes longer than you might expect – it shows a homescreen with large, clear icons for inputs, the selected one highlighted yellow. It's a touchscreen too, so left/right swipes bring more of the inputs into view (music played via the Network input is accompanied by album art/track info), and a press of the 'menu' icon top-left opens up the amp's various settings options, although these are more easily adjusted using the Boulder Controller app.
Boulder rates the 866's output at 2x200W/8ohm (2x400W/4ohm), via a balanced, dual mono architecture supplied by separate windings on a substantial toroidal power supply unit. As such, it's not only more powerful than its 865 predecessor, but is also boosted by upgrades to the protection circuitry, signal path and ground techniques, and more. And as with all its hardware, the company is keen to stress that every aspect of assembly is completed in-house.