BAT VK-3500 Integrated Amplifier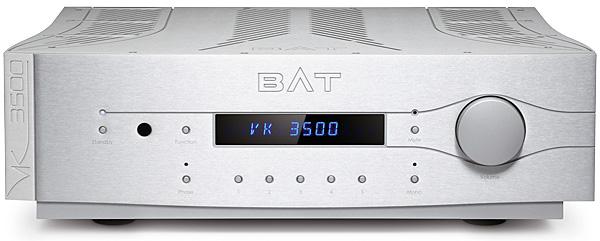 Promising 'extraordinary power with exquisite tube finesse' BAT's new VK-3500 integrated marries the brand's REX 3 triode preamp with a robust solid-state output
Please indulge me while I discuss the design of BAT's (Balanced Audio Technology) VK-3500 amplifier. Beauty is in the eye of the beholder, and all that, but I'd be surprised to find anyone who didn't admire the styling of this hybrid integrated. Even without the 'BAT' logo conjuring images of Gotham City's caped crusader, it has a purposeful, high-quality look and feel. There's an argument that the appearance of a hi-fi product is unimportant, but at this price you expect some attention to detail and craftsmanship – and that's what you get. Of the silver and black finish options, the latter is the obvious choice if you really want to emphasise the Dark Knight vibe…
But on to the amplifier itself. Arriving this year as part of a wave of products celebrating BAT's 25th anniversary, the £11,995 VK-3500 replaces the outgoing VK-3000SE (launched in 2014) and is once again the only hybrid model in the Wilmington, Delaware company's stable. The claimed 150W/8ohm power output matches BAT's solid-state VK-255SE power amp, and comfortably exceeds the specification of its all-tube power amps and integrateds.
Sum Of Its Parts
Read through BAT's literature and you get a sense that the VK-3500 isn't just a hybrid design, but something of a Frankenstein's monster, comprising tried-and-trusted technologies, including the 'zero global feedback' appellation, from its wider range. Even the etched styling is borrowed from the marque's flagship REX 3 components.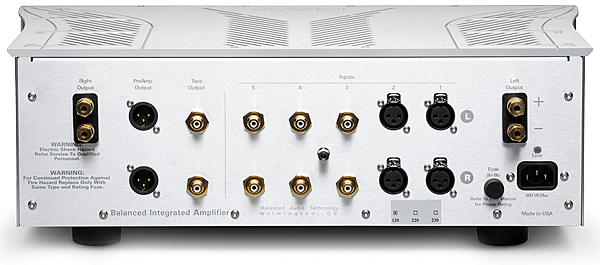 BAT has called upon the 'Unistage' topology of its flagship REX hardware – a single-gain/single-stage 6H30 triode circuit – and married it here with a 'wide bandwidth' complementary bipolar output stage derived from its reference VK-6200 power amp. Also previously featured in the company's products are the Mundorf silver/gold oil capacitors used in the preamp circuit that are claimed to offer better damping of 'ringing artefacts'.
For the VK-3500's asking price, you might expect an integrated amplifier with a lengthy feature list and connections roster. Yet BAT isn't a brand with an interest in all-in-one hi-fi convenience or networked audio, and the VK-3500 is a strictly analogue design. Therefore, the back view is uncluttered. Located between its sets of gold-plated speaker binding posts are two balanced XLR inputs and three single-ended RCA inputs, joined by a balanced preamp output for direct or second zone use, plus an RCA tape loop.
The only concession made to further decluttering a hi-fi rack is the inclusion of an MM/MC phono stage (designed by company co-founder Victor Khomenko) to the VK-3500's third 'line' input. Note that this is fitted as standard, but was originally proposed as an optional extra – as such, the input (No5) isn't in any way labelled. And if you wish to switch the phono module between its high (58dB) and low (44dB) gain settings it's a lid-off job.
No Shortcuts
I did find BAT's 'simplicity without compromise' strategy coming up slightly short when it came to the in-depth setting-up of the VK-3500. Specifically, the adjustment of some feature parameters relies on using the amp's volume control and text-based front-panel display to scroll through options and make choices. Basic tweaks can be time-consuming, and one option – renaming inputs – is hampered by the display's four-character limit.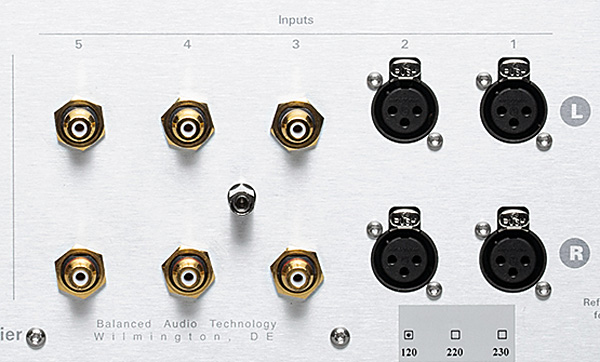 There are useful features, however, particularly the option to adjust the relative volume of individual inputs and apply maximum or fixed gain settings. There are also balance, mono/stereo operation and phase inversion controls. The blue display, which is certainly easy to read, if not particularly informative, can also be dimmed if so desired.
The VK-3500's machined aluminium remote is less handsome than the amplifier itself, and its IR 'window' is quite narrow, so make sure you're aiming it properly. Most of its controls are replicated by small buttons on the amp's front fascia, with the exception of 'fade', which provides a gradual – and pleasing – level up/down alternative to mute.
The amp's 23kg weight is perfectly manageable, but the 483mm width of its jutting face plate might possibly require reconfiguration of your kit shelf, especially if you abide by BAT's recommendation of maintaining six inches of clearance. The amp has internal heatsinks, visible through the chassis sides, and these do a good job of keeping it cool.

Cutting The Mustard
I immediately felt in safe hands with the VK-3500, thanks to a power output that was so obviously up to scratch that I quickly stopped even thinking about it. Paired with my regular B&W 705 S2 standmounts, there was an effortless feeling to how it cajoled them along, making them sound large, exciting and sprightly. Paradigm's triple-woofer Founder 100F floorstanders [HFN Jul '21] ostensibly presented more of a challenge, but again this amplifier didn't seem bothered, driving the loudspeakers without so much of a hint of strain.