Ayre AX-5 Twenty Integrated Amplifier


The Colorado company celebrates its platinum anniversary with a reworked version of a fully balanced integrated that sent the preamp stage packing. Another class act?
Back in 1993, Charles Hansen – the designer and founder of respected US loudspeaker specialist Avalon Acoustics – formed Ayre Acoustics. Over the 25 years that followed, he built up the brand, adding a range of innovative preamps, power amplifiers and integrated designs, all descended from the company's original 'zero-negative feedback' V-1 power amplifier. Bolstering the current lineup are various digital sources, such as the Ayre QX-5 Twenty USB/streaming DAC [HFN Dec '17], phono stages, and head-fi products like the Codex DAC/headphone preamp [HFN Jul '16] – all at prices that indicate they're not aimed at the mass market.
Charles passed away at the end of 2017, but the company, which is based in Boulder, Colorado, was already advanced in its plans to celebrate the brand's illustrious history, having launched the £14,750 AX-5 Twenty integrated amp in 2016 to mark its 20th anniversary. A replacement for the AX-5 [HFN Jun '14], it's an integrated whose size, weight and cosmetics bear all the hallmarks of the American high-end.
Double Act
This is nothing if not a big and chunky product. Measuring 440x120x480mm (whd) it tips the scales at 22kg, which is sufficient to make you not want to keep moving it around once you have it unpacked and in your listening room. The quality of finish is excellent, and even if it does have something of a 'hand made' feel compared with the ultra-slick finishes found on some other premium components, in this case it adds character.

Toting a claimed 125W per channel into 8ohm, and twice that into 4ohm, most people will struggle to find a loudspeaker to stretch it. Indeed this fully discrete, fully balanced, 'zero-feedback' amplifier is something of a wolf in sheep's clothing, packing innovative tech such as a revised version of the Diamond output stage used in the AX-5 – now renamed the 'Double Diamond' and said to run cooler – and EquiLock circuitry. It also employs the Variable Gain Technology found in the Ayre KX-R preamplifier in the power amplifier section.
Fresh out of the box, the AX-5 Twenty needs configuring and won't work until you've assigned names to the inputs. If this stage has been overlooked then the amp automatically starts up in set-up mode. You're asked how many of its six inputs you wish to use, as you run through a procedure that names each one. This makes sense, but only up to a point since the menu of preset names includes some pretty arcane choices. Why, for example, is there both 'CD' and 'CDR', and does anyone use 'DAT' anymore?
Charm School
You can also assign your own names to inputs, but this is a more involved process and there's a maximum of three characters allowed, which in 2020 feels unnecessarily limiting. Also, the fact that the display is an old-fashioned alphanumeric digital type makes this process even more of a chore. Indeed, by modern standards the whole procedure feels clunky, though some might find they warm to its old-school charm!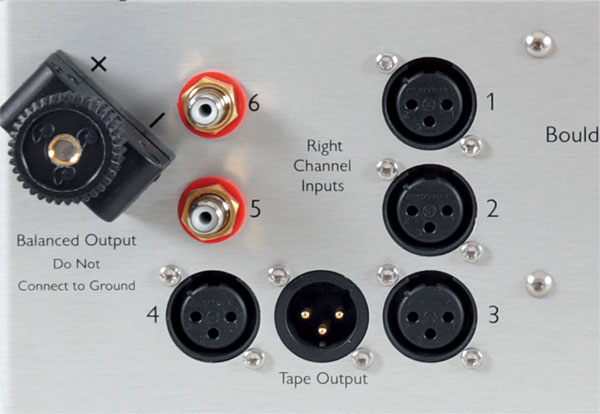 The fascia looks swish, and the knobs for source and stepwise volume have a nice action. Only the big blue LED display looks dated. Its saving grace is that it's large and so can be seen easily across the room. Handily, you can also control its brightness from the partnering, and reassuringly solid remote control. Aside from the two big rotary controls, you get two buttons either side of the display, the left handling tape outputs and set-up, and the right mute and standby – both depending on whether you give the button a short or a long press. As for the power switch, this is to be found on the rear of the amp, along with four balanced and two single-ended line inputs, plus balanced loudspeaker terminals. These are joined by tape outputs on balanced XLR sockets and two AyreLink remote switching ports.

Light Fantastic
There is little sense of the AX-5 Twenty being a 'character amplifier', one that thrusts its personality at the listener. Rather, it's remarkably even-handed and thorough in the way it makes music, never adding colour or stripping recordings of their textures and dynamics. The result is a big, powerful and articulate presentation that shines a light into the recesses of the most complex of mixes yet at the same time never dazzling the listener.