Aurorasound Vida (£2700)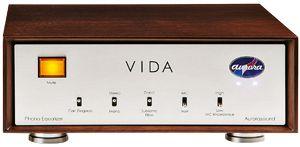 This Japanese slice of analogue exotica is artfully engineered to give an incisive and detailed sound
Its late '60s styling isn't out of place next to, say, a similarly 'period' looking Leben tube amp. Yet peer inside its case and you'll see circuitry that's as modern as the latest Mitsubishi motor car. And you'll spy small, specially made Lundahl chokes on the circuitboard. These permit the use of an innovative LCR RIAA equalisation network. Hence 'the world's first LCR phono stage using discrete semiconductors'.
The fascia sports switchable MC and MM input sensitivities, a high/low impedance selector and a rather large orange backlit mute switch. Other facilities include a stereo/mono selector and a subsonic filter.
Aurorasound says that each switch uses a sealed small-size signal relay for high reliability and stability, and rhodium-plated RCA terminals are employed for low signal loss. Signal paths are short. There's also a useful cartridge degauss function.
The VIDA package actually consists of two boxes – the main unit in a wood sleeved case, and a separate power supply which is housed in an aluminium box. Inside is a toroidal transformer and Schottky barrier diode.
A neutral stance
The Aurasound was tested using Lyra Delos and van den Hul Frog MCs, with a Goldring 2500 used to assess MM performance. The Aurorasound sounds neither forensic nor artificially sweet; what it gives is a very neutral, nuanced view of the music.
Each disc's flavour floods out, the sound remarkably devoid of noise or grain. With a modern techno recording, 'Hazme Sonar' by Morenas, from Ambient House, The Collection [DFC], the track's electronics swelled around the soundstage with voluptuous depth and width.
Although the midband is squeaky-clean, you would never call it sterile. Instead, the VIDA sounds natural and even, and this feeds down to a tight, taut bass whose power is perfectly judged.
In the treble it comes across as bright, open and spacious, yet totally devoid of grain and splash.
The cymbal work on the Chick Corea track 'Return To Forever' [ECM] was a revelation: you could really hear the drummer's subtle phrasing, yet tonally it had a lovely, sophisticated feel. The Fender Rhodes electric piano on this Chick Corea track dripped with rich harmonics just as it should, while saxophones on The Crusaders' 'My Lady' from Street Life [MCA MCF3008], were as raw and reedy as you'll ever hear them at home. The VIDA's sound is 'all of a piece' – with no sense of the music's rhythm being lost in translation.
'Girlfriend In A Coma', from The Smiths' Strangeways Here We Come [Rough Trade], showed that its lovely glass-clear midband is the root of all that's good in this phono stage. Here it offered startling insight into a recording which can sound opaque, fuzzy and two-dimensional.
With the Goldring 2500 MM results remained consistent – that same stadium-sized soundstage again impressed. Cueing up a 45rpm twelve-incher of Gary's Gang's 'Keep On Dancing' [SAM Records] saw the VIDA inciting us to do precisely that… The command it showed of the track's synthesised basslines was remarkable, following every undulation down to seemingly subterranean levels.
Verdict
This quintessentially Japanese slice of analogue exotica is artfully engineered to give an incisive and detailed sound, yet one that's genuinely musical too, providing a wide open window onto the vinyl groove.
Originally published in the 2013 Yearbook