Auralic Aries G2.1 Music Library/Server Page 2
The Aries G2.1 retains other elements of the G2, notably the use of 'dual Femto' clocks ostensibly to reduce jitter – one of which is dedicated to the AES/EBU, coaxial and optical outputs, the other to the USB controller. Meanwhile, dual 'Purer-Power' linear power supplies are employed, one for the processor, display and storage, and the other for the unit's clocks and USB output.

Sure-Footed
The Aries G2.1 was pressed into service with a variety of DACs, using all of its various digital outputs, and while minimal differences were heard with the digital filtering options, as ever the effect of these was subtle enough to be a matter of personal preference rather than the cause for any kind of 'use this one for the best sound' imperative. Indeed, one might find that different settings are favoured for each digital 'source', not to mention for specific recordings, but that way madness lies. I'd suggest some limited initial experimentation is worthwhile to determine the setting best suited to personal taste and the system with which the Aries G2.1 is being used, and then the filter settings can be ignored.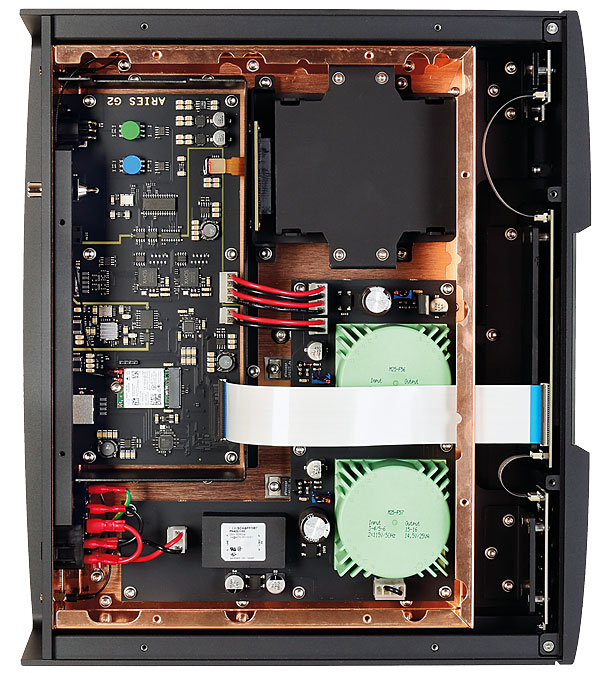 For the majority of my listening, I settled on what might look like a slightly unbalanced system, but one which proved excellent in the role, with the Aries G2.1 feeding an iFi Audio NEO iDSD DAC/headphone amp/preamp [scheduled for HFN Mar '21] into my usual Naim/PMC amplification and speakers. The sound played to the strengths of all the components involved, for while there wasn't quite the drive, focus and taut, extended bass of my usual Naim ND555/555PS DR front-end [HFN Apr '19], it got close. What was beyond doubt was that switching between a computer feeding a DAC and the same converter with the Aries G2.1 in harness revealed that this dedicated 'transporter' was removing a layer or two of haze from the sound, and delivering more sure-footed, weightier bass.
Pure Instinct
Furthermore, this isn't one of those players demanding you only ever listen to the finest of audiophile-approved recordings. Indeed, playing the raucous, riotous Light My Byre by Peat & Diesel [Wee Studio, n/a cat no], the Auralic Aries G2.1 delivers all the snarl of vocalist Callum 'Boydie' Macleod, and the character of his 'turned to the max' guitar. Likewise, the unusual combination of drums and accordion have drive, pace and fine character, even in the dense sound.
The whole effect on tracks such as 'Pirates Of The Hebrides' and 'Kishorn Commandos' is one of stumbling into a killer gig in a pub on a Saturday night and not quite believing what you're hearing.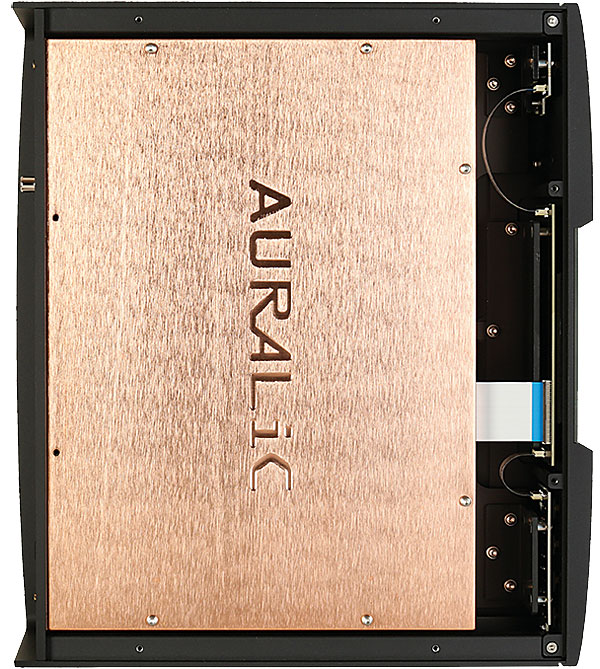 Pull back to the simplicity of cellist Joachim Eijlander's recent Dark Fire set [TRPTK TTK0056; DXD], and the immediate impression is of resolute focus on the instrument, enhanced by an entirely natural sense of space around it. While the lower strings resonate dramatically, the higher registers have a singing purity that's thrillingly lyrical.
That same sense of focus is also much in evidence with James Blake's Covers EP [Republic/Polydor, n/a cat no], with its simple combination of powerful voice and piano in a rich resonant acoustic. The immediacy here delivers on the promise of Blake's cover of Frank Ocean's 'Godspeed', and the multitracked vocals of 'When We're Older' sound magnificent, as does the stripped-back reading of 'The First Time Ever I Saw Your Face'. Lovely stuff.
As, too, is the way everything from streamed Tidal tracks to big orchestral works sound. The Jacob Kellermann/LPO recording of Rodrigo's Concierto de Aranjuez [BIS BIS2485; 96kHz/24-bit] brings familiar music up fresh, and the tightly controlled yet expansive sound the Aries G2.1 allows a DAC to deliver makes this a captivating listen, with a fine balance between the solo guitar and the sprightly orchestra under Christian Karlsen.
Hi-Fi News Verdict
It's always difficult to assign a score to products such as this, when how it sounds is as much a function of the partnering DAC. In this case, it's clear that the Aries G2.1 fulfils its task of letting DACs give of their best and this – plus its wide-ranging format/service compatibility and slick Lightning DS app control – make it worthy of very close consideration for use in any serious network-based audio system.