Audio Research REF160S Tube Power Amplifier Page 2
Anyone who's heard the remastered, 50th anniversary edition of The Beatles' Abbey Road [Apple 02508 00744] knows that opening track, 'Come Together', is an exercise in bass quality, extension and expressiveness. Again, without looking at the colour of the LED to tell me which mode I was in, I wallowed in lower octaves I have never heard from this album. I even dug out an original copy to determine how much of it was the amplifier and how much was the remastering.
Peerless Power
Suffice it to say, the REF160S amp will immediately gain recognition for obviating any arguments about solid-state versus valve bass. It was extended, taut and fast-sounding, but most of all it proved to be rich with detail in a way that elevates one's respect for Paul McCartney's playing to an even higher level. (Bass Player magazine places him No3 among the world's best.)
This amp creates a foundation for weighty material that I can only liken to moving from an 8in to a 12in woofer. And, that had nothing to do with power, because – once I had revelled in both versions – I checked the illumination to find I was in Triode mode. So I replayed both, this time in Ultralinear, and heard only a minuscule gain in impact and tautness.
Before passing judgement on one versus the other, I slipped ZZ Top's 'Gimme All Your Lovin'' [Goin' 50; Warner Brothers R2 591567] into my treasured Marantz CD12/DA12 CD player. It was the first time I had the strength to switch it on after the passing of Marantz's brand ambassador, Ken Ishiwata, knowing that he'd have preferred Julie London, but would have gotten a kick out of this peerless power trio. I wanted to hear that track both for the utter perfection of its percussive opening, and the raunch of Billy Gibbons' guitar playing.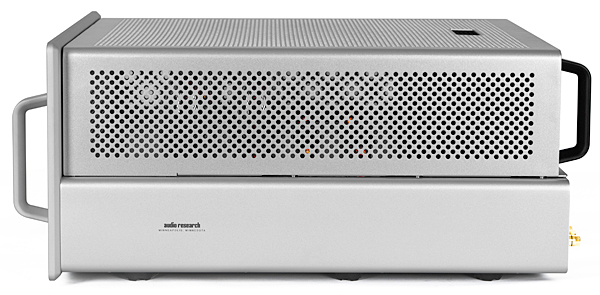 Blow me down, for while I expected the Triode setting to be flabbier, the Ultralinear punchier, the difference was so subtle that it became a matter of personal preference. For me, the midband is king/queen, the extreme treble the trickiest bit if sibilance or edginess is to be avoided, and bass is something that usually reminds me of Goldilocks' porridge choices. And so it was here – the Triode setting favoured the guitar and vocals, while Ultralinear suggested an erg or two more power. But this needs clarification, because we are talking minute differences so barely significant that they almost gave me a headache trying to identify their strengths and weaknesses.
This is, I hasten to emphasise, not to suggest they are inconsequential. I prefer to stress vehemently that the two offer preferential choices, not absolutes. In practice as most bombastic music will mask the variances, personal taste will always win (the Triode mode is generally sweeter and less aggressive), one's partnering speakers will play a part, and you'll probably hear wider variations between, say, a standard LP and a 180g pressing.
Blasts Of Brass
Why, then, am I going on about it? Simply put, anyone investing this kind of money and commitment to a piece of hi-fi equipment – no, make that anyone who cares enough about sound to read this magazine, regardless of their fiscal standing – will deem this important. But I do not want to mislead because, whichever setting you use, the REF160S belongs in that category of amplifier that defines the uppermost calibre of performance. And it proved to be breathtaking when fed half-track, 15ips tapes on a recently-refurbished Otari 5050 reel-to-reel.
Chasing the Dragon's Big Band Spectacular [no catalogue number] featuring the Syd Lawrence Orchestra is one of the most natural, powerful recordings I've heard in years, with transient attack, blasts of brass and eye-watering dynamic swings that elevate it to reference standard levels – it's the kind of album that shows off a system the way our 1950s forebears used steam railway recordings.
Again, the choice of mode was down to user preference (a whisper more air and scale in Triode, a tad more incisive punch in Ultralinear) but the overall sensation – and ultimately that's what matters most – was one of an iron fist in a silken glove. The sheer scale and presence of a big band is something to behold, reason enough to account for the preponderance of LPs and tapes produced by the genre in the early days of stereo, and the REF160S delivered it with the needles rarely passing the midpoint, unless a crescendo so demanded it.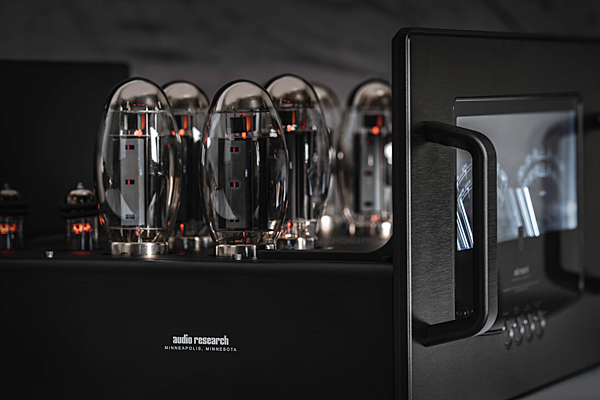 More telling were the massed voices in Mahalia Jackson's version of 'Go Tell It On The Mountain' from Home For Christmas [Columbia House DT3 5610, 3¾ips tape], which were spread across the room in a proscenium arch of clearly-defined shape and dimensions. Vocal textures? As lifelike as I hoped. Handily, the next track was the acoustic guitar version of 'The First Noel' by Charlie Byrd, and it was this solo instrument that revealed even more about both the amplifier in general and its choice of modes in particular. Simply put: it shimmered. In every way.
Hi-Fi News Verdict
Even if I didn't have to think about cost/space considerations, Audio Research's Reference 160S has shot to the top of my Fantasy Sound System League Table. It does everything I want, with style, grace and – like a pussy cat suddenly discovering its inner lion – power to spare. It's not often I feel a gnawing tug when a review unit is collected, but waving goodbye to the REF160S was a wrench I didn't anticipate.