Audio Research REF 6SE Preamplifier Page 2
He was tempted to put this down to errant tube matching until we spotted exactly the same results in partner magazine Stereophile's report on a different sample of the REF 6SE,
tested by John Atkinson
. So this is more likely a design/tweak issue, rather than poor tube matching.

Quiet Life
This is one very subtle-sounding tube preamp. Auditioned between a dCS Vivaldi One disc player/DAC [HFN Feb '18], Constellation Inspiration Mono power amps [HFN Oct '19] and B&W 800 D3 loudspeakers [HFN Oct '16], it proved highly self-effacing. Give it a late '70s pop/rock track such as 'Kiss On My List' by Daryl Hall and John Oates [Looking Back; BMG PD 90388], and one can clearly hear its bone-dry production. There's little tonal warmth, and percussion is taut and well damped. Yet there's a subtle gentility to the sound, a slight sweetening of this bitter pill of a recording that's wholly welcome.

The track's soaring vocals as the singers rip into the chorus can sometimes grate on forensically-inclined high-end equipment, yet it was more palatable here. The result was a sound that took the spotlight off the production's imperfections, and let the listener cast their gaze upon the music.
However, this almost imperceptible gentrification doesn't impact on its sense of speed. The opening drum machine ride cymbal on Run DMC's 'Walk This Way' [It's Like This; Polydor POCP-1088] was lightning-fast, slicing through the air in PM's listening room like a knife. The bass drum was tight, lithe and propulsive as the beatbox set up a fat groove onto which that classic Aerosmith guitar riff sample was cut-and-pasted. The REF 6SE caught the edge and grit of this, to give a gripping rendition of this rap/rock crossover classic.
Move Closer
Despite taking the focus off the middling quality of this recording, the REF 6SE is not for obfuscation. More typically it's very revealing of subtle musical detail so it's not necessarily the right choice for enthusiasts looking to 'dial in' some tube preamp softness. The presentation is unforced but highly insightful, easy on the ear while still dripping with filigree detail. By this I don't mean it fetishises small production effects in a recording – it reveals these very well too, by the way – but rather it tells you all about the timbral qualities of the instruments and vocals that it's reproducing. The result is a really authentic and tangible sound, and one that's impossible not to like.
Peel Sessions
For example, Electronic's 'Getting Away With It' [Electronic; Warner Bros WPCP-4348] was quite a surprise. I love the tune but had always thought it be a dreadful, compressed recording – one likely to have been mastered on DAT, given its mid '80s vintage. The REF 6SE effortlessly peeled away the track's many layers, letting me get right to the centre of the mix.
Indeed I was surprised by the ease with which it all unravelled, this preamplifier resolving Bernard Sumner's vocals with great skill. I've never been a wholehearted fan of his voice, but suddenly there was a tenderness and vulnerability to his performance that had been airbrushed away by lesser preamps.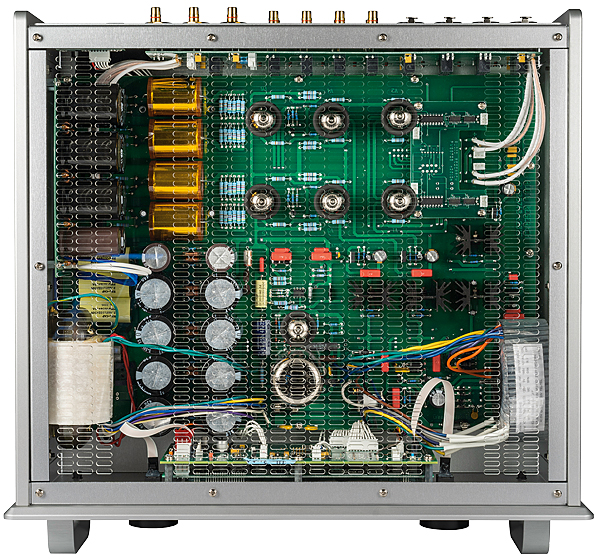 I also found myself being more impressed by the B&W 800 D3 speakers than I'd expected. I often find these slightly on the clinical side of accurate, yet with this preamp, and system, they seemed to open up and reveal a more human side. So the recording took a climb in my estimation, for while it'll never be a great audiophile reference, neither was it as fizzy, crowded or compressed as I had once imagined.
The REF 6SE doesn't do the 'magic wide stereo' thing – some tube preamps seem to have a subjective 'scale expander' that pushes the recorded acoustic implausibly far beyond the speakers. Instead, the REF 6SE's projection of the musical soundstage seems scrupulously accurate, building an immersive soundfield with great breadth and depth where appropriate, but never when not.
For example, The Style Council's lilting track 'Long Hot Summer' [Collection; POCP-1606] was vast in size – with percussion (maracas, sampled handclaps and snares) far left and right, while Paul Weller's vocals were steadfastly locked between the two speakers and recessed back slightly. This gave a panoramic vista to this early '80s recording, adding a grand sense scale to the proceedings.
Yet cue up The Byrds' cover of Bob Dylan's 'My Back Pages' [The Byrds; Columbia CK 46773] from the late '60s, and this preamp reels in the soundstage, tightening its focus and delivering a recorded acoustic that's far smaller in scale – just as it should be. Major or minor, the result is never less than compelling.
Hi-Fi News Verdict
The essence of this ARC REF 6SE preamp is its ability to neither add nor subtract anything of significance – and audibly what little it does bring is for the good, making less perfect recordings more enjoyable. The result is a preamplifier that reminds us of the importance of the breed; a great one such as this finishes off the sound, allowing a superb system to sing in a carefree and untrammelled way.