Audia Flight Strumento No1 mk2/No4 mk2 Pre & power amplifier Page 2
The manual explains that 'For his own safety and that of pregnant Strumento,' the No4 mk2 will trigger its protection in case of excessive temperature... or 'failure in food'. But hey, Audia Flight's English is a lot better than my Italian…

Real Buzz
Connected up between PM's Melco N1ZS20/2 [HFN Jun '17] and dCS Vivaldi One [HFN Feb '18] front-end and our reference Bowers & Wilkins 800D3 speakers [HFN Oct '16], this amplifier pairing proved entirely fuss-free in operation, the absence of fire-up drama entirely in keeping with the cool sophistication of its styling.
The Count Basie Orchestra's Live At The Sands (Before Frank) [MFSL UDSACD 2113] gives an instant impression of the sound of these amps. In an instant, the big, rich and free-flowing sound is revealed, even if it lacks a little of the dynamic slam and extension of some other, and probably costlier, high-end power designs.
It's warm and lovely in an ever-so-slightly retro manner, bringing out the buzz of conversation in the audience and the smooth sheen of the brass instruments, if a little congested with the high brass.
Mind you, switching to a different perspective on brass with Britten's Serenade For Tenor, Horn And Strings [Linn Records CKD 478; 192kHz/24-bit], the Strumento amps give an impressive view of the Snape Maltings acoustic, and the way the performances interact with it. This is a remarkable recording, and the sweet sound of this Italian pre/power duo is especially well suited to it, delivering fine focus right across the soundstage while developing a suitably otherworldly feel.
Amazing Grace
Change to more mainstream content, in the form of The Beach Boys' Pet Sounds album [MFSL UDSACD 2065], and 'God Only Knows' shows how well the amps handle the bass, and the obvious left/right mix with the percussion in the right channel, while the voices sound smooth and lush in the generously weighted sound. Every element is clearly apparent, and yet the whole is exceptionally easy to enjoy.
And the same goes for another period piece, 'Do We See The Light Of Day?' from Dave Stewart and Barbara Gaskin's 1986 album Up From The Dark [Rykodisc RCD 10011]. Here the broad, deep, warm sound picture created by these amps and the 800 D3 speakers gives this a much more contemporary feel, keeping the synth percussion and multiple layers in order and showing a decent turn of rhythmic speed, even with the deep, deep synth bass toward the end of the track.
I've heard this album sounding faster and more dynamic in other systems, but then there was always the risk of it tipping over into brittle and synthetic. Not so here as the No1/No4 amps tread this precarious path with some nimbleness and grace.
Bombast And Pomp
What's more, the clarity and directness of this pairing, plus the evident clout of the power section, means the sound doesn't change even when one pushes things hard. The B&W 800 D3 loudspeakers are pretty demanding when it comes to amplifier quality, but the Strumento No1/No4 is more than capable of driving them hard to 'exciting levels' while still managing to retain a rich but clean sonic character.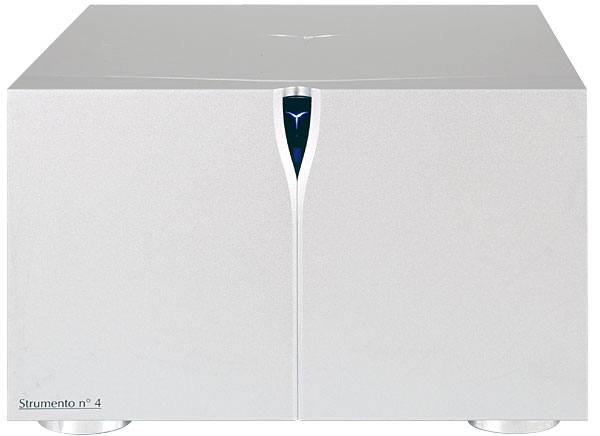 That's much in evidence with the Living Stereo SACD of Dvořák's 'New World' Symphony [BMG Classics 82876-66376-2], with the Chicago Symphony Orchestra under Fritz Reiner. This recording dates back to 1957, and is hardly the most subtle, with seemingly enormous musical forces and a real sense of bombast about it. Add to that an SACD mastered very 'hot' – in other words damn loud – and you have a test disc that majors on attack rather than subtlety. The Strumento No1/No4 amplifiers deliver this set in all its full-blooded pomp, and while the sound is necessarily vintage, there's no denying it's loud, proud and intriguingly odd.
By contrast a much more recent recording, of Mozart's Serenade in B flat, K361, seems to hit the Italian amplifiers' sweet spot. This Gran Partita set, by the Royal Academy of Music Soloists Ensemble conducted by Trevor Pinnock [Linn CKD 516; 192kHz/24-bit], sounds gorgeously rich and fluid, while instrumental tones are glorious. Or as someone once described this recording to me, 'It's a lovely noise'.
Hi-Fi News Verdict
The sound may be characterful, but the Strumentos make a wide range of music exceptionally easy to enjoy. There's nothing wrong with going for a euphonious balance, albeit at some expense to detail and openness, if the result is as smooth, lush and harmonious as this Audia Flight pairing delivers. But ensure your dealer has three Shredded Wheat for breakfast: these amps must be installed, not click and collected!