Audia Flight FLS 9 Integrated Amp Page 2
On a more positive note, the FLS 9's mute function is rather cool in the way it operates. Hit the button and the onscreen display rapidly descends from your listening level to zero, the music fading away. Unmute it and it fades back in.

Divine Right
Sumptuous. Sonorous. Smooth. For some reason the FLS 9 had me reaching for the 'S' section of my thesaurus. Essentially this amp sounds 'just right' – warm but not cloying, well-resolved but not clinical, powerful but not boisterous. Listening via both line-level and digital inputs was entirely unfatiguing, the latter doing justice to the 'Velvet Sound' tag of the amp's AKM-based DAC module.

The Mance Lipscomb track 'Texas Blues', recorded in 1969 for his eponymous Vol 5 album [Arhoolie; 44.1kHz/16-bit FLAC], is as stripped-down as the blues gets – tenor voice, acoustic guitar and nothing else. The FLS 9 took control of these two elements, presenting Lipscomb's slurry vocals with a light touch, and conveying the mixture of twang and tock from his 'dead-thumb' picking technique. Yet it also created space between them, and an appropriate sense of depth and intimacy.
'Every Breath You Take' [The Police (Singles); A&M Records EVECD1] made more demands on the amp's power delivery. There's something of a Phil Spector 'Wall Of Sound' vibe here, and via the FLS 9 it sounded dreamy, a medley of ethereal keyboards and muted guitar notes underwritten by buoyant basslines and punchy drums. Sting's vocals range from quietly sombre to anguished, and this amp puts all this emotion centre-stage.
It was here I noticed the FLS 9's inherent smoothness. It put everything before me, clean and distinct, without over-emphasis or over-projection. Even the smaller of the speakers used – B&W's 705 S2 standmounts – aren't shy or retiring, but this amp seemed to rein them in a little, creating a wonderful sense of balance.
A runout of AC/DC's 'Live Wire' [High Voltage; EMI 494 6712] proved to be a real eye-opener, as the FLS 9 made this rough-and-ready hard rock classic sound positively operatic in its construction. This amp delineated the band's playing like nothing else I've heard, unearthing layers to the instrumentation and letting individual vocal parts recede or push forward. It's not what I would typically call a 'detailed' delivery, as there's a lack of the brightness that perhaps better serves a sense of information overload and gives a crystalline edge to treble, but its sense of space and soundstaging is remarkable. The track's main riff is handled by two guitars, stage left and right. I felt I could pick out each minuscule difference, not just in notes but in tone.
Sharp Shooter
Would I prefer a little more bite and edginess to the presentation of this 1970s rocker? Perhaps, but if it involved a trade-off with the FLS 9's organisational prowess I wouldn't be interested. If the FLS 9 is best-of-breed in terms of an ability to lay out a track's composition, neither is it a slouch when it comes to delivering scale and bass heft. The dense, synthetic textures of Jean-Michel Jarre and Air's 'Close Your Eyes' [Electronica 1: The Time Machine; 48kHz/24-bit FLAC] sounded rich and resonant, extending deep to leave my room feeling energised – and this was with two-way standmounts. And the imaging was a delight, the track fizzing with pin-pointed details across a wide stage.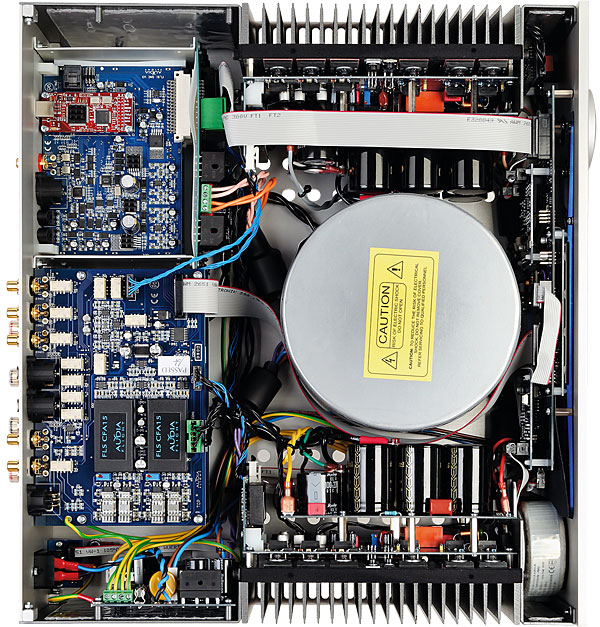 The amplifier plays loud – once you've coaxed its volume control to where you need it – without sounding in any way like it's losing its composure. I could feel its power in the gloriously riotous second half of Queen's 'Bohemian Rhapsody' [A Night At The Opera; Parlophone CDPCSD 130], where those multi-tracked vocal harmonies seemed tailor-made for this insightful slab of aluminium, and in the surging melodies of Wagner's 'Ride Of The Valkyries' [Der Ring des Nibelungen – Symphonic Excerpts; Tidal Master].
In fact, this latter piece, from a Paris Opera recital under the wand of conductor Philippe Jordan, told me nearly everything I needed to know about the FLS 9: its command of timbral textures, its depth of image, its ability to transition from tick-over to full-throttle, to the delicate way it handles the ebb and flow of music.
I say 'nearly everything' as the Wagner piece lacks – unsurprisingly – hard-hitting electronic beats and furious sub-bass. Luckily I keep Aphrodite's 'King Of The Beats' [44.1kHz/16-bit Tidal download] on hand for such occasions. The FLS 9 made the track sound deliciously sharp and rhythmic, and maintained that sense of fun even when the level was dialled way down low.
Hi-Fi News Verdict
Audia Flight's gorgeous-looking FLS 9 comes out of leftfield – its volume control best described as 'esoteric' and its user experience being not entirely foolproof. Fortunately, it's right on the money in performance terms. Those seeking an integrated offering imperious imaging, majestic musicality and a smooth, sensuous sound – not to mention a streaming upgrade path on the horizon – should book a flight…