ATC SCM100SE Loudspeaker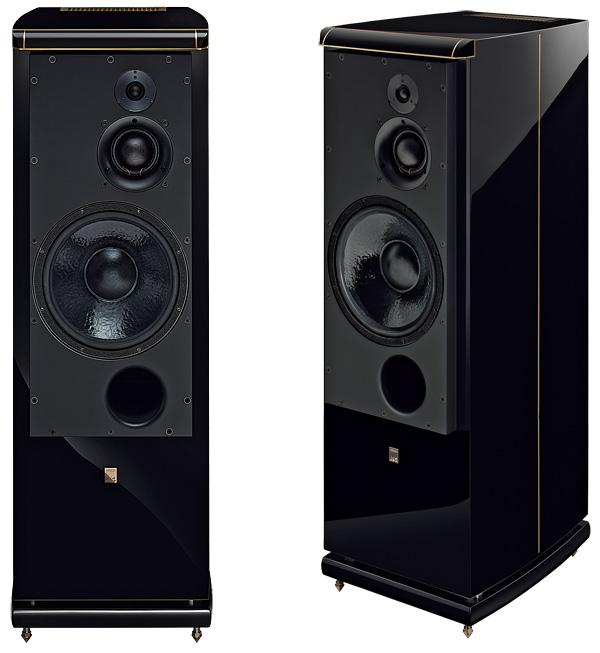 The Special Edition version of these big active ATCs is not exactly a great beauty, but its sound is highly revealing
Well they're not exactly what you'd call pretty… The imposing ATC floorstanders you see here may be a 'Special Edition' model, selling for just over £36,000 in this active version, but in the piano black and nickel/gold inlay finish of the review pair they have a look best described as 'purposeful'.
That's arguably always been the way with ATC speakers, which bear their studio heritage as a badge of honour and make few concessions to domestic acceptability. However, these speakers are also available in a range of alternative wood finishes, and you can select different colours for the 'brow' and 'horns' – the front edge of the top panel and the little trim pieces at either end of that edge. Nevertheless, the polished black-and-gilt chosen for our review pair gave them a decidedly formidable appearance, and did little to camouflage their extravagant dimensions.
Mind you, given their glitz, one is drawn to the conclusion that this finish is one likely to be chosen by users wanting to draw attention to the conspicuous investment in their system – subtle it isn't! At 1.15m tall, just under 42cm wide and 58.5cm deep, these are loudspeakers requiring considerable thought to both set-up and positioning, especially given that their 79kg apiece fighting weight makes moving them around no trivial matter.
Relative Bargain
Given that the onboard active crossover and three-channel amplification, derived from the company's Anniversary models, account for only a relatively modest 5kg of that mass, it's not hard to see how substantially built the rest of the speaker is. But then that's another of those ATC hallmarks.
Those onboard amps cost less than a tenth of that £36,083 ticket, the passive version selling for £32,533 in the same finish. That seems like something of a bargain, if you can use the term at this kind of price-level. After all, anyone wanting to drive a £32k+ pair of speakers will surely be looking at spending more than £3500 on power amplification to do so.

Signature Feature
That's before you get into the whole discussion about the merits of active filtering, and with each drive unit being powered by an amp optimised for its task. Those drive units are very much what the SCM100SE is all about. Remove the flush-fitting grilles and they are revealed, standing proud of the main cabinet in their own matt black baffle. The look is very much a functional one, accentuated by the gap between 'brow' and baffle – the speaker looks more 'of a piece' with its grille in place, but then you lose that studio aesthetic.
The drivers themselves look familiar from past ATC designs, with the 7.5cm midrange dome a signature feature. Here it's partnered with an all-new 25mm soft dome tweeter and a 30cm bass unit, the ensemble being mounted in a 100-litre cabinet – hence the model number.
If you want more, ATC can offer you the even heftier SCM150SE, which stands 1.2m tall and packs a 37.5cm bass unit in a cabinet of 50% greater volume. I wouldn't say it makes the SCM100SE look small – not much would – but while the 'midrange' speaker here hardly merits the title, there is more in the range should you feel you need it.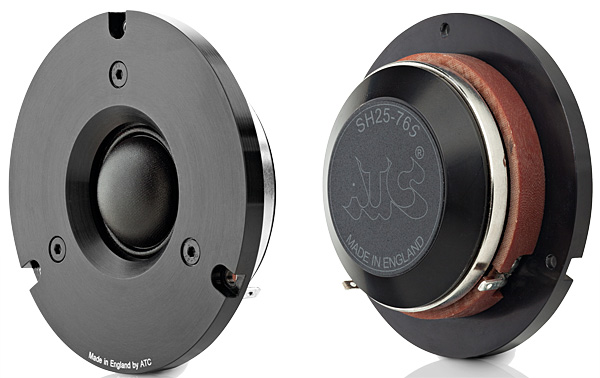 Rolling in at 3.5kHz, the tweeter in the SCM100SE uses a dual suspension configuration that's trickled down from the midrange driver. This is designed to ensure pistonic motion just as ATC's narrowing of the magnetic gap is aimed at reducing distortion. The 'motor' is built with oversized, hugely powerful neodymium magnets, extending the frequency response as well as dissipating heat from the driver assembly. This has allowed the tweeter to be built without the ferrofluid often used for cooling in such units.
This plays its part in ATC's quest for durability, the company saying it has thus avoided the loss of performance caused by the drying out of such fluid over time. The dome itself is designed to optimise power transfer from the motor, while the waveguide for the tweeter is machined from alloy for rigidity and resonance control, and acts to optimise dispersion and on-axis response.
Sticking To Paper
The 7.5cm 'super dome' midrange uses a very large voice coil for a driver of this kind, with ATC's favoured short-coil/long-gap topology, designed to enhance linearity. This keeps the coil in the magnetic gap throughout its excursion, unifying (as much as possible) the motive force and coil inductance. According to ATC, audible issues caused by variations in inductance with current are held in check, just as the woven dome is sealed by its coating and has a very high internal damping to help quell any resonances.
Finally the dual suspension arrangement, using two small roll-surrounds, gives more accurate control of the motion of the dome and coil. The partnering 30cm woofer works from 380Hz downward, and also uses the company's short-coil/long-gap motor, with extra rings of magnetic material placed inside and outside the magnetic gap. The cone itself is made from paper with a little carbon in the blend. ATC says it sticks to paper composites rather than the more exotic diaphragm materials, as it prefers their balance of strength, stiffness and internal damping. The bass unit is tuned via a substantial reflex port venting through the thick front baffle.