Acoustic Solid Wood Round MPX Turntable Page 2
Packaging of all the elements that made up the deck was first class, but the superb quality imparted by both this and the deck itself was a little undermined by the series of A4 photocopied pages (in German only) that passed for a manual. Nothing else is currently downloadable online, so hopefully this is something distributor, Elite Audio, will look into.

Bring It On...
I set the deck up on the twin-layer damped glass shelf of an Atacama Equinox rack and hooked it up to an Anatek MC-1 phono stage, Naim Supernait amp and PMC Twenty5.24 speakers [HFN May '17]. Solid by name, solid in sound – I couldn't help being amused at how the company's name is so appropriate when it comes to describing the presentation of the Wood Round MPX. This is no thundering, out of control, bass monster by any means. Rather, it rewards with a quietly firm sense of authority and confidence. It's a turntable that, when the going in the groove gets tough, seems to give you a wink to suggest: 'Don't worry – I've got this'.
Consequently, there is never any fear of upsetting it with any particular musical style. Soaring orchestral crescendo? No problem. Banging electronica? Great fun. The subtle whisper of an a cappella female vocal? Bring it on. The Wood Round MPX is very well balanced. And it's a turntable as equally capable of hammering its message home when required, as it is sitting back and taking it easy.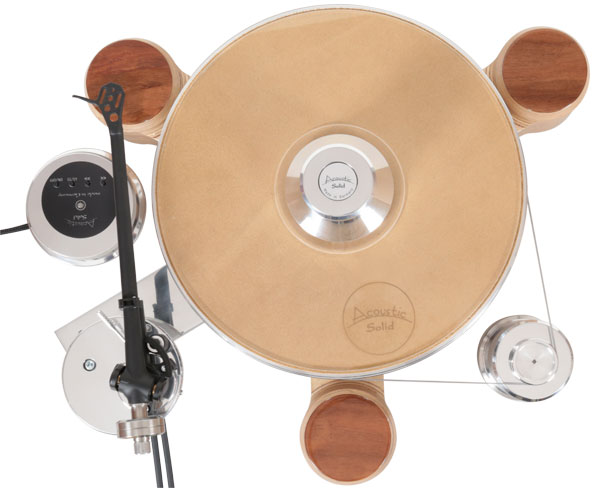 However, these comments apply to the deck with only the leather mat in place. The Perspex mat made the midrange shouty and added a coarseness to the treble that did the sound no favours. I dispensed with it for reviewing purposes.
This sense of sonic solidity was accompanied by a decent level of bass, but this was far from being all quantity and no quality. The bass line from Maxi Priest's 'Suzie – You Are' from his Maxi LP [10 Records DIX64] was deep and powerful yet skipped along with a lightness of touch that seemed at odds with the large lump of metal spinning in front of me. Each bass note was clearly defined and started and stopped with precision.
Further up the frequency range, the Wood Round MPX maintained its aura of quiet confidence by deftly capturing the fine detail of both instruments and vocalists. This meant that strings, in particular, were vivid and gloriously lifelike. Spinning 'Fell Down Hard' from Kathryn Williams' album Little Black Numbers [Snowstorm STORM008LP] demonstrated this perfectly. The acoustic guitar was expertly defined while the backing cellos sounded both rich and fulsome.
Silent Running
The Wood Round MPX also made a fine job of placing Ms Williams right in the centre of the action, though I was aware of a lack of projection. Rather than push her vocal into the room, the deck positioned it behind the plane of the loudspeakers. There was still a good sense of depth, but the overall effect was like standing up in an auditorium then moving half a dozen rows backwards.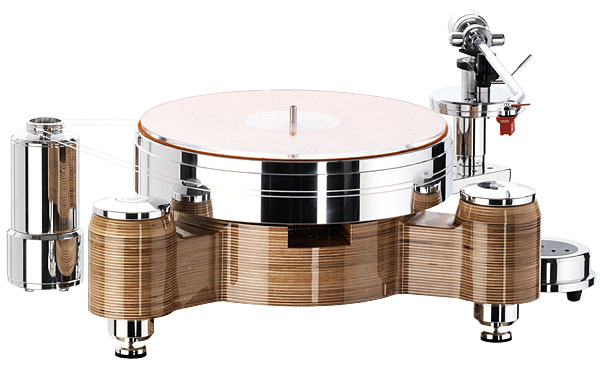 This was the case with other recordings during my time with the deck, which eventually saw me swapping the supplied arm for an Inspire X100 (another hot-rodded Rega design). This pulled things forward by a good amount leading me to conclude that while the WTB 370 is a fine budget tonearm, it was the weak link here.
With the WTB 370 back on board, though, it was hard not to be impressed by other aspects of the combination's performance. At the top end, the arm's neutrality and the slight sparkle offered by the Ortofon Quintet Red added up to bags of detail presented crisply and tidily. The gently strummed electric guitar that begins 'So Real' from Jeff Buckley's Grace LP [Simply Vinyl SVLP 0077] had a menacing intent to it and Buckley's vocals themselves were gloriously heartfelt. And when the track moved up a gear, the Wood Round MPX exhibited no sense of strain or compression, rising to the challenge of the particularly explosive cymbal strike that appears later in the track with ease.
Finally, I have to offer one last paean of praise for the Wood Round MPX. It's been a while since I have heard a turntable so quiet between tracks with one of the lowest levels of general vinyl surface noise I have encountered in a long time. This only served to ensure recordings sounded even more dynamic and it speaks volumes for the high quality of the drive system and bearing.
Hi-Fi News Verdict
Acoustic Solid has done it again with the Wood Round MPX turntable. The plinth layout adds a dash of style while the engineering 'under the bonnet' is top drawer. The package with the WTB 370 arm and Ortofon Quintet cartridge is sonically very well judged yet the turntable itself will give even more if treated to an arm upgrade when the mood or funds arrive. Solid by name, it's a solid choice too.