Acoustic Solid Wood Mpx (£2075)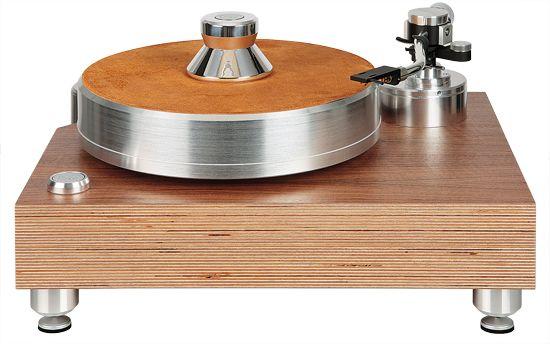 Easy to set up and a joy to listen to, this deck simply lets its precision engineering take you to the core of the vinyl
Acoustic Solid is now back in the UK, and one of the first decks distributor BD Audio has chosen to bring to our attention is the Wood MPX.
While its higher echelon turntables are largely constructed of metal and circular in appearance with additional arm and motor mounting pods, the Wood series are more conventional and plinth-based; five variants are available. The Wood MPX boasts a 70mm-thick plywood (rather than MDF) plinth. Its high mass, 60mm platter is driven by a freestanding synchronous AC motor via a rubber belt (notwithstanding the company's description of it as a 'string drive' design).
The motor sits in a sturdy and well finished pod, and is powered by a microcontroller; push-button speed switching allows fine-tuning of both 33.3 and 45rpm speeds. Given the weight of the platter, the motor does a sterling job of bringing it up to speed. The red/green LED on the controller flashes once the correct speed has been established and locks to one colour: green for 33.3rpm, red for 45rpm.
The platter itself is immaculately finished, perfectly balanced and comes topped with both a suede mat and a 5mm-thick acrylic item (which we preferred not to use).
The heart of it
Our review Wood MPX was supplied with the 9in Acoustic Solid model WTB211, a tonearm made by Ortofon with removable SME-style headshell. Acoustic Solid also offers headshell upgrades for optimum cartridge matching.
With an Ortofon Cadenza Red fitted, Metallica's Black Album [Warner] was first on to the platter, and as the volume control was gradually edged higher we realised that the Wood MPX is a turntable that really likes to get to the heart of the music. 'Nothing Else Matters' starts off fairly softly and as things picked up further into the song, there was no sense of compression or hesitancy: everything just grew in a rousing and highly impact-filled crescendo – exactly what's needed for this sort of material!
Moving to something a little more sophisticated, the Acoustic Solid imbued Tift Merritt's 'Still Pretending' from her Tambourine LP [Lost Highway] with a delightfully well-formed underpinning. The Wood MPX carried the underlying tune beautifully, remaining solid and confident throughout the track. Equally agreeable was its sense of expressiveness and feeling across the midband. Merritt's vocals were vivid and finely etched.
Equally, it expertly reproduced Michael Hedges' acoustic guitar work from Aerial Boundaries [Windham Hill], capturing the slightest changes in nuance as the playing veered deliciously from gentle and soft to frenetic and hard. A less capable deck can make these particular guitar sounds strained, but through the Wood MPX they sounded as clear and as lifelike as one could ever have wished for.
The Acoustic Solid is not only a turntable that has plenty of authority but is something of a wizard when it comes to timing. Bass lines stopped, started and flowed effortlessly; each and every note sat in its own space and could be easily picked out, and yet melded with its companions to form a beautifully coherent whole.
Verdict
The Acoustic Solid Wood MPX certainly adheres to the high-mass ethos but its overall construction is superb. Easy to set up and a joy to listen to, the deck simply lets its precision engineering take you to the core of the vinyl. A really capable turntable.
Originally published in the 2013 yearbook