The Zombies: Odessey & Oracle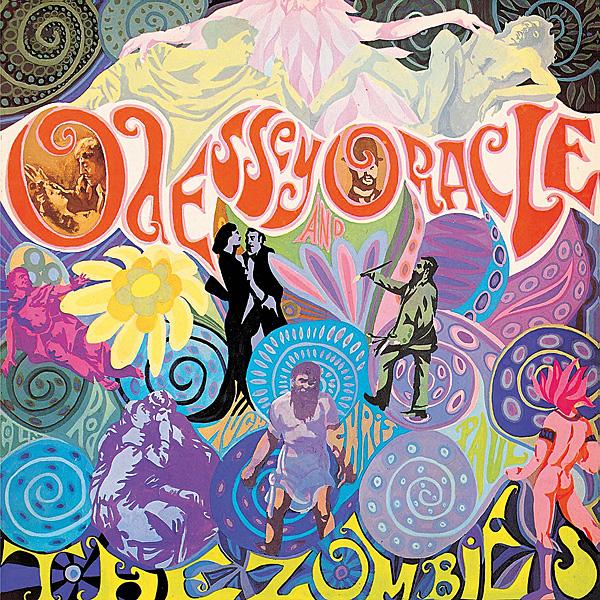 The greatest English pop lyric writers of the 1960s? Steve Sutherland argues his case as he reassesses this mono LP from 1968, recently reissued on 180g vinyl
Afew decades ago I read an interview with Tom Waits where he was asked about the art of songwriting. Tom thought about it for a second, then declared that in fact he found it very easy, thanks to a nine-word magic formula. Those words were: 'Things will be better when we get to Chicago…'.
Now we all know that such optimism is seldom to be trusted. However, over the many years that I've been lucky enough to earn a living by writing, Tom's magic formula has served me pretty well. Here's why: when we read that sentence we instantly know that something is up – we know that one person is promising a brighter future, or better prospects or a new beginning, to somebody else.
Pure Genius
At this point, depending on your personal disposition, you either feel glad at the dawning of happier times due to arrive or, if you're like me, you know they just won't. This could well be the charlatan spiel of a perpetual loser. Or words of comfort knowingly proffered to alleviate a hopeless situation. There could be salvation in these nine short words. Or tragedy.
For a writer, the way this sentence works opens up the possibility of backtracking through a troubled past or, if the scribe should so choose, leaving it cloaked in mystery. It also immediately kick-starts a narrative with a smorgasbord of prospects – not to mention instantly introducing a dynamic between two or more characters. Genius is what it is. Pure genius.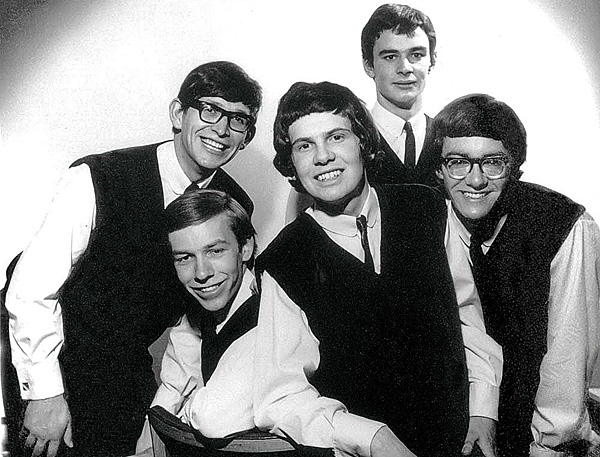 Which brings us to why, when it comes to storytelling, in my humble opinion, keyboard player Rod Argent and bassist Chris White of The Zombies are the greatest English pop lyric writers of the 1960s. Yes, I know I'm talking crazy. What about Lennon? McCartney? Ray Davies? OK, hear me out for a moment. The Zombies' Odessey & Oracle was recorded and released in 1968, within a few months of The Beatles' Sergeant Pepper. In fact, The Zombies moved into Abbey Road Studios immediately after The Fabs wrapped up recording Pepper there. The Kinks, meanwhile, had just released 'Waterloo Sunset', which many people consider Ray Davies at his absolute peak, and the band were busy doing The Kinks Are The Village Green Preservation Society which, much like Odessey & Oracle, was largely ignored at the time but is now lauded as a true gem of '60s Britpop.
Sad September Sun
Now, only a nutter would deny that Pepper and Village Green are ace LPs, but when you actually break it down to songcraft, Odessey wins hands down. Lennon's 'Lucy In The Sky With Diamonds' and 'A Day In The Life' are both brilliantly impressive songs but they are extremely internal, even surreal. Their narratives are smart and 'wow!', and even snide, but they are self-absorbed and exhibitionist really.
Then there's McCartney. Being generous, let's forgive and forget 'When I'm Sixty-Four' and take a look at 'She's Leaving Home' which is neatly observational and nicely sentimental in a clichéd kitchen-sink kind of way, but there's no real frisson here and we don't really dread anything remotely bad happening to baby once she meets her man from the motor trade. It's one of those generation-gap dramas… dull parents, child achieves freedom and has some fun. Kinda duh!
'Waterloo Sunset' is, of course, wonderfully cinematic, what with Terry and Julie and crossing the river Thames and all that, but it's really just a beautiful snapshot compared to this trio of songs off Odessey.
1) 'Care Of Cell 44'. To my knowledge, the scenario is unique in the whole history of songwriting. There's this chap writing a letter to this girl, who he thinks he has a relationship with. She's in jail. We don't know why or what she did, and we never even come close to finding out. The chap writing is promising to send her train fare when she gets out and says that her old room is waiting for her, and that he can't wait to see her again and resume whatever they had going on.
The scenario in bathed in the musical equivalent of that sad September sun that mourns the passing of the summer even as it resists winter's freeze. It's very autumnal and very English: a marriage of optimistic longing and deep melancholy, and the brilliant thing is we have no idea what has happened or what will.
Then 2) there's 'Maybe After He's Gone', pretty much the saddest song ever written this side of Gerry Goffin and Carole King's 'He's In Town', as performed to pathetic perfection by The Rockin' Berries. The scenario goes like this: bloke loves girl, girl likes bloke, another fellow hives into view, she takes up with him. The original bloke, now stripped of all self-pride, clings on to the hope that when the other geezer shoves off, she'll want him again. Will she? Won't she? It's deeply delusional. Surely a relationship built on such a foundation is doomed to more heartbreak.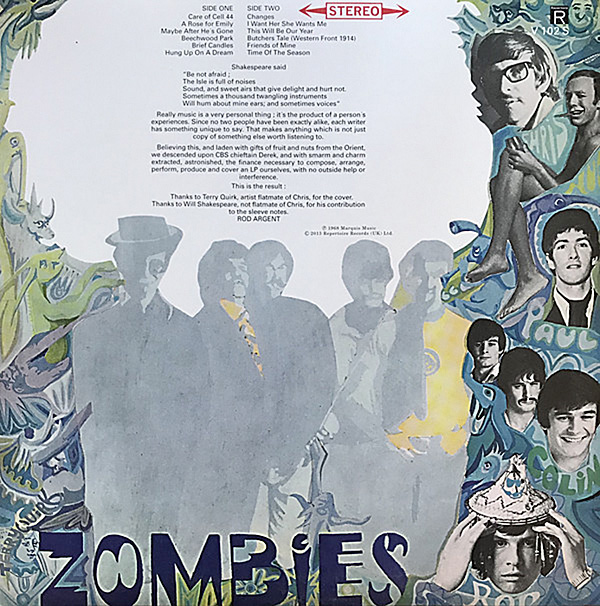 West Coast Cruiser
And 3), last but certainly not least, there's 'Time Of The Season', a totally cool West Coast cruiser, part Doors, part Mamas & The Papas. But what the bejiggers is it all about? 'Who's your daddy? Is he rich like me?' – who's saying this, to whom and why? So very lush and effortlessly weird, like someone enticing another to join a cult or something. It's kind of Great Gatsby decadent and yet flower child innocent.
Sung beautifully in that dreamy St Albans Middle England accent by Colin Blunstone, these three songs are suffused with promise and foreboding, mesmerising and mystical, utter masterpieces of songwriting… and sheer melancholia.
And what makes their brilliance all the more remarkable is that, by the time they recorded Odessey, which was only their second LP, The Zombies had all but given up the ghost as a going concern. Blunstone had lost faith in the outfit's ability to further achieve the success of their fab first two singles, 'Tell Her No' and 'She's Not There', and was so disillusioned with touring that he was determined to leave. So the album was recorded knowingly as some kind of swan song. And then, having been left to their own devices to record it without any interference from an outside producer, they handed CBS a mono mix, only to be told that stereo was the 'hot new thing' so they had to go back and put a stereo mix together from their own personal funds.
The album came out, few applauded and the members went their separate ways. In America, Columbia was reluctant to release it at all, but all-round good guy and house producer Al Cooper insisted, so it crept out on the Date subsidiary until, by the sort of miracle that gives you faith in some just and sentient deity somewhere, 'Time Of The Season' became an absolute smash hit in the USA, topping the charts and prompting the management to scramble several fake Zombies lineups to go out on tour.
There are other great songs on Odessey (so spelled because the guy who designed the cover made a mistake; it was meant to be 'Odyssey'). 'Beechwood Park', again, is the essence of England in the Fall, 'This Will Be Our Year' another exquisite short story in the manner of The Walker Brothers' 'My Ship Is Coming In', while 'Butcher's Tale (Western Front 1914)' chillingly captures the horror of the First World War and was released as a single in the States to imply a connection with Vietnam.
Just about the only misstep about Odessey & Oracle is its cover artwork which, in a misplaced nod to the prevailing fashion of the times, is a bit hippy-dippy psychedelic which the album most certainly was not. What it was, and is to this day, is a bona fide classic.
Re-Release Verdict
This 12-track LP was issued in stereo in June 1968 in the US as Date TES 4103 and produced at the Columbia Records Pressing Plant (the catalogue number of the UK mono release from that year was PBG 63280). The album was given a new sleeve design in 1986 that retained the misspelling in the title. This 180g vinyl reissue is from the mono original tape. It has been half-speed remastered at Abbey Road Studios for Repertoire Records and retains artist Terry Quirk's original cover. It offers fine sound and quiet surfaces. HFN