Wilson Audio Alexia (£49500)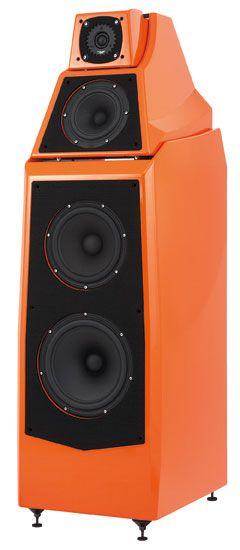 What you see here, then, is a genuinely manageable floorstander with the complex time-domain adjustment of the much larger XLF
To provide a goodly portion of the XLF's adaptability, precision and coherence, the smaller Alexia had to offer adjustability of the midrange and tweeter positioning with to-the-millimetre accuracy, according to room specifics and the location of the owner's 'hot seat'. That meant a head section with movable segments, but with a volume akin to that of the original WATT.
The designers focused initially on avoiding the introduction of resonances and upper assembly instability – crucial because the integrity of the upper structure would determine whether or not the new speaker could, in Wilson's words, 'substantially expand on the dynamic performance, resolution and bandwidth of our existing compact loudspeakers.'
What you see here, then, is a genuinely manageable floorstander with the complex time-domain adjustment of the much larger XLF. Fitted to the bottom enclosure are drivers designed specifically for the Alexia; they include 8in and 10in pulp/paper cone woofers. For the midrange, Wilson chose the same cellulose fibre/carbon 7in unit used in the XLF. Above it is the new 'Convergent Synergy' tweeter, a silk dome unit related to the driver that first appeared in the XLF.
Other details include a rear port for the woofer, rear venting for the mid and a sealed housing for the tweeter. There are adjustable spikes beneath and robust speaker terminals that favour spade connectors. They are available in a range of custom colours.
A revelation
Auditioning in two systems exposed one overriding aspect of the Alexia's behaviour: it's a loudspeaker that reveals all one could wish to know about every part of the audio chain that precedes it.
'Da Doo Ron Ron' by the Crystals comes with A Christmas Gift For You From Phil Spector [Sony]. Buried in the 'Wall of Sound' are assorted percussive instruments, glorious saxes, handclaps and a tinkly piano. Oh, and lush multi-part harmonies. The sound radiating from the Alexias had the clarity, the content and the presentation of a 4K display.
'Manhattan' from Ella Fitzgerald Sings The Rodgers & Heart Song Book [Verve] features woodwinds and strings as lush, seductive and joyous as any to be found behind Sinatra, Cole or Martin. A liquidity and an opulence emanated from the Alexias, a lucidity where every fleeting quaver was detectable with an unparalleled authenticity.
Verdict
The Alexia is the compact model Dave Wilson was surely destined to design. Why? Because it is, literally, a scaled-down XLF, the latter embodying the current evolutionary state of his philosophy since the first WAMM. A new reference then.
Originally published in the 2013 Yearbook