Van Den Hul The Crimson (£3850)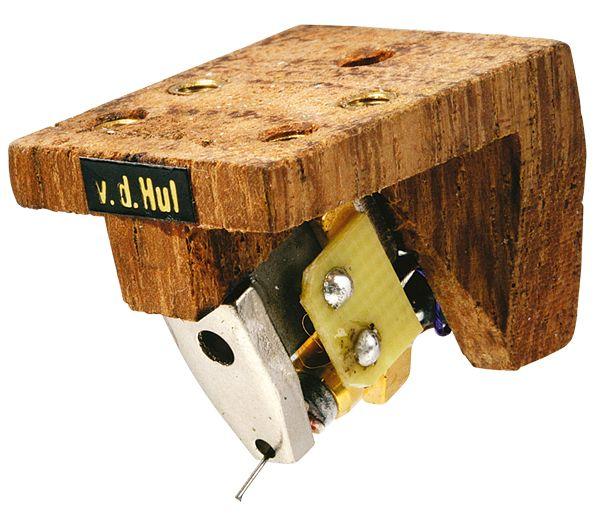 Van den Hul's The Crimson is a dazzling performer no matter what music you play
Van den Hul's latest hand-built pick-up is called The Crimson and comes in a choice of natural light and dark wood finishes as well as a coloured [also wooden bodied] version. There's a polycarbonate option too.
Although nudity is currently the trend for modern MCs, with generators exposed for all the world to see, The Crimson doesn't quite go all the way and chooses to cover at least a little of its modesty. Still, most internals are visible – and breakable, if you're ham-fisted.
The stick-on 'v.d.Hul' label isn't quite what you'd hope for, cosmetically, on a cartridge of this price, and another disappointment is the stock vdH wooden box, which looks like something that would house a small set of tin soldiers back in the 1950s. Some might think this 'quaint', others will not.
The Crimson gives a claimed 0.65mV output which should be enough for all but the most anaemic of MC phono stages, and it uses gold coils, a samarium-cobalt magnet and a 'VDH 1S' stylus fitted to a boron cantilever. It comes with a free 200hr service check-up (for the original owner), should you want one, and the lead time is three weeks to build. We found it fiddly to install, quickly learning not to torque it into the headshell too tightly, thanks to a propensity of the threaded metal cartridge body inserts to detach themselves. [Getting them back in again is a faff that will likely prove a low point in your ownership experience.]
Another hurdle is the contemplation of the price of this product and the damage that a wobble of the hand could cause.
Red all over
With it nicely aligned in the headshell, riding the grooves at around 1.5g and fully run in, the trials and tribulations of getting The Crimson fitted soon melted away. Suddenly you're transported to a world which turns out to be one of the most exquisite experiences this side of live music itself.
The Crimson pulls off the apparently impossible trick of being saccharine-sweet, yet as sharp and fast as razor blades flying through the air. This vdH MC offers dizzying speed, lightning attack transients and effortless dynamics, while it's also tonally a real smoothie.
Yet it artfully avoids turning into one of those 'forensic' sounding pick-ups: The Crimson doesn't lay out the recording on a grid for you, with everything in its right place for your calm, considered perusal. Rather, it assaults you with the most exuberant and emotionally arresting of listening experiences.
Put on the most modest of recordings, in hi-fi terms, such as Burt Bacharach's 'Reach Out For Me' [A&M], and The Crimson goes wild. The soundstage is vast – almost too big – and elements in the mix such as percussion fire out at you with dizzying speed. The lead clarinet assumes a creaminess that's simply not there with lesser pick-ups; pianos sparkle with harmonics, cymbals glisten, congas beat with a menacing pulse – and the music sounds magical.
Change the record and The Crimson does the same trick all over again. Classic rock in the shape of Be Bop Deluxe's Modern Music [Harvest], which is a roller-coaster of power and passion even with the worst of cartridges, is suddenly ablaze. Bill Nelson's voice towers between the speakers while Simon Fox's firecracker drum work awes you with its punch and speed. Everything syncopates so beautifully, and the cartridge has you entranced. It feels as if you can hear all four studio walls.
But it's classical music where it shines most, showing a blissfully natural flow to Stravinsky conducting his Rite Of Spring [Columbia]. Instrumental timbre is sublime: strings drip with harmonics yet never screech; brass rasps but doesn't grate; cellos bow darkly and menacingly. The Crimson seems able to peel layers of 'wrapping', and get right to the music, yet it all sounds so easy and organic.
Verdict
Van den Hul's The Crimson offers a uniquely beguiling combination of speed and sweetness. It is a dazzling performer no matter what music you play, and simply makes you want more
Originally published in the 2013 Yearbook