The Vaccines: What Did You Expect?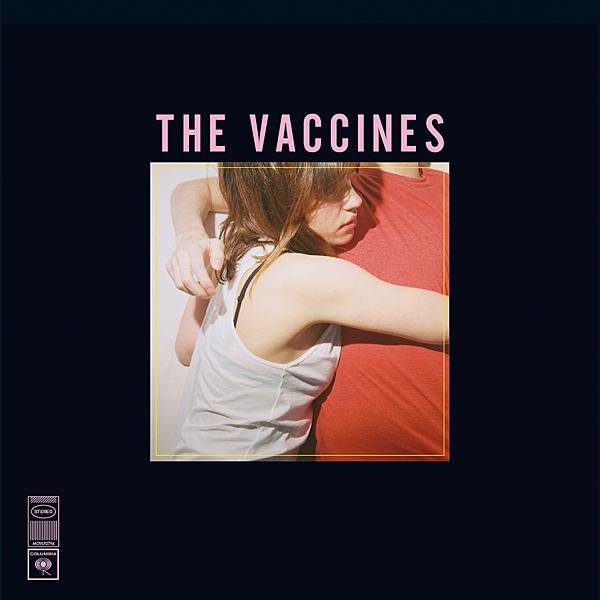 Get your Vaccines here on 180g black vinyl (sorry, we couldn't resist), as Steve Sutherland sets out the background story to this UK indie/rock debut album
Remember Joe Lean & The Jing Jang Jong? Of course you don't. No reason why you should. They didn't amount to a hill of beans. To elucidate: they were one of those thousands of bands heaped on the steaming pile of what was rather cruelly described in the mid-'90s as Landfill Indie.
In other words, they were among the legion of non-original no-hopers looking to imitate their betters and often elders en route to a credible career. We're talking Cast, who, despite having John Power in their number, weren't remotely The La's. We're talking Seahorses who, despite having John Squire in their lineup, weren't remotely The Stone Roses.
Imposters Epidemic
We're talking Northside who were runty patchwork impressions of Happy Mondays. We're talking Gene, who way-too-desperately wanted to be The Smiths and missed their target by a Manchester mile. We're talking The Enemy, who ludicrously fancied themselves as The Jam reborn. We're talking The Kooks, who weren't Blur, and The View, who weren't even The Kooks. And Shed 7, who weren't even, well... anything really.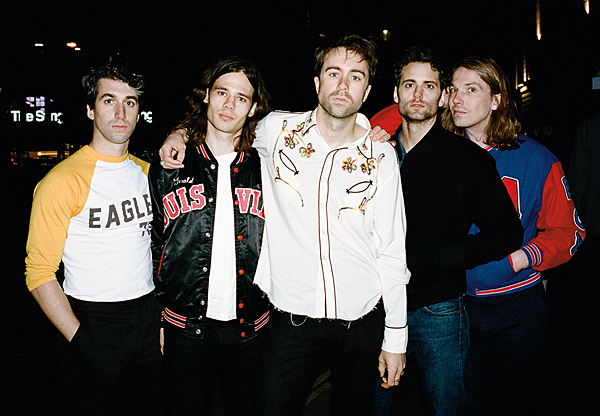 We're talking Razorlite and Miles Kane and Starsailor and Ordinary Boys and Bombay Bicycle Club and Paddingtons and Pigeon Detectives and Milburn and Two Door Cinema Club and Larrikin Love… Truth is, the list of 'not-a-patch-on's is endless and continues to grow.
'All these bands!' critic Simon Reynolds ranted in The Guardian in 2010. 'Where did they come from? Why did they bother? Couldn't they tell they were sh*t?' Not that trying to con the public your mediocrity amounted to anything but a lame tribute to a greater talent was a particularly new phenomenon. Back in 1979, The Cure had released an accusatory standalone single called 'Jumping Someone Else's Train' – which actually wasn't that good and turned out to be a bit rich considering how they themselves glommed onto New Order for a while soon after.
And, of course, back in the 1960s there were tons of wannabe Beatles and Stones-alikes. But from the 1990s onwards, there seemed to be an epidemic of such imposters and they were roundly rebuked and ridiculed by the music press.
Alarm Bells Sounding
Into this battle strode The Vaccines. From the moment they first popped up in 2010, alarm bells sounded long and loud and the litany of suspicions rang out. 'No vacancies! We already have The Strokes and, anyway, Kings Of Leon are gainfully employed as lead Strokes acolytes', was the prevalent critical tenor. Not to mention the rumoured whiff of record company collusion, an opportunist guitar act created to fill the lucrative gaps between Arctic Monkeys releases. They were uncannily handsome too. In all, a little too good to be true?
For all that, there were fans. Zane Lowe on the radio and tons more of them. Much like the aforementioned Arctics, they'd built up a following by releasing their demos online – still a fairly novel concept back then – and there were those who backed them as champions of the cause, saviours of guitar-driven, indie-affected, under-siege old-school rock 'n' roll.
Their gigs began to sell out and celebs started turning up at their shows. Jools Holland had them on his Later TV show: the first time an act without even a single out had been invited to perform. They then put out that single, a double A side, 'Wreckin' Bar (Ra Ra Ra)' and 'Blow It Up', limited to 1000 copies, released on a brand spanking new indie label, Marshall Teller Records. The single was encouragingly Ramonesy – brief, bright, good-time bouncy. They toured and Vice filmed it. So far so groovy.
Near Triumph
They signed a big deal with Columbia and then, of course, the pressure was really on. By my calculation, at the time the call was 50/50 – half of those who cared hoping for a disaster, half fingers-crossed for something great to once more challenge the stranglehold hip-hop and R&B had on the charts. Hence, of course, perhaps the most knowing album title in the whole history of popular music. What did you expect from The Vaccines?
Notice it's 'did', not 'do'. The deed is done. The verdict, whatever it might be, delivered. Part shrug, part defiance. 'We am what we am', as Popeye nearly said. What we got, against all the odds, was pretty much a triumph, if not quite a classic. Both sides of the indie single were on it, and deservedly so. Then there was another rabble-rouser, the lighters-aloft anthem 'If You Wanna', and the très cool and ultra-modern 'Post Break-Up Sex'. 'Norgaard' was a cracker too, and the jittery 'Wolfpack'.
This was something of a rarity, like Blondie's Parallel Lines, an album that holds together thematically and atmospherically but is actually also a collection of smart, focused, self-contained singles.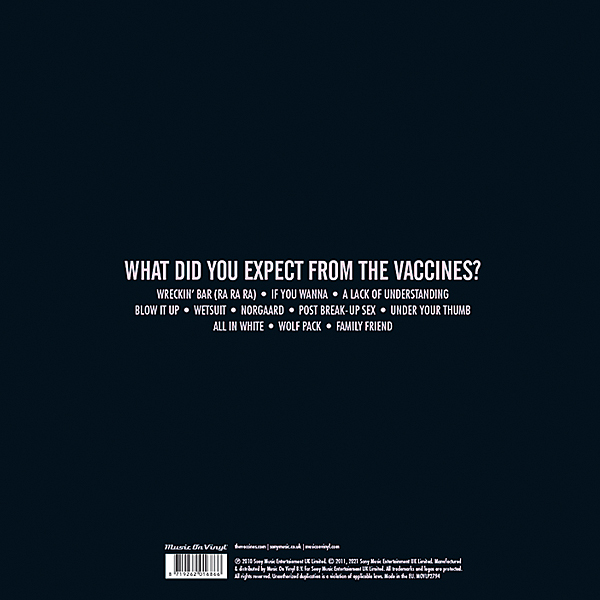 Singer and lyricist Justin Young said at the time that his influences were Jonathan Richman's I Jonathan, The Beach Boys' California Girls and Milo Goes To College by Descendents, an album which had rammed 15 spry songs into 22 minutes back in 1982 – a mix nicely calculated between classic, hip and obscure. Of course, it would have been better to disown all influences and say it all came straight from the heart, but that discourse changed the day Oasis ruined it all and betrayed their and all future generations by prostrating themselves at the shrine of The Beatles.
Now that cat was out of the bag, there was nothing new under the sun. All new guitar-based pop was declared inferior to history, bent the knee in defeat to The Small Faces and it was de rigueur, if not actually cool, to use your record collection as a signifier. Good taste had replaced originality as the route to indie hearts and minds, and Justin Young knew this full well. Which brings us to 'Wetsuit', the album's masterpiece.
It goes: 'For goodness sake let us be young/ Because time gets harder to outrun/ And I'm nobody, I'm not done… We all got old at breakneck speed/ Slow it down, go easy on me… Put a wetsuit on, come on, come on… Grow your hair out long, come on, come on/ Put a t-shirt on/ Do me wrong, do me wrong, do me wrong…'
It's a heck of a 'what the hell?' song. Just because it's all been done before doesn't mean we can't enjoy our version of the thing in our time, get totally, hopelessly lost in it and dream. Wonderful!
What Did You Expect From The Vaccines? wound up being the top-selling debut LP by a UK band in 2011. They've released three albums since, none anywhere as good. But for that one moment victory was theirs: They weren't The Strokes, they were The Vaccines.
Split Ends
And what, you might very well ask, became of Joe Lean & The Jing Jang Jong? They released a single, 'Lucio Starts Fires', then had a self-titled debut album readied for release in 2008. Just before this auspicious event the release was scrapped as the band claimed the album, 'didn't represent their current sound'. Copies went to critics; NME gave it 8/10. The band split up. And that, as they say, was that.
Re-Release Verdict
Produced and mixed by Dan Grech-Marguerat, this album was recorded in 2010 at the RAK and Miloco Square Studios in London and released the following March on the Columbia label [88697841451]. It shot to No 4 in the UK and became the biggest-selling debut album of the year. Here we have the 10th anniversary re-release on 180g black vinyl from Music On Vinyl [MOVLP2794]. It comes with a digital download coupon for unreleased What Did You Expect…? demos. HFN