Techdas Air Force One (£75,000)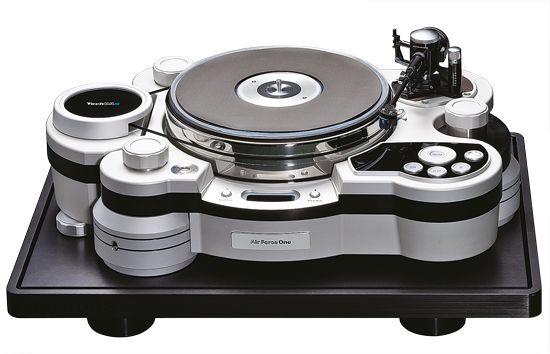 Irrespective of arm or cartridge used, the Air Force One is a peerless platform for vinyl
It does not take a genius to see, even without hearing what one could do, that the Air Force One, with its air suspension, air bearing and vacuum LP hold-down, is something out of the ordinary.
This turntable is the fruit of almost a half-century's experience in high-end audio. Chief designer Hideaki Nishikawa-san says 'The goal of Air Force One is to achieve silence in reproduction comparable to digital reproduction, especially in reproducing the recorded information of the background noise.' This is the first time we've ever heard a turntable designer acknowledge that the background and between-track silences of digital are virtues one should aspire to in analogue, even if attaining them seemed impossible.
Its construction is deliriously complex, with its stainless steel main platter enhanced by interchangeable upper platters, rotating above a sandwich construction base. The latter rides above a floating glass sub-level, the entire 43kg assembly resting on massive, adjustable, air- and polymer-gel-cushioned feet.
In addition to the two external boxes for power and air, and the deck itself, is a separate housing for the AC synchronous motor. It drives a platter that weighs up to 30kg (depending on the choice of upper platter) through a flat surface-polished polyurethane fibre belt, the 33.3/45rpm speeds controlled by a 2x50W amplifier.
A front display shows the speed to two decimal places, with pitch control in ±0.1rpm steps. The display communicates with the user, saying, for example 'Wait' as it gets up to speed. Where it astonishes, though, is in the rapidity with which it clamps down an LP if you're using vacuum hold-down.
Each AFO comes with a tonearm board with space at the rear for a second. It is also supplied with one of three upper platters but customers can, of course, buy all of them. A massive dust cover is also provided, while another extra is a special damping table.
A peerless platform
We heard the Air Force One in four systems, all of which benefited from its strengths, while more than once the notion of a CD's quietude crossed our minds.
Sam and Dave's Soul Men [Stax] was the first to illustrate Nishikawa's desire to strip away any of the unwanted noises we seem rarely to escape when playing vinyl. Raw soul, with sizzling guitar work, meaty bass, two voices duelling – the ultimate arbiter of the AFO's excellence was the interplay between Sam's clear tenor and Dave's raspy baritone.
Never have we heard 'Broke Down Piece Of Man' reproduced with so much energy nor with the sense of anguish and pain demanded of the performance. Dave delivering the line 'Heartache and misery, walk by my side,' then pleading, 'Please give our love another chance' – the torment would elicit forgiveness from the coldest of cynics.
LPs flew from shelf to platter. Willy DeVille's Miracle [Polydor] is the showcase that gave us 'Assassin Of Love'. DeVille possessed a voice of such distinct texture and deep resonance that woofers probably quaked at mention of his name. From the most ghostly of background silences came a sound that materialised as if by magic.
Verdict
Irrespective of arm or cartridge used, the Air Force One is a peerless platform for vinyl. It is the most revealing analogue source we have ever heard bar the best examples of open-reel tape.
Originally published in the 2013 yearbook