T. Rex: Electric Warrior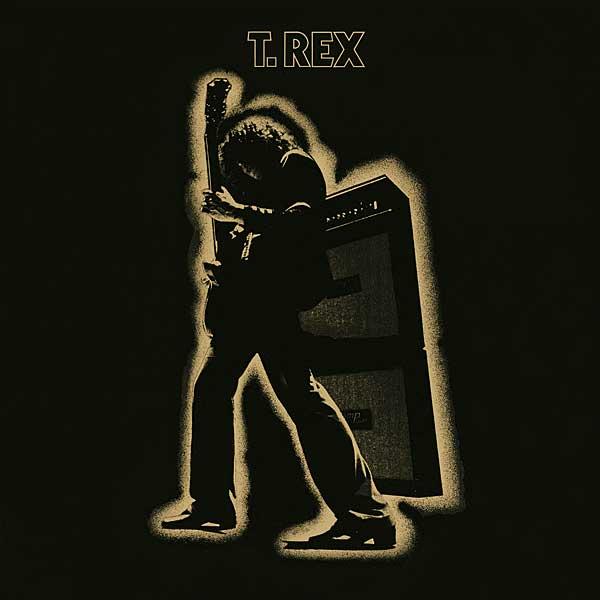 Marc Bolan gave kids of the '70s a new exciting sound with this chart-topping LP, now reissued on 180g vinyl. Steve Sutherland celebrates the 'rock 'n' roll poet'
It might not have been as seismic, say, as Judas dobbing Jesus in to Pontius Pilot, or Bob Dylan hitching his wagon to The Band and suddenly turning electric, but a betrayal's a betrayal, right?
One moment there he was, sitting cross-legged in the dust on the floor of anyone who'd have him, strumming erratically on an acoustic guitar and warbling about elves and unicorns. He was a storyteller, his voice a quivering patchouli-scented mew, while his doe-eyed partner tapped mostly out of time on a pair of bongos.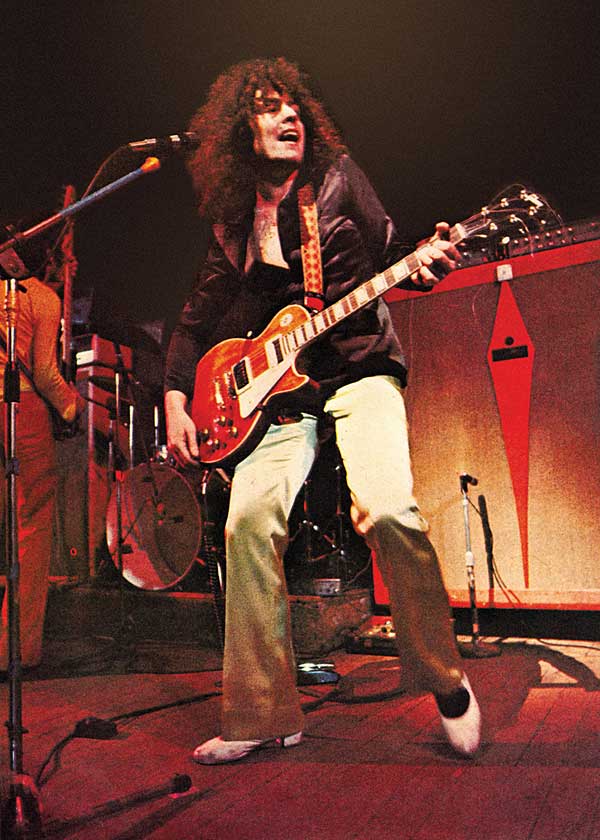 Trading Places
The next thing you know he's on stage in high-stack-heels, shamelessly shaking his booty in satins and stars. What sort of scoundrel would do such a thing, trade in his credibility, his integrity, his art for a simple, brazen bash at the big time? Who would slap on the greasepaint, tense up his buns and unapologetically dump all his scruples in a bin by the side of the yellow brick road? What sort of alien being would trade every principle for a gleaming pile of pounds, shillings and pence?
Mr Marc Bolan, that's who. Born Mark Field, he'd been a model, an actor, a mod, a member of a band called John's Children… Basically, any and pretty much everything to get noticed before he took to playing the hippie for a while.
In hindsight, there has probably never been a more transparently opportunist and careerist pop star than Marc Bolan except, maybe, his on-off buddy – and contemporary founder of what became known as glam – David Bowie. And the portents were there in plain view for those who chose to interpret them. As soon as Bolan culled the 'yrannoaurus' bit from the band name to make it easier to remember and scribble on a school bag or back of a blazer, his ambition was clear as day. Then there was 'Ride A White Swan', a tiny diamond of a single that built a bridge between his waning Tolkeinisms and his waxing libido. There was only one way he was heading, and that way was up.
The album that finally delivered on a lifetime of changeling schemes and grandiose dreams was Electric Warrior, a platter of carefully carefree magnificence which, again with retrospect, did the same as punk would a handful of years later. It jettisoned all the intellectual leanings, and aurally reconnected popular music to its rocking roots, all while creating a brand-new fashion that adolescents could adopt as their very own.
When David Bowie penned 'All The Young Dudes' for Mott The Hoople, he couldn't have written a more apposite critique of Electric Warrior: '…My brother's back at home/With his Beatles and his Stones/We never got if off on that revolution stuff/What a drag/Too many snags…' It does also, of course, salute Bolan's T. Rex by name.
Cosmic Dancer
When the album, the band's second under the T. Rex moniker, was released on the 24th of September 1971, the reviews were mostly pretty sneery. The kids buying the records, however, didn't care for the hacks and their hang-ups, and lapped it up. 'I am my own fantasy', Bolan said at the time. 'I'm not frightened to get up there and groove about in front of six million people on TV just because it doesn't look cool.'
The singer/guitarist also had a few words for rock's elder statesmen. 'Neither Dylan nor Lennon are better than me, and they know it. They know where I'm at – I'm different, like them. I've known I was different from the moment I was born. I'm a rock 'n' roll poet man who's just bopping around on the side. My head is perfectly clean inside. I'm sorry if my actions upset some people, but I'm absolutely honest about what I'm doing and I know it gives lots of people pleasure.'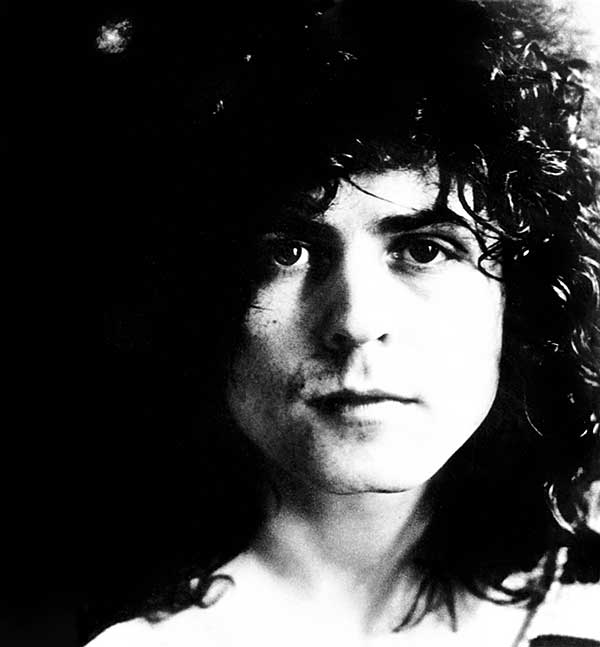 He finished by saying that anyone 'offended' by T. Rex's latest album could 'always switch it off'.
Rex Appeal
So this was pop music in capital letters. It only worked if people loved it. And people did, in their millions. The album went straight to No 1 in the UK and T. Rex gigs were riots of the screaming ab-dabs the like of which hadn't been seen since Beatlemania, a phenomenon which led Bolan's clever publicist B P Fallon to coin the marvellous phrase T-Rexstacy.
The album was mostly recorded bit by bit, on the run, as it were, while Bolan was touring America, and produced with a brio by Tony Visconti, who went on to partner Bowie in the studio to rich reward. The singles that kicked the '60s into touch and ushered in the '70s were 'Jeepster' and 'Get It On' (called 'Bang A Gong' in the US), and both were fabulous – pop as it should be, meaningless and yet meaningful, clipped couplets of beautiful innuendo, the spirit of Eddie Cochran and Gene Vincent kitted out in a feather boa. 'Mambo Sun' was 'Hey Bo Diddley' in a tiara, 'Life's A Gas' an exquisite antidote to all the post-Beatles misery the navel-gazing John Lennon was dumping upon us ('It really doesn't matter at all/Life's a gas/I hope it's gonna last).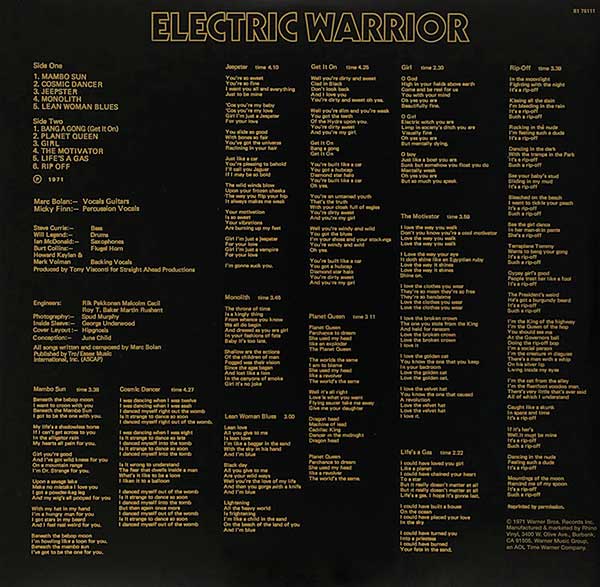 Electric Warrior's genius was, in part, that it wasn't really recorded as an album per se. While everyone else appeared intent on growing a beard and releasing double-gatefold works of cosmic profundity, Bolan was slapping on the make-up and putting it down song by song, like a collection of '45s. Looking back, one critic was sagely moved to announce: 'Bolan… was no longer simply recording a song. He was channelling the last 20 years of popular music', while Morrissey, a massive Bolan fan, has said: 'Marc was the first pop artist who seemed to be telling us that the future was more important than the past. Nothing dates those songs'.
So Long, John
Of all who felt most betrayed by Bolan's ascent, John Peel was perhaps the most bitter. Peel had been Bolan's champion right through the hippie phase. When Peel was booking acts for London's Middle Earth Club, he'd installed Tyrannosaurus Rex as the house band. When Peel got his radio show on the Beeb, TR were frequent guests. And when he roamed the country on those Deejay roadshows, he invariably hauled Bolan along to be the opening act. Peel even went so far in his support as to appear on the 1968 Tyrannosaurus Rex debut LP – My People Were Fair And Had Sky In Their Hair... But Now They're Content To Wear Stars On Their Brows – reading a children's story at the end of 'Frowning Atahuallpa (My Inca Love)'.
But Peel couldn't stomach Bolan's pop metamorphosis and ceased to play T. Rex on the air. Bolan, already on a planet of his own, simply stopped taking Peel's calls.
'Screw the critics', he said. 'If they don't like it, they can take acid and jump out of the window.' Hmmm...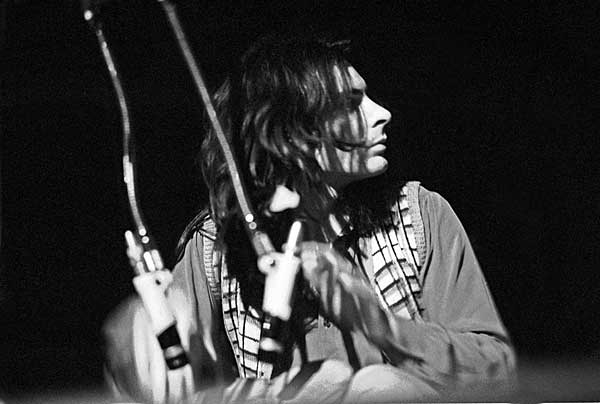 Re-Release Verdict
First released by UK independent label Fly in 1971, T. Rex's Electric Warrior enjoys a belated 50th anniversary reissue on 180g black vinyl from Universal Music Catalogue/A&M Records [ARHSLP017]. Remastered at halfspeed by engineer Miles Showell at Abbey Road Studios – as proclaimed by the OBI strip – the LP comes with a mastering 'certificate', and features portraits of Marc Bolan and Mickey Finn on its inner sleeve, plus the original cover art. HFN