Symarip: Skinhead Moonstomp
A song with a kick, but for all the wrong reasons, as Steve Sutherland reassesses a ska album from 1970, which has recently been re-released on 180g vinyl
We could begin with Plato, or even Aristotle, but Oscar Wilde it is. In his 1889 essay, The Decay Of Lying, the great man took umbrage with the Greeks' philosophy of mimesis which said that all true art mimics nature. On the contrary, quoth Oscar, 'Life imitates art' and that is roughly how it felt – very roughly as it happens – one sunny Saturday lunchtime in April, 1972, when I got my head kicked in.
I was lazing around on the lawn in Salisbury Cathedral Close with a trio of budding hippie school pals, when about a dozen skinheads, on a stop-off on their way to cheer on Cardiff City who were playing at Swindon Town, swiftly descended upon us and put the Doc Martens in.
Cashing In
I instinctively curled up in a ball and took most of the blows to the back and shoulders. My mate Dave wasn't so lucky and got himself a black eye, a bloody nose, a couple of loose teeth and a visit to out-patients. The whole random, motiveless, gleefully delivered episode of the ol' UV (Ultra Violence) was acutely reminiscent of a scene I'd witnessed a year or so earlier when I'd sneaked in, underage, to catch Stanley Kubrick's cinematic masterpiece A Clockwork Orange – the one with Malcolm McDowell and his gruesome Droogs based on the Anthony Burgess novel and hastily removed from cinemas when it was felt the joyous celebration of meaningless thuggery might have a detrimental affect on our impressionable young populace!
As I'm assured is often the case, although our booting was over in seconds, it felt like it was happening in slow-mo, and whenever I recall it now, decades later, the action replay of my humiliating bruising is soundtracked by Symarip's 1970 album Skinhead Moonstomp.
Symarip were proper strange for many reasons but mainly because it may well be that they should go down in history as the most opportunist group there ever was. Their main movers and shakers – singer and trombonist Roy Ellis and keyboard player Monty Neysmith – were London-raised geezers of West Indian descent who, seeing that the music they excelled in playing, the ska/early reggae being imported from Jamaica, was being adopted by the fastidiously stylish, close-cropped British working class cult known as skinheads, decided to cash in and overtly target them with songs created in their honour. This, despite the fact that the skins were an infamously racist bunch…
I've always thought it incomprehensibly weird that this pro-white youth movement should get its major rocks off to music imported by the very folks they purported to hate, let alone a group from that community deliberately directing their talents to entertain them. But business is business, a living's a living and if Symarip were ever about anything it was making ends meet and getting by as best they could in an era when James Moffat, writing under the pseudonym Richard Allen, had a best-seller with his pulp novel Skinhead whose hero is a very nasty racist, and in the shadow of the appalling speech made by Tory MP Enoch Powell in Birmingham in April 1968, when he predicted rivers of blood would flow through our streets if we didn't cull our immigration policy and repeal the Race Relations Bill. This legislation made it illegal to refuse anyone employment, housing or social services on the grounds of race, colour or ethnicity.
Under these tough circumstances, Symarip may well be the ultimate survivors. After a few this-and-thats, they started out seriously as The Bees, signing to the prestigious Blue Beat label and debuting with the 1967 single 'Jesse James Rides Again' under the aegis of the fabulous Laurel Aitken. When Prince Buster, Blue Beat's main man and ska originator, arrived to tour from Jamaica that year, The Bees were his support and backing band, thus gaining themselves the reputation of the UK's premier live act on the ska circuit.
Surprise Hit
Looking to expand their profitability, The Bees began moonlighting from their Blue Beat contract under the name The Pyramids, and got themselves signed to the President label on the recommendation of Eddie Grant, who was soon to blossom as the boss of The Equals. Grant wrote a few singles for The Pyramids, including 'Train Tour To Rainbow City' which was a suspiciously close facsimile of Prince Buster's 'Train To Girls Town'.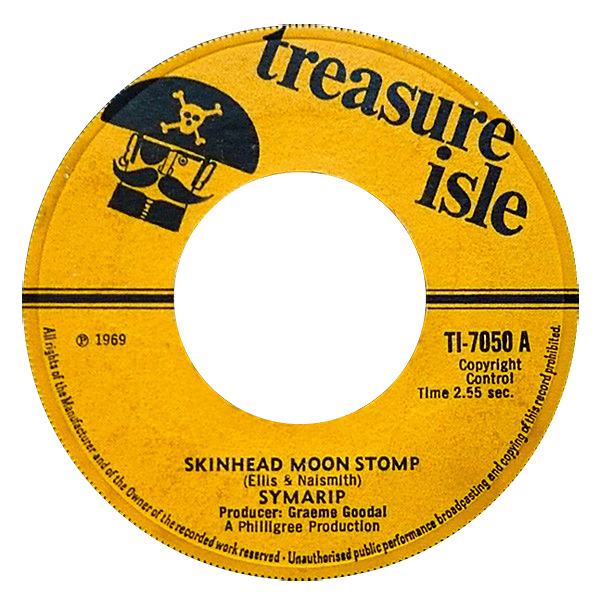 The tracks for President didn't exactly take off in the UK but 'Mexican Moonlight' was a surprise hit in Germany: news that President allegedly neglected to tell the group. Once they cottoned on, they were off again, looking for the next opportunity. This arrived courtesy of the label Dr Bird and its off-shoot Treasure Isle, for whom they again moonlighted, while under contract elsewhere under the noms de plume The Seven Letters and Symarip (loosely The Pyramids spelt backwards).
Stomp And Shout
Their first for Treasure Isle was 'Skinhead Moonstomp', their biggest hit and the title track of the LP we're here to celebrate. Here's how Monty Neysmith remembers it. 'A lot of skinheads started coming to our shows, and Roy and I said it would be good to write a song for skinheads. We remembered a song ["I Thank You" by Sam & Dave] where they said, "I want everybody to get on their feet, and this and that, and give me some of that old soul music".
'I thought, let's change the words and put, "I want all you skinheads to get on your feet, put your braces together and your boots on your feet, and give me some of that old moon stomping".'
So that's what they did, borrowing wholesale from a track that had recently been released on Crab by Derrick Morgan called 'Moon Hop' to mark the Apollo Eagle moon landing and Neil Armstrong's lunar bop. Morgan was not best pleased and he wasn't a man to mess with, having survived a beef with the aforementioned Prince Buster some years earlier.
Buster had accused Morgan of lifting his biggest hit, 'Don't You Know' (later retitled 'Housewive's Choice'), from one of Buster's tracks and fired off a racist response in the shape of 'Black Head Chiney Man', a dig at Leslie Kong, Morgan's producer. Morgan replied with 'Blazing Fire' which threatened Buster with retribution. Buster replied with 'Watch It Blackhead'. Morgan responded with 'Still Insist' and when things got really ugly and violence erupted between their posses, the government stepped in and arranged a photo shoot to declare that all was healed and brotherly.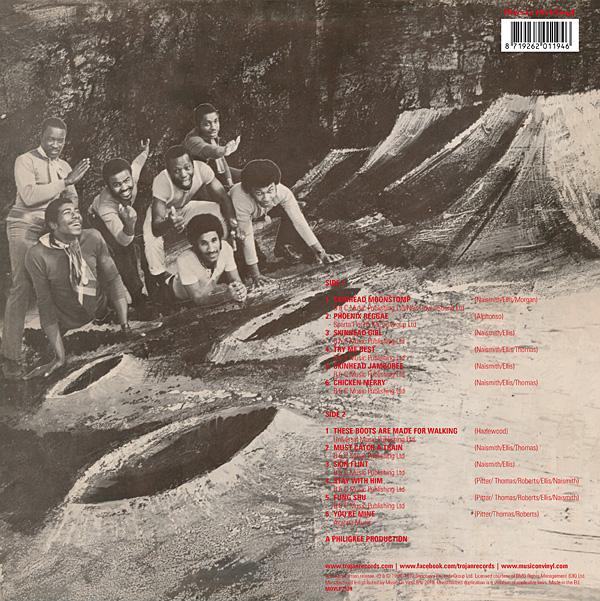 Crowd Stoking
Symarip brazened it out with Morgan over their own beef and with Moonstomp selling well, went in and bashed out an album for Trojan to cash in on the lucrative skinhead angle. The title track, with its admonishment from chief skinhead Caleb to keep everything 'spick and span' and its 'Nah nah nah…' crowd-stoking chorus sets the tone and they don't stray far from it. 'Skinhead Girl' is sweet enough, 'Skinhead Jamboree' a lame rework of 'Moonstomp' and their appropriation of Nancy Sinatra's 'These Boots Are Made For Walking' (in this case 'stamping') is laudable opportunism but a bit gruesome when you think about it. 'Stay With Him' breaks the mould somewhat, nicking its intro from The Maytals' 'Sweet And Dandy' and betraying their roots as a pre-ska soul covers band, while 'Skin Flint' is a neat instrumental but not a patch on, say, Boris Gardiner's 'Elizabethan Reggae'.
Once it was released, the band tried their luck importing ska to Germany until they got kicked out for lack of work permits. Then they splintered, still regrouping upon occasion in ones and twos to put in a shift at reggae festivals on the back of one of pop's weirdest novelties, the ol' Moonstomp. It even hit the lower reaches of the charts again, re-released in 1980 to cash in on the ska revival spearheaded by The Specials, Madness, The Selecter, et al, on 2-Tone.
Let's face it, you'd be hard pushed to claim this album is any kind of musical genius yet Skinhead Moonstomp is a consumer-focused, target-marketed product of which any modern business would be proud.
Re-Release Verdict
The late '60s group made this 12-track studio album for release in the UK in April 1970 where it appeared on the Trojan label [TBL 102]. The producer was Australian-born Graeme Goodall, who co-founded Island Records with Chris Blackwell in 1962. The CD reissue didn't appear until 1995 [CDTRL 187], but here the album is a Music On Vinyl reissue, pressed as a 1000-copy limited edition on 180g orange vinyl [MOVLP2529]. So readers can expect a flat copy with silent surfaces. HFN