Stst Motus Ii/vertex Direct Drive, Suspended Subchassis Turntable With Tonearm (£4995 Turntable; £2795 Tonearm)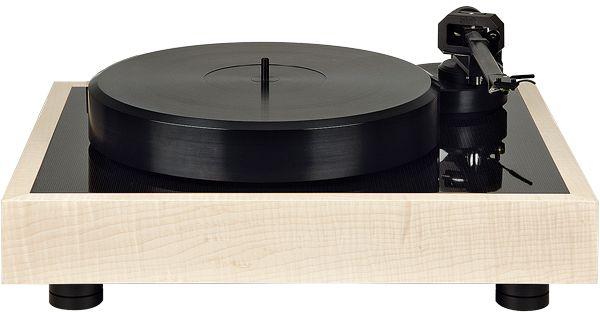 STST has quite successfully reinterpreted the idea of direct-drive from an audiophile perspective
It's that very rare bird: a suspended-subchassis turntable with a direct-drive motor. A development of STST's original Motus solid-chassis model, the Motus II inverts the usual concept of a subchassis turntable.
Although the 'plinth' is a substantial component made of 20mm MDF, in reality it is just a cover. Once the platter and arm
have been removed, it can be lifted off to reveal the whole mechanism. Below, a 12mm-thick laminated baseboard stands on three feet.
The subchassis is cut from a 13mm laminate and suspended on three tension springs, each with level adjustment. Mass distribution can be varied by means of large brass weights while just inboard of the main suspension points are dampers in the form of auxiliary leaf springs. The correct setting – via two bolts – is achieved when, if the subchassis is displaced, it oscillates up and down from four to six times with no lateral movement.
The main bearing housing rotates around an inverted bearing post that uses a ceramic ball and Teflon thrust plate at the top, with a sleeve of special plastic encircling the fixed shaft. The platter itself is machined from a polymer material, with a recessed centre to give clearance for record labels and bevelled at the outer edge. No record-clamping device is needed.
Phase-locked-loop servo electronics control the motor via a separate mains power supply unit that provides the necessary 18V DC via a two-pin connector. It takes the Motus under ten seconds to get to 33.3rpm from rest.
Instead of a conventional armboard, the STST subchassis has a large cylindrical well and the arm mounting-base fits over this like a cap, clamped by a hex bolt. As the arm pillar is placed eccentrically in the base, this can be rotated to vary the overhang.
STST's own Vertex arm comes in 9in, 10in and 12in versions and uses conventionally arrayed gimbal bearings in a very rugged housing, while the arm tube is of carbon-fibre. Alternative counterweights are supplied while the machined alloy headshell is adjustable for azimuth.
A proper authority
With a Benz Micro Glider SL cartridge installed we quickly discovered that music with the STST Motus II could be enjoyably foot-tapping. For example, with Eric Clapton and Backless [RSO], the STST did a great job on the bass-heavy opening track, 'Walk Out In The Rain', with a bottom end that was powerful but quick, and it kept the music sounding clear and not too grungy. On the uptempo 'Watch Out For Lucy' the striding bass line had its proper authority while everything else fell happily into place, Marcy Levy's background vocals clearly placed and the mixed-down harmonica bubbling along. Clapton's lithe guitar was a real joy.
The STST could dig deeply into the sound of familiar albums, even from the mono era. Putting on The Best Of Muddy Waters [Pye] we felt transported back to the moment when the tracks were taped.
The STST excelled too with Thad Jones/Mel Lewis big band's 1970 recording Consummation [Pure Pleasure], sounding smooth yet not rounded-off. After Richard Davis's bass intro, the band came in as if appearing out of inky blackness, with a wonderful sense of space and depth, and above all, we think, a feeling of stability.
With nicely-miked classical recordings, the STST could deliver a poised, balanced and effortless sound. Holst's St Paul's Suite, with the Bournemouth Sinfonietta under George Hurst [RCA], was a case in point. Here the STST really conveyed the recording's reverberant, deep and slightly hazy perspectives.
Verdict
STST has quite successfully reinterpreted the idea of direct-drive from an audiophile perspective. Used with the Vertex arm, the Motus II gave a sound with tremendous stability and very 'black' backgrounds, free of any noticeable colorations and with an authoritative and responsive bass.
Originally published in the 2014 Yearbook