Steely Dan: Can't Buy A Thrill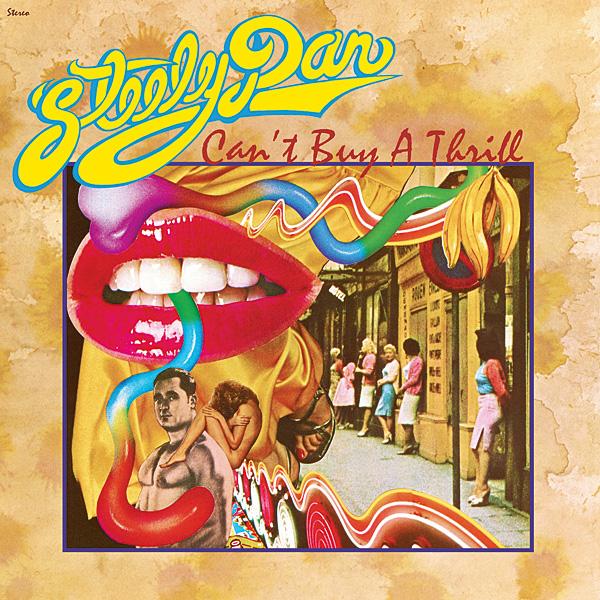 Musically accessible, lyrically inscrutable, and buoyed by stellar session work, this 1972 debut ensured Steely Dan weren't buried by Bowie et al, says Steve Sutherland
What's the greatest guitar solo ever? Well, off the top of my head I'd say Jimi Hendrix on his version of Bob Dylan's 'All Along The Watchtower', where he makes a number of miraculous stylistic changes and creates mysterious sounds never heard on this planet before or since. Then I'd go for Frank Zappa just letting rip on his dope-growing satire 'Montana' from Over-Nite Sensation. And thirdly I'd plump for Jimmy Page ascending into the stratosphere on Led Zeppelin IV's 'Stairway To Heaven'.
Page Turner
But hey, what do I know? Let's ask the experts. Messrs Hendrix and Zappa are unfortunately no longer with us so that just leaves Jimmy Page to give an opinion. His answer is a piece of fret magic from Elliott Randall… Uh, hang on, Elliott who? You heard him: Elliott Randall. In fact, according to Page his solo is so good he gives it 12/10! So just who is this Elliott Randall fella?
Apparently he's a gun for hire, a session musician who guested on many an album for bands such as The Doobie Brothers and Toto, not to mention working on soundtracks with filmmaker Oliver Stone and helping out on US TV show Saturday Night Live. He was so busy at one stage that he even turned down John Belushi's offer to head up The Blues Brothers Band. Anyway, the reason we're rattling on about Randall is that he played the exquisite solo – the one Jimmy Page so admires – on Steely Dan's 'Reelin' In The Years,' which just happens to be the biggest hit, if not the most famous track, from Steely Dan's magnificent debut LP Can't Buy A Thrill, which hit the shops in 1972.
Before we get to the album's nitty gritty, and while we're on the subject of chaps some of us have most likely never heard of, it's time to say hello to David Palmer, another gun for hire on the album, only this time as a vocalist.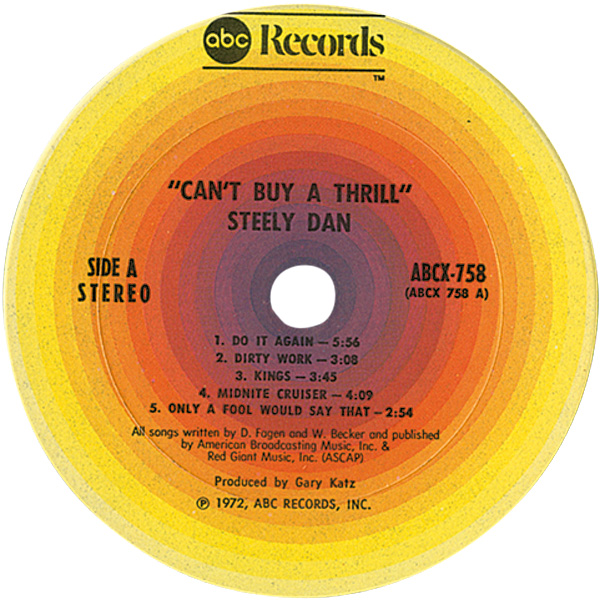 Helping Hands
Palmer was drafted in to sing on Can't Buy A Thrill and perform the supporting concerts because Steely Dan's Donald Fagen didn't trust his own vocals and, in the act's characteristic search for perfection, decided they needed a steadier voice up front. Later, once Fagen got the nerve, Palmer was dispensed with, so Can't Buy A Thrill turned out to be his 15 minutes of fame.
The band were really a duo – Donald Fagen on keyboards and reluctant vocals, and Walter Becker on bass. This album, their first, was created with a little help from friends, and while we're feeling list-y I'm here to tell you that any countdown of the greatest debut albums of all time that doesn't include Can't Buy A Thrill is a sham. It's up there with Television's Marquee Moon, MGMT's Oracular Spectacular, The Cramps' Songs The Lord Taught Us, The B-52's B-52's and other genius first works. The only thing that differentiates it is that, while in the majority of cases the debuts just mentioned turned out to be by far the acts' greatest albums, Steely Dan went on to record at least four more that were the match of Can't Buy A Thrill.
But that's for another time. We're here to marvel at the album's smooth musical accessibility and arch lyrical inscrutability, which kind of came right out of nowhere. A ton of great albums were released in 1972 – David Bowie's Ziggy Stardust, The Rolling Stones' Exile On Main Street, Yes's Close To The Edge, Jethro Tull's Thick As A Brick, Neil Young's Harvest, Genesis's Foxtrot, Stevie Wonder's Talking Book, Lou Reed's Transformer, Miles Davis' On The Corner and Alice Cooper's School's Out to name a few. It's testament to how amazing Can't Buy A Thrill is that it wasn't buried under this avalanche.
Dark Side Of The Moon
From the off it stood out as different. In interviews, Donald Fagen would heap disdain on what passed for contemporary rock music with especial venom reserved for the likes of The Grateful Dead and their psychedelic jamming ilk. Steely Dan, you see, were jazzers at heart (they penned a beautiful ode to Thelonius Monk on their next, equally marvellous LP, Countdown To Ecstasy) and had zero truck with the 'Love is all you need' generation. 'I heard it was you/ Talkin' 'bout a world where all is free/ It just couldn't be', is how 'Only A Fool Would Say That' goes.
Indeed, you could say Steely Dan's world view was somewhat pessimistic. 'When you know she's no high climber then you find your only friend/ In a room with your two-timer, and you're sure you're near the end' is about as close to 'Moon-June' platitudes as they get, the song 'Do It Again', which opens the album, being a catalogue of addiction and idiotic repetition that Lou Reed at his darkest would be proud of. Ditto follow-up track 'Dirty Work', where the protagonist hangs on as the bit on the side for a rich lady in the full knowledge that a grim outcome is inevitable.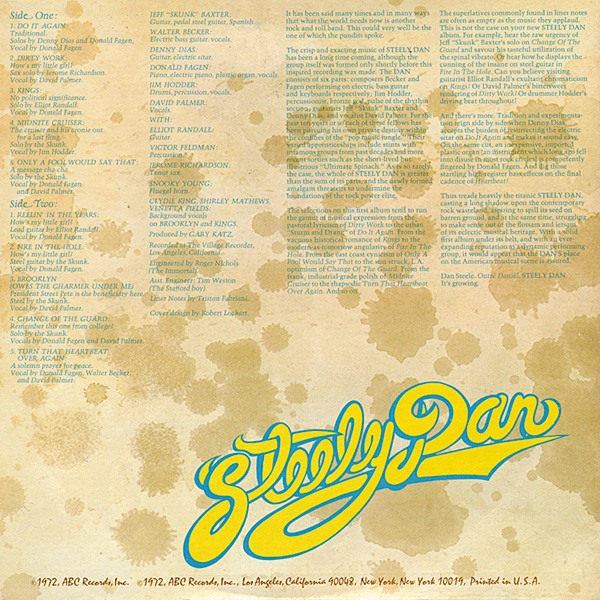 Perverse Pleasure
These are sombre songs critically mocking us trapped in our habits and desires, the complete antithesis of the soul-searching singer-songwriters who dominated the early 1970s. And the coup de grace, as they'd doubtless put it, was that all this skewering of dumb humanity was clothed in such elegant, precise and audaciously virtuosic musical arrangements we'd be suckered into singing along.
A good example of this invigorating cynicism is the aforementioned 'Reelin' In The Years', which is a withering resume of a failed relationship disguised as an uptempo, soft rocker with a sunny disposition. Its verses are episodic and movie-esque, so that listening to it now reminds me of the Coen Brothers' movie Ballad Of Buster Scruggs, an illustration of life's cruel ironies masquerading as a collection of set-piece Westerns.
The thing about Steely Dan, then, is that they were cleverer than us and they knew it. These songs are tantamount to showing off and the weird thing is, that's quite alright. Call it masochism if you wish, but there's a perverted pleasure in indulging in Can't Buy A Thrill, fully cognisant that all along it's telling you that all we believe in is rubbish, all we like is infantile trash, and all our tastes are cliches and platitudes. And it has that killer guitar solo, too.
Re-Release Verdict
Steely Dan's ten-track debut has been released on 180g vinyl by Geffen Records/UMe [B0035111-01], as the first in a new series of reissues spanning the band's 'classic' 1972-1980 era, overseen by founder Donald Fagen. Engineer Bernie Grundman has remastered the album from the original analogue tapes. A 200g, 45rpm double-disc Ultra High Quality version, with booklet, is also available via Analogue Productions' UHQR series [UHQR 0009-45]. HFN