Spiral Groove Sg2 (£15,000 W/arm)
The American brand arrives in the UK with a design determined to make an impact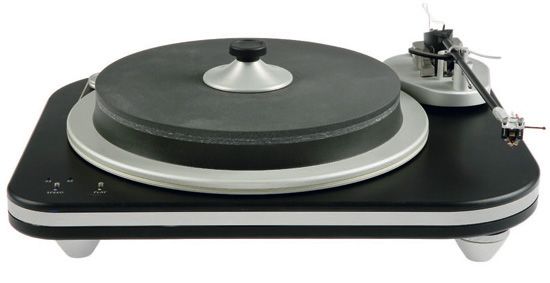 Only recently have Spiral Groove products become available this side of the Atlantic. The SG2 turntable is determinedly luxurious, with an exemplary quality of finish. The SG2 eschews suspension in favour of constrained layer damping in its plinth and platter. The plinth has two thin layers of unspecified material separating three aluminium plates, while the platter comprises a thick phenolic layer followed by two thinner layers, one of vinyl, the top surface of graphite. A screwdown clamp mates the record to the platter.
The bearing assembly employs an inverted sapphire disc/ceramic ball bearing in a hardened steel sleeve and, unusually, the spindle and platter bearing are decoupled to reduce energy transfer. Key to the SG's design is that the platter is driven on the rotational plane of the bearing to minimise wobble. The drive belt loops around a ring of aluminium at the base of the platter, extended beyond the size of the platter itself in a bid to increase speed stability.
Power to the SG2's isolated 12V AC motor is delivered by an external PSU housed in a handsome case, although a generous 3m connecting cable is supplied should you want to conceal it. Electronic speed switching (33 and 45rpm) and Start/ Stop are via push buttons on the plinth, with fine speed adjustment provided via recessed trims.
The Centroid tonearm is a 10in unipivot design with an aluminium arm tube sheathed in a thin layer of carbon fibre. The pivot point is on the same plane as the record surface. It uses a sapphire bearing cup and steel pin, while the arm bearing post, small damping trough of silicone fluid, post for the threadand- weight anti-skate device, and the cueing mechanism are all integrated into the SG2's armboard.
Overhang, VTA, azimuth and zenith are all adjustable. The arm can be used with cartridges weighing from four to 20g, SG says. The cueing device is not damped, but in fact we found it lovely to use. The arm terminates with two RCA phono sockets; a version with XLRs is imminent.
CLEAR, ARTICULATE
Our SG2/Centroid combination was delivered fitted with Dynavector's striking DRT-XV1s cartridge. Other than at hi-fi shows over the years we've not heard this Dynavector before. Choosing a rock favourite, 'Rubina' from Joe Satriani's debut solo LP Not Of This Earth [Food For Thought Records, GRUB 7], we were immediately taken by the clear and articulate presentation. Resolution of detail was exquisite, the sound appearing bereft of any vinyl 'grunge' as we heard all the delicate percussive elements together with the recording's production effects.
Clarity, detail and focus were wonderful, then. But we felt robbed of some low-end 'grunt'. Similarly Johnny Guitar Watson's 'A Real Mother For Ya' from 1977's A Real Mother [DJM Records DJF 2050] seemed a touch lean, its rolling sub-bass synth not creeping across the carpet and up the trouser legs in the manner to which we're accustomed. The sound was fast and articulate – expressive and refined, too – but missing some tonal colour and bass energy.
With an Ortofon Cadenza Blue in situ the player proved extraordinarily kind to surface noise when playing old LPs. And the Spiral Groove's ability to resolve extremely fine details had a magical effect. However, the title track of Miles Davis' Tutu album [Warner 925 490-1] appeared slowed down a tad, if allowing me to more easily dissect its constituent parts. There was plenty of low-end 'grunt' too.
VERDICT
Expressive and communicative in equal measure, Spiral Groove's SG2 with Centroid tonearm is a top-flight performer. Its analytical nature might not suite every taste, but in a sympathetically balanced system it crafts wonderfully detailed sonic images.

Originally published in the Yearbook 2011