Schiit Audio Magni (£80)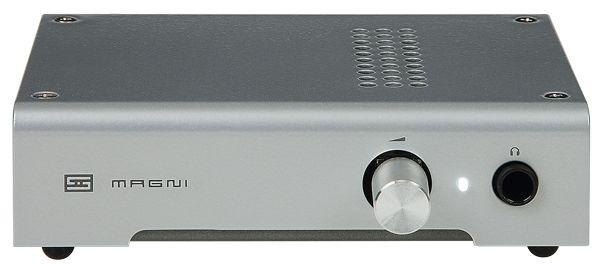 The Schiit Audio Magni joins a small, select group of components that let you wallow in decent sound for well under a ton
Schiit products benefit from a Scandinavian nomenclature – Asgard, Bifrost, et al – so, should this stunning little Magni headphone amplifier prove tempting, you needn't approach the salesman with the embarrassing request, 'Do you stock Schiit?'
As its company founders are seasoned designers of [quote], 'fully balanced differential power amplifiers, fully discrete I/V conversion stages, audiophile D/A converters, relay-switched stepped attenuator volume controls in preamps, etc,' they could have launched Schiit with whatever product genre they liked. Being savvy, they chose headphone amps.
Schiit works with 'simple, discrete circuit topologies' for the analogue sections, while its DAC products feature 'innovative bit-perfect management systems'. It also uses Class A amplifier designs 'where practical – and single gain stages when possible'. It eschews op-amps, integrated or discrete, except as DC servos, or in the Modi which is the company's most affordable DAC.
Despite being built down to a price, the company's entry-level headphone amp, made in the US, is far from pedestrian. Its build quality, fit and finish do not suggest serious cost-cutting, and the rear-panel on/off toggle and the front panel rotary feel solid and encouraging.
This is budget esoterica at its most blissfully simple, inexpensive and compact. Schiit claims that the Magni delivers 1.2W/32ohm and it certainly drove the new Focal Spirit Classic, which barely made a peep with the feed from an iPod. Ironically, it suits the sort of headphones that one might not expect to be partnered with a £99 amp – we also gave it a whirl with a grand's worth of AKG K812s and it was a delight.
This baby runs warm, but it's suitably ventilated and never caused any worries. A regulated 16V wall wart AC power pack feeds the Magni, and rear line inputs are via phonos. At the front is the ¼in socket, inviting you to use 'real' cans, which are driven by a discrete gain stage design with 'fast VAS transistors and massive output power transistors'. Schiit uses a DC servo to eliminate coupling capacitors from the output, operation being Class A/B and DC-coupled throughout.
Definite grandeur
A dose of powerpop opened the sessions, with The Wonders' CD single 'That Thing You Do' [Play-Tone Records] possessing all of the snap we were hoping to hear. The sound was acceptably wide, if not as airy as with the £69-dearer Musical Fidelity V90 HPA. What it lost in absolute refinement, it made up for with solid, extended bass, convincing decay on the kick-drum and good spacing of the vocalists.
Then we gravitated toward Badfinger's Timeless… The Musical Legacy [Apple], longing to hear the opening piano of 'Come And Get It'. Suitably church-like bass followed in cadence, sweet vocals above, cymbals far left – the mix of textures caused no loss of composure. Through the Magni, the track acquired a definite grandeur.
The Magni can also swing from out-of-the-ear stereo to in-the-head mono with convincing solidity and a wonderful retention of low-level details. George Formby's 'When I'm Cleaning Windows' [Retrospective] was recorded in 1936 yet it sounds refreshingly 'full frequency' and as rewarding as anything decades younger. Then again, the playing is peerless. Even better is his 'Chinese Laundry Blues' – suddenly there's rich bass and an increase in level. It's hard to fathom that this mono recording is even older.
But we followed it with the audiophile-grade live material on Little Feat's Rad Gumbo: The Complete Warner Bros Years, where the Magni was able to flex its muscles, spread its wings. It embraced the rhythmic fluidity, the funk, that made this band so genuinely inimitable.
Verdict
We would not suggest that we have heard every headphone amp below £100, but we can't imagine this much glorious sound from anything that's less expensive. It joins a small, select group of components that let you wallow in decent sound for well under a ton.
Originally published in the 2014 Yearbook