The Rolling Stones: It's Only Rock 'N' Roll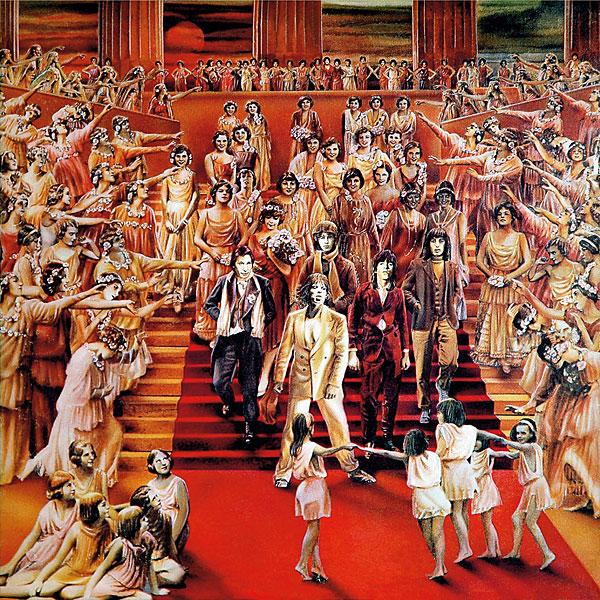 Their 1974 riposte to criticism, which Steve Sutherland finds a mixture of downright goodies with a sprinkling of duds is remastered on 180g vinyl from pure analogue
The Rolling Stones have just released their first original track for eight years. 'Living In A Ghost Town', started some time ago when the band could convene together in a swanky recording studio and hastily rounded off with isolated overdubs. It's getting a bit of a pasting from the online community who are having a lot of fun mocking Mick Jagger and Co for moaning about being stuck at home when they live in mansions with acres of land, hot tubs and snooker rooms, etc.
Fumbling In A Fuddle
It doesn't help that it shares part of its title with The Specials' astonishing 'Ghost Town', a timely classic back in the recession-hit early '80s. The Stones' chug-a-lug doesn't come out of the comparison awfully well. To add somewhat of an insult to injury, 'Living In A Ghost Town' comes limping on the heels of a split-screen online performance of 'You Can't Always Get What You Want' from 1969's stunning Let It Bleed. Part of Global Citizen's One World: Together At Home Coronavirus Relief Concert, the new take on the song finds Jagger grooving energetically on an acoustic in his front room and Ronnie Wood adding tasty licks from his hallway.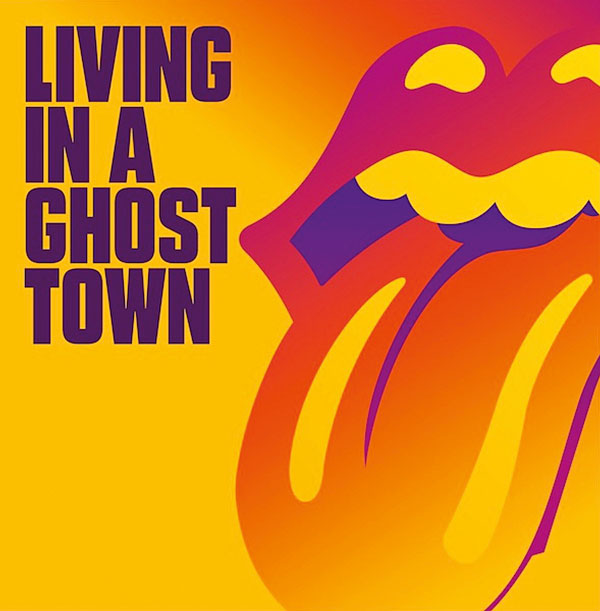 So far so OK. But then there's Keith Richards, fumbling about in a bit of a fuddle, contributing barely anything, seemingly not exactly sure what he's supposed to be doing. And worse, Charlie Watts cheerfully air-drumming in his study, despite the fact that we can clearly hear a solid rhythm section, presumably a pre-recorded backing track. It all feels a bit false and fake.
Not that batting away slings and arrows and the like is anything novel for The Rolling Stones. Ever since their legendary late '60s/early '70s run of Beggar's Banquet, Let It Bleed, Sticky Fingers and Exile On Main Street, they've been accused of being shadows of their former selves, sell-outs, nowhere near as good or relevant as they used to be. Which, let's face it, is in all probability true – not that the band took it lying down.
The Way Down
In 1974 they released a song, and an LP titled after it, that attempted to shrug off the critics with characteristic arrogance and disdain. 'It's Only Rock 'N' Roll (But I Like It)' was authored in direct response to the kicking dished out to 1973's Goats Head Soup which critic Lester Bangs had greeted with these words in Creem: 'There is a sadness about The Stones now, because they amount to such an enormous "So what?".'
With the benefit of retrospect, it's easy to see now that, after Exile On Main Street, The Stones did begin a slide from innovation and revolution into decadence and rock star excess. Richards was deep into being a junkie, Jagger had become a high society jet-setter and, as one critic succinctly put it, their image began to eclipse their accomplishments. At the time, though, their skins weren't so tough and leathery as now and the criticisms hurt. It's Only Rock 'N' Roll was their riposte.
'The idea of the song has to do with our public persona at the time', Mick wrote in the sleeve notes to the 1993 compilation, Jump Back. 'I was getting a bit tired of people having a go, all that, "Oh, it's not as good as their last one" business.
'The single sleeve had a picture of me with a pen digging into me as if it were a sword. It was a lighthearted, anti-journalistic sort of thing.' (The lyric went, 'If I could stick my pen in my heart/ And spill it all over the stage/ Would it satisfy ya?/ Would it slide on by ya?/ Would you think the boy is strange?'.) And it was, in fact, the best thing they'd done in ages, which was not that surprising when we eventually discovered that it was recorded entirely separately from the rest of the album. Oh, and it wasn't actually The Rolling Stones per se who played on it.
Taking The Credit
The basic rhythm track had been laid down one night in a studio at future Stone Ronnie Wood's house, The Wick, in Richmond, SW London. The Faces' Kenney Jones played drums, his bandmate Wood played rhythm guitar, David Bowie provided backing vocals to Jagger's lead and session player Willie Weeks played bass.
Jagger liked the outcome so much he snaffled the tape and brought it back to Richards, who added a few guitar overdubs. They then polished it up under their new production pseudonym, The Glimmer Twins, and, in time-honoured tradition, claimed it as their own, the publishing bearing a Jagger/Richards credit. Naughty!
Most of the rest of the album was recorded at Musicland Studios in Munich right after The Stones' 1973 European tour. Notable by his absence was their faithful producer, Jimmy Miller. 'I think we'd come to a point with Jimmy where the contribution level had dropped, because it'd got to be a habit, a way of life, for Jimmy to do one Stones album a year,' Richards explained.
'Also, Mick and I felt that we wanted to try and do it ourselves because we really felt we knew much more about techniques and recording and had our own ideas of how we wanted things to go.' Gentleman that he is, Richards failed to mention that Miller had developed a debilitating drug habit working with The Stones and had become next to useless in the studio. A fate Richards too was to encounter very soon.
By any measure, it would be a tough call to reckon It's Only Rock 'N' Roll among The Rolling Stones' greatest works and hard to deny that the title track's the best thing on it. There are some other notable goodies, though. 'Time Waits For No-One' is a stately piece, pinned on the metronome of Ray Cooper's percussion, beautifully embroidered by pianist Nicky Hopkins and eased along into the sunset on Mick Taylor's lovely Santana-esque solo.
'Short And Curlies' is quite a hoot too, romping along with Ian Stewart's barrelhouse piano, and 'Fingerprint File' is as funky as a mosquito's tweeter – Mick Taylor on strutting bass while Bill Wyman debuts a synthesiser and Jagger blathers on paranoiacally about being spied upon.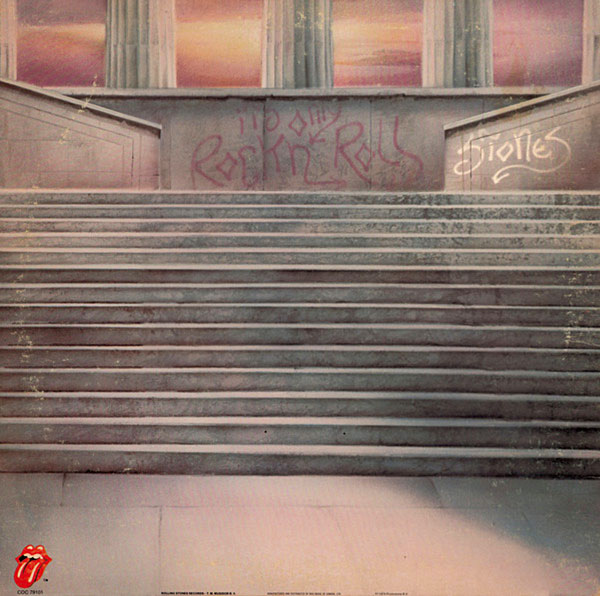 Rock Deities
Unfortunately, there are some right clunkers too. Opener 'If You Don't Rock Me' is raunchy Stones-by-numbers, the ballads 'Till The Next Goodbye' and 'If You Want To Be My Friend' robbed of all emotional sincerity by Mick's vocal pastiches, and the cod reggae of 'Luxury' just plain awfully wrong. The ugly version of The Temptations' mighty 'Ain't Too Proud To Beg' is embarrassingly soulless too.
Just be thankful they didn't proceed with their original plan which was to make an album split 50/50 between live tracks and covers. The recording sessions were attended by Belgian painter Guy Peelleart, whose illustrations in the book Rock Dreams had impressed the band. He was invited to do the album cover and he painted them as rock deities descending a temple staircase, surrounded by young girls and women worshipping them in Grecian togas – a striking image which would come to symbolise everything punk rock railed against three years later…
It's Only Rock 'N' Roll briefly topped the American album charts and got to No 2 in the UK – their first album not to reach the top since 1968's Beggars Banquet.
Re-Release Verdict
First released as an LP on The Rolling Stones label [COC59103], and reissued in 1989 with a cassette option [450202 4], this is one in a series of ten Rolling Stones albums – spanning from the 1970s to the 1990s – which have all been remastered at Abbey Road Studios at half-speed using 'vinyl-specific' (sic) original tapes. Pressings are on 180g black vinyl and reissued by Polydor/Universal Music Group International. Audiophile CDs will also appear alongside the vinyl. HFN