Roberta Flack & Donny Hathaway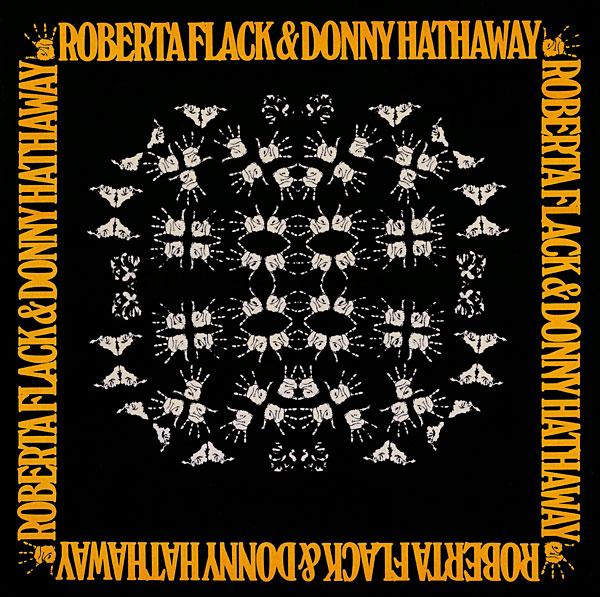 The sad story of Donny Hathaway's demise is told by Steve Sutherland as he listens to the acclaimed 1972 Atlantic album, recently reissued on 180g vinyl
Did he jump? Did he fall by accident? This we will never know. What's for sure is that late in the evening of the 13th of January 1979 Donny Hathaway's body was found on the sidewalk outside the 44-storey art deco Essex House Hotel at 160 Central Park South in Manhattan, NYC. He had plunged there from his room on the 15th floor. His death was ruled as suicide.
Prodigious Talent
Earlier in the day Hathaway had been in the studio with singer Roberta Flack, recording a second LP of duets as a follow-up to the album we're here to celebrate. He was working on a song called 'You Are My Heaven' when he fled from the room, only to be found in a corner, making delusional claims that 'white men' were trying to kill him and that they had his brain hooked up to a machine that was stealing his music. Producer Eric Mercury aborted the session.
He was then 33, a diagnosed paranoid schizophrenic and engaged in a career comeback after five years in the wilderness of hospitals and primitive medical regimes, with a broken marriage and two abandoned daughters – talent wracked by anxieties and suspicions of persecution.
But let's back-track to happier times: in an era blessed with black, soulful musical giants, Donny Hathaway was lauded as the equal of, if not superior to, Marvin Gaye, Stevie Wonder, Aretha Franklin, Curtis Mayfield, James Brown, Al Green, et al. Born in 1945 in Chicago he was raised by his grandmother in St Louis. At three, he was already a professional gospel singer. His skill as a pianist earned him a scholarship to attend Howard University, Washington DC, and from there his prodigious talent was quickly scouted by Curtis Mayfield who hired him to work for his Curtom label. Hathaway contributed to songs by Aretha Franklin and The Staple Singers, a gig he enjoyed until soul saxophonist King Curtis took a tape of Hathaway to Jerry Wexler at Atlantic who instantly signed him.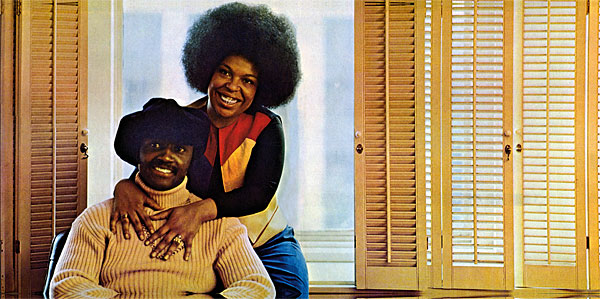 Hathaway's first solo LP, Everything Is Everything, was released in 1970 on Atlantic's subsidiary Atco, Wexler enthusing that his label had a third genius alongside Aretha and Ray Charles. The hit single was 'The Ghetto Part 1', an incredible jam that made the ghetto sound a cool, sexy, vibrant neighbourhood. He did a second LP, Donny Hathaway, and then came Roberta Flack And Donny Hathaway, one of the greatest duet albums ever made.
Flack was a talented singer and pianist from North Carolina who had also attended Howard University and was well on her way to a successful career of her own. For her 1969 debut album, First Take, Hathaway contributed two songs, 'Tryin' Times' and 'Our Ages Or Our Hearts'. Chapter Two included another song Hathaway wrote with Leroy Hutson and Curtis Mayfield, 'Gone Away'. Hathaway was also a session pianist, background vocalist and arranger for this1970 album.
The inspiration behind the two uniting to cut duets came when Wexler was at a show at the Washington club 'Mr Henry's', when he heard Flack sing Carole King's 'You've Got A Friend'. Staggered by the emotional poise and intimacy of her reading he suggested to Flack that she and Hathaway should record the song – and possibly an entire album – in a bid to consolidate their popularity.
Racial Turmoil
And so in 1972 the pair began work on what was to become a defining musical statement of the '70s. Inevitably they were compared favourably with other classic soul duet pairings, but there was something of greater symbolic significance with Flack and Hathaway. America was in deep racial turmoil during this album's era, and the record seemed to act as a honeyed balm to soothe the unrest and call for unity, while insisting that to be black was to be proud and beautiful. The songs were crafted to reach the everyday public, the music sophisticated yet uncomplicated.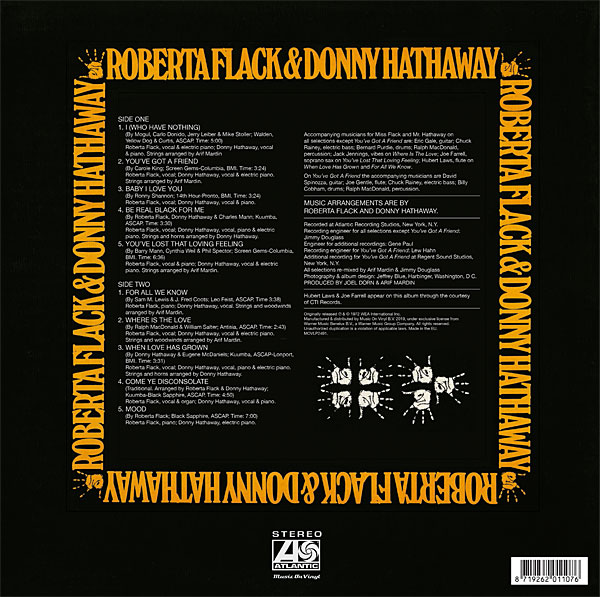 Before Flack/Hathaway there was grit in the R&B oyster, a little rut and romp in its delivery. The pair smoothed this away, made love e-a-s-y listening. It was meticulously planned and composed that way. Hathaway could hear whole arrangements in his head and was a stickler for reproducing every note just so.
Ghetto Glamour
But here's the thing: it's not quite so easy to snuggle up with nowadays. Firstly, the vocal gymnastics and over-emoting which the album introduced to R&B have been grotesquely emulated over the decades. Secondly, the songs are mostly covers of versions we already know and cherish. Aretha Franklin's 'Baby I Love You' is probably the hardest to embrace in its old-timey new vaudevillian setting.
Others are undeniably brilliant if you learn to forget the familiar and surrender to the experience. Their take on the classic 'You've Lost That Lovin' Feeling' is gorgeous, intimate and jazzy. They're slow and bluesy on Ben E King's 'I (Who Have Nothing)', a universe away from Tom Jones' testosterone-drenched hit. The one that broke them into the charts was Carole King's 'You've Got A Friend', where the pair, as one critic put it, 'took it out of the middle-class bohemian bedsits and relocated it to the inner city', Hathaway again glamourising the ghetto.
'Come Ye Disconsolate' is pure, naked gospel, the ancient hymn reignited with black Baptist fervour. Then there's 'Where Is The Love', the smooth top-five single that perfectly captured the zeitgeist. Written by Ralph McDonald and William Salter, this is MOR or AOR, or whatever you want to call it, in excelsis. It's a slow dance floor sway which would survive into the disco era as that last smoochy coupling before the night bus home. 'Be Real Black For Me' stands as the centrepiece, saying pretty much everything the album has to say, movingly, defiantly, tenderly, Flack's soul and Hathaway's gospel roots entwined in their harmonies. And just, y'know, to show off their chops, there's 'Mood', a 7m piano-driven instrumental: classy, cultured stuff.
While they were recording the album, 'The First Time Ever I Saw Your Face', the Ewan McColl cover from Flack's First Take was featured in the Clint Eastwood movie Play Misty For Me. A worldwide mega-hit it boosted the public's appetite for more and sent the duet's LP high into the charts upon its release. it made stars of them both and Flack flew with it, her 'Killing Me Softly With His Song' topping the US charts in '73.
Hathaway struggled. He released an excellent Live LP (1972), but when a third audio effort, Extension Of Man, failed to do the business, as far as the industry and the public were concerned he disappeared off the face of the earth. In and out of hospitals, he struggled to exist until he re-emerged in 1978, duetting with Flack on her Blue Lights In The Basement LP.
The track was called 'The Closer I Get To You' and it reached No 2 in the American charts. Hathaway had been too messed up to attend the recording, so Flack and her band did the track in New York and Hathaway did his vocal at home in Chicago. Partly to try and help him out and partly to try and emulate their success together, Flack and Hathaway began recording a second album of duets.
'I tried to reach out to Donny,' Flack said. 'That's how we managed to do the song we did last year. I knew he was sick. But when he sat down at that piano and sang for me it was like it was eight or nine years ago because he sang and played his ass off.' Which is, sadly, pretty much where we came in. What was captured in the session was released as Roberta Flack Featuring Donny Hathaway and Flack donated all proceeds from 'The Closer I Get…' to his widow and two children.
Re-Release Verdict
Produced at Regent Sound Studios in New York, Roberta Flack & Donny Hathaway came out in all territories in 1972, the UK release bearing the catalogue number Atlantic K40380. An eight-track cartridge was also issued that year, with the first CD appearing in Japan in 1989. Our 180g reissue comes from Music On Vinyl [MOVLP2491] and is presented in a gatefold sleeve having the original artwork. Our pressing was ruler-flat and all ten songs were noise-free. HFN