Robert Koda Takumi K 70 (£35,000)
The first product from a new Japanese high-end marque, this imposing hybrid power amplifier system employs a 'DC reactor' power supply housed in a separate chassis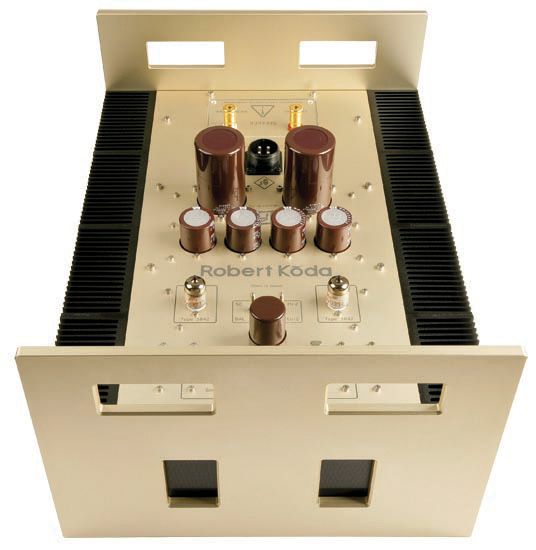 Rarely does an amplifier designer launch a new hi-fi company with such a bold high-end statement. 'This is our vision of amplification's ultimate form', says designer Robert Koch of the imposing 'tri-chassis' Takumi K-70 power amplifier, designed and built in Japan, and the very first product to sport the Robert Koda brand name on its fascia.
The Japanese 'Takumi' character can be translated as 'maestro', while the word 'takumi' actually means artisan – the naming of the Takumi K-70 being particularly apt as the amplifier is wholly hand-crafted, and manufacturing is limited to just 20 units per year. It's a single-ended hybrid design employing some 32 power transistors and two 5842 triodes in each monoblock and one 6X5 rectifier tube per side in the power supply. There might be nothing new in the hybrid concept, many amplifier designers through the decades aiming to marry the power and 'grip' of solid-state amplification with the sweetness and musicality of valves.
Even a three-chassis amplifier with a separate power supply is not unknown. Nevertheless, under the bonnet the design of the Takumi K-70's power supply is very unusual indeed. The K-70's triple chassis configuration provides flexible layout options in a system rig, although typically the hefty power supply unit (40kg, no less) will be placed centrally and the two amplifier blocks (20kg a piece) situated close to each loudspeaker, thus allowing for beneficially short runs of speaker cable. Of course, placing monoblocks close to loudspeakers in turn necessitates long runs of interconnect cable from a partnering preamp, consequently the Takumi's amplifiers are fitted with balanced (XLR) inputs in addition to single-ended RCA inputs to accommodate those whose current preamps don't have balanced outputs. When possible, balanced operation is the preferred option with this K-70 amplifier 'system'.
The monoblock amplifiers connect to the rear panel of the power supply unit via substantial DC connecting cables with 'military application' connectors featuring one-way-only locating pins to avoid mis-connection, and locking collars with fine threads that require several turns to fully lock down. You won't make a mistake when hooking up each amplifier to the supply, nor should these DC connecting cables ever inadvertently come adrift, as the connectors carry some 11 amps of continuous current at a very high 350V, which is potentially lethal. The cables are each a couple of metres long; however custom lengths can be requested. (The company says the length has no effect at all on the sound of the K-70.)
UPSIDE DOWN- OR NOT
Each unit of the Takumi K-70 is of substantial size, so unless you commission special, and undoubtedly costly, bespoke equipment racks for these power amp components you'll probably sit them on the floor. When you come across these units for the first time you'll be surprised to see that the normal positioning of the amplifier blocks is in fact 'upside down' – in that the tiny triode valves, input connectors and speaker binding posts are intended to be on the underside of the chassis, with the substantial aluminium front and back plates forming each unit's feet fore and aft.
But you don't have to use them like that. You can safely operate them backside-up if you prefer to ogle at the glowing valves. There are no hard and fast rules – the instruction manual also encourages owners to rotate the monoblocks through 90 or even 180º to get the neatest and shortest cable runs between the amplifiers and loudspeakers.
Beautifully crafted highly polished wooden runners, with grooves cut into them, are provided to act as feet to protect polished wood floors. These runners can also be bolted to the top plates of the monoblocks to act as feet, should you choose to use the amplifiers 'belly-up'. Extreme care must be taken when installing the K-70 in a system. Because the amplifier has floating DC outputs it's imperative that your speaker leads connect only with the speaker terminals and never inadvertently touch the amplifier's chassis, otherwise you can wave goodbye to your speaker drive units! I would advise against using 4mm banana plugs in case they accidentally pop out. Spade connectors, tightly screwed down, should be the order of the day here.
HOT STUFF
The Takumi K-70 may not be outrageously powerful, nevertheless you'll still need a large listening room to accommodate it. And not just because of the components' imposing sizes. With umpteen output devices operating in a single-ended Class A mode it is far from efficient and produces considerable heat. Despite each monoblock's substantial heatsinking the units get very hot after being powered for half an hour or so – too hot to place your hand on for more than a couple of seconds without flinching, in fact. To be fair, the instruction manual does clearly warn against leaving the K-70 powered up needlessly, and also while not under direct supervision in households with children and pets. It's a high-end amplifier for a high-end listening room, not a family living room…
Given today's electricity prices it will also cost you around eight pence an hour to have it turned on, the K-70 consuming a steady 800W whether at idle or full output. This amounts to a current draw of 4-5 amps for European models and twice that for the 100/110V versions of the design.
The DC power supply unit generates only modest heat compared with the monoblocks. But it's a mighty beast rated at a notional 'one horse power' once you rotate the power switch and the two lights on the fascia glow amber to indicate that each channel is fully operational. The K-70 owner's manual warns that the magnetic components in the supply 'purr' along. I'd describe it more as a 'thruum', which in my listening room – with fitted carpeting and substantial underlay – was just tolerable from my listening seat more than six metres away. If you're sitting close to the Takumi's power supply its purring is likely to drive you to distraction.
In typical artisan fashion the K-70 is lovingly crafted, internal point-to-point wiring employing carefully considered combinations of pure silver litz and gold plated oxygen-free copper cable and 'four nines' silver-based alloy solder. The main printed circuit boards are manufactured in a litz process forming a foil thickness of 280μm. This is flash gold plated and free of silk screening to provide an unpitted surface. Externally the quality of finish is immaculate, the design being classically understated rather than overtly opulent. The company claims that the K-70 system takes a fortnight to build and undergoes a week of listening tests and burning-in before final quality testing and packing.
GOOD VIBES
From the outset the Takumi K-70 impressed with an inherent sense of energy and verve that was immediately engaging. Further listening – I've been using the K-70 for the best part of a month as I write this – showed that the amplifier has a naturally vibrant, energetic, sound with little tendency to 'shout' no matter how dense a recording's production.
A persistent debate in the audiophile world is the one between those who want reproduced sound to be accurate and those who want it to be musical, with fans of solid-state equipment typically claiming a desire for accuracy and tubeophiles more interested in the latter. Is this why Robert Koch has designed a hybrid amplifier, to combine the best of both worlds in his quest for audio perfection?
Pretty much any competent amplifier will put up a good showing when playing superb recordings. Audiophile favourites from my collection used regularly for component assessment sounded impressively detailed and wonderfully spacious. For example, Antal Dorati and the LSO's recording of Stravinsky's The Firebird [CD, Mercury Living Presence SR 90226] demonstrated the K-70's ability to describe a wide and deep sound stage, beautifully resolved, with vivid separation of tonal textures. And the evergreen 1967 Vox/Turnabout recording of Rachmaninov's late Symphonic Dances, performed by the Dallas Symphony Orchestra under Donald Johanos sounded bold and colourful with spectacular dynamics [24-bit/96kHz remaster on DVD, Classic Records DAD 1004].
Similarly the Takumi sounded vibrant and thrilling reproducing a modern, high resolution studio recording: 'Facing Home' from 23-year-old singer Maeve O'Boyle's album All My Sins [Linn AKD 318, SACD], produced by Calum Malcolm, famous for his recording of the Blue Nile for the Linn label in the 1980s. Percussive leading edges sounded crisp and 'alive' against a silent background, such that while individual sounds were spot-lit and the balance appeared bright and colourful, the sound also appeared quite calm and relaxed.This sense of ease was also evident during Me'Shell Ndegéocello's 'Mary Magdalene' from Peace Beyond Passion [Maverick 46033], the smooth, rich texture of the seismic bass guitar complemented by subtle percussion details in the recording that were sharply etched, helping to create that sense of realism which differentiates the very best hi-fi components from those that are merely good. Both the voice and the bass accompaniment had a palpable presence without sounding forced or exaggerated.
TRUMP CARD
It's when listening to less than stellar recordings that the Takumi K-70 plays its trump card, maintaining poise and grace where lesser amplifiers would tend to coarsen and grate. Even the steely, ice cold electronic Euro pop of Eurythmics' 'Sweet Dreams (Are Made of This)' [RCA 71471] sounded wholesome and musically inviting, the amplifier's open clarity through the midband showcasing the power and melodramatic emotion of Annie Lennox's rousing vocal. The open nature of the sound allowed the double-tracking of harmony vocals to be followed with ease. And the fluidity of the bass, together with a stripping bare of the recording's production, allowed analytical dissection of the electronic processing and production techniques.
While the Sweet Dreams album is of course a wholly artificial recording, it's easy to admire the creativity of the production when listening via the Takumi, the contemplative nature of the melodies flowing throughout while the prevailing synthesised percussion effects swirl in three dimensions, and the rhythmic foundation of the commanding bass lines pack deft, bruising punches. Later in the album the rousing 'Would I Lie To You?' showed that the K-70 can rock with the best of them while doing its utmost to make sense of such a dense and synthetic multi-tracked recording.
Recently I have found myself re-visiting old jazz-rock favourites from the likes of Chick Corea and Return To Forever, which in turn led me to rediscovering the charming Al Di Meola/Stanley Clarke/Jean-Luc Ponty collaboration album from 1995, The Right of Strings [Gai Saber 7243 8 34167 2 1]. Listening to 'Indigo' composed by Al Di Meola, the opening track from the CD, showed how the K-70 draws out the very best from 'mid-fi' recordings, the sound appearing opulent and inviting, when in the past I had dismissed the recording as rather flat, dry and monochromatic.
Later in the album, the enchanting melodies of 'Renaissance' and 'Memory Canyon' composed by the French violinist Ponty sounded positively radiant. The joyous interplay between each of the trio's contributions summed into a cohesive whole, with the Robert Kŏda amplifier seeming to keep a tight grip on the loudspeakers so that Stanley Clarke's bowed and plucked acoustic bass notes leaped into the listening room, sounding naturally 'woody' and full of texture. The rapid succession of (nylon strung) guitar notes combined just the right amount of attack and vivid bite with a natural smoothness through the highest frequencies. The sound was at once lusciously creamy and gentle on the ear despite being finely detailed with razor sharp focus.
Robert Kŏda's Takumi K-70 might not be the amplifier of your dreams if you're an urban dance floor guerrilla or head-banging Motorhead fanatic, nevertheless it delivers plenty of low-end power and grip that should prove perfectly adequate for listening to rock music and large-scale orchestral works at high SPLs with all but the most insensitive of loudspeakers. And if you value subtlety and finesse and three-dimensionality you will never be anything other than captivated by its charm.
VERDICT
This is one of the few amplifiers to show my beloved Mark Levinson No.383 a clean pair of heels. The Levinson is smooth and ultra-refined, however the Takumi K-70 sounds more open and adds potency and considerable verve to each musical event. If your room can accommodate such an imposing three box power amplifier you can be certain of exclusivity in owning a hand-crafted Takumi K-70.

Originally published in the April 2011 issue