Raidho D-2.1 loudspeaker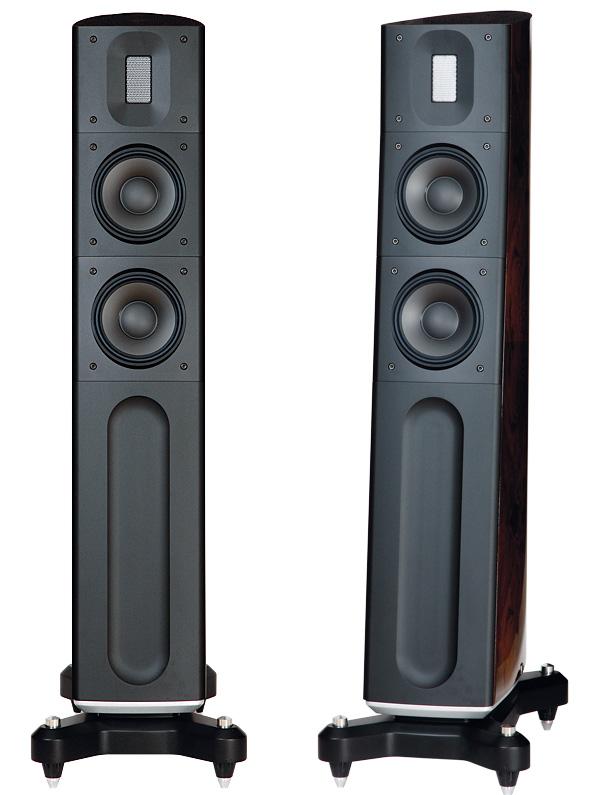 With its lustrous-looking swooping cabinet, exotic drivers and colossal price tag, this is a seriously special speaker
When you're designing a loudspeaker that sells upwards of £38,000, depending on finish, you can pretty much do what you like. Brands selling sub-thousand pound floorstanders have a super-keen eye on what their competitors are doing, and what the market wants. By the time you reach the Raidho Acoustics D-2.1's level, however, you're in a whole new world – it's where designers spread their wings and fly. There are few price rivals, and those that sell for similarly colossal amounts of money often use wildly different engineering approaches – from electrostatics and hybrids to dual concentric moving-coil drivers, or indeed anything else that floats the designer's boat.
Danish Style
The D-2.1 sits in the middle of Raidho's flagship D range, and is typical of what you'd expect from this manufacturer [see HFN Apr '17]. The company's approach is basically conventional, but with a twist. This is no vast planar Magnepan, for instead you get a tall, narrow-baffle cabinet that's beautifully constructed and finished. It looks rather striking – a good way from a standard box loudspeaker, yet still stylish enough to be found in the world's luxury riverside apartments or grand houses.
Indeed you could think of the D-2.1 as 'housetrained high-end' – your better half is likely to appreciate the artistry of its lines, yet the design hasn't been compromised by the need to look presentable. This speaker is designed by Raidho's Michael Borresen, while colleagues Ole Nielsen and Bjarne Hansen were responsible for the voicing. It sports Raidho's proven ribbon tweeter – in truth more of a pseudo-ribbon [see KH's Sidebar] – which has many advantages over conventional dome high frequency units, primarily speed. Thanks to the lightness of the diaphragm – said to have powerful neodymium magnets and a membrane weight of just 0.02g – it moves easily and therefore doesn't sit on transients. In my view the 'Raidho sound', such as it is, is defined by this tweeter and the benefits it confers.
Diamond Coating
Below 3kHz, the high frequency unit hands over to the 115mm 'Diamond' mid/bass driver. Borresen says that 95% of all the energy from a speaker of this type comes from the midrange, so the transition has to be well managed and the midband driver has to share as many properties of the tweeter as possible. Raidho claims its diamond coating – involving approximately 1.5 carats of pure diamond per cone – is 140 times stiffer than the ceramic cones of the C series, offering an improved transient response and lower distortion.
At 150Hz the lower Diamond bass driver takes over, vented via rear-facing ports in the rear spine of the cabinet. The current .1 version benefits from improved rubber surrounds to the moving-coil drive units, giving a longer stroke and therefore greater air moving power, it's claimed. The magnet systems have been improved, too, with more iron added and lower inductance in the voice coil.
Borresen says the D-2.1 has also been reworked internally to assist airflow. The cabinet has improved reflex loading, with port noise said to be 80% lower thanks to a special foam inlet that surrounds the port tube inside the cabinet. The rear baffle has also been changed, with aerofoils applied to the ports to reduce turbulence.
It certainly looks and feels beautifully constructed and the quality of the finish is superlative. The speaker comes in gloss black as standard, but Raidho says it can be painted in any colour you like. There's also a striking walnut burl veneer which takes the price up to £42k. The metalwork on the front baffle is superb, and the whole object has a sense of solidity about it that its lovely, sylph-like proportions disguise.