Quad 33/303 (Vintage)
The first solid-state Quad remains a classic of the genre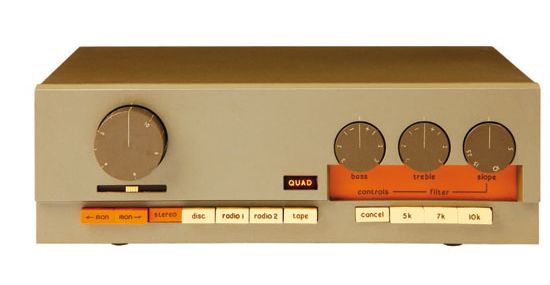 Exemplifying all that was admirable in British hi-fi, the 33 preamp (£43) and 303 power amp (£55) were Quad's first commercial solid-state offerings, the company having waited for the new-fangled transistor to settle down before embracing it in 1967.
It was in many ways 'a solid-state Quad 22'. Any previous customer would have immediately recognised the control locations, the flushmounted rotaries, the balance control under the volume control, the press buttons that also offered Quad's unique, fully cancellable filter and tone controls and RIAA selectors. In size, the 303 and the Quad II power amps were nearly interchangeable. Both units would fit in precisely the same cabinet/ shelf spaces vacated by their valve predecessors.
In the preamp – a true 'control unit' – Quad accommodated various phono sources with plug-in boards for different cartridge sensitivities and impedances. Its matching solidstate sister was rated at 45W RMS into 8ohms, and was able to deliver 28W into 16ohms; it was designed to be stable into any load. Wireless World concluded that 'The amplifier also has automatic current-limiting rendering it indestructible under virtually any combination of input and output, including an open circuit or dead short across the output terminals.' Quad eventually sold 120,000 33 control units and 94,000 303 power amps.
SILKY SOUNDS
Returning a cherished 33/303 to active duty, after a 10-year break, we were staggered at just how good it was, even by today's elevated standards. But it is neither as quiet nor as precise as current Quad equivalents. However, the 33/303 combination has a silkiness not normally associated with early transistor designs. With Jimmy Scott's exquisite All The Way, a set of standards with the high-voiced legend backed primarily by piano, the sound through LS3/5As was almost too rich to be believed – it recalled valves as much as it did early trannies.
Resonant harmonics, shimmering into the aether, from that gentle piano, the slightly smoky hints that contrast with a voice often mistaken for a woman's, the massed strings on 'Every Time We Say Goodbye' – although dating from 1992, the feel was that of a lush 1950s Capitol LP session.
With sizzling guitarwork from Jeff Beck's recent tribute to Les Paul neither the speed nor the treble extension, the staccato transients or even the plump bass were undermined by the merely adequate wattage nor the unit's nearly 50-years-old circuitry. Nor did this pairing have trouble combining with the delectable Tannoy Autograph Mini speaker.
For vinyl, we fed the all-Linn LP12 front end into an Ortofon step-up, to enjoy Nat 'King' Cole remasters from Analogue Sounds, as well as Sundazed's reissues of Soft Machine and The Ventures albums. Returning to LS3/5As, we had effectively recreated a system one would have heard in the '70s (save for the Linn's MC). The standard wasn't merely high: it was impressive. Of course it lacked the sort of 'slam' we now take for granted. Not that the bass was absent or lacking in extension, it seemed to be more a matter of power and tonal character.
VERDICT
With fine examples of the 33/303 plentiful, affordable and such a pleasure to use, it's a lifestyle choice, like the decision to run a Morris Minor. Yep, the 33/303 is a time machine, and the destination is 1970. Switch off your mobile phone and you'll be fine.

Originally published in the Yearbook 2011