A Perfect 10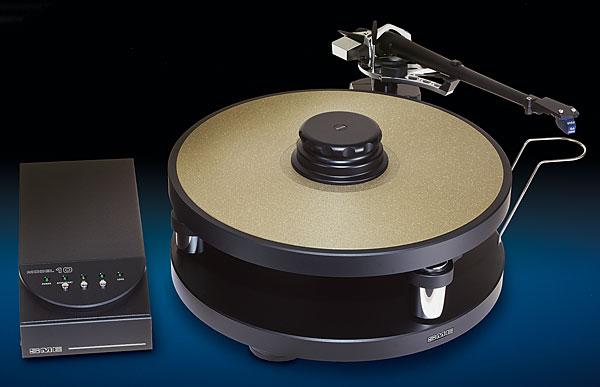 Ken Kessler hears SME's new and more affordable turntable and arm
Everyone loves surprises. And, hey, who wouldn't be tickled pink at the thought of a new treat from SME? While the antithesis of fertile, SME never fails to issue a new wonder every time Alastair Robertson-Aikman feels the need to stretch his abilities. We are, after all, talking about a company with a design team, a philosophy and machining capabilities second to none in the world of precision engineering for audio purposes; maybe there's a watchmaker or two in Switzerland who could 'worry' SME.
The finish, inventiveness and sheer intelligence of every SME product ever made give this British company a track record without fault. Even that blip in the lineage, the lightweight SME Series III tonearm, oozes cleverness, excellence and desirability.
'So what's left?' you might be wondering as the analogue playback market continues to shrink down toward relative insignificance. (As I will forever argue with a current purveyor of LPs, who thinks that selling 5000 of a particular title is a big deal: 5000 is what EMI or Columbia or Decca would have considered to be a respectable weekly figure for faulty pressings in vinyl's heyday.) Do we really need anything more 'right' than an SME 20 or 30 turntable? Isn't the Series V tonearm as good as it gets?
Worth Pursuing
As the curtain closes on the century that gave us the LP, SME has decided to issue a new turntable which comes in below the SME 20, at £2643.75, a new entry-level player which departs from the '20 and '30 in so many ways it may confound those who find deviations in a 'true path' to be something unholy.
But if AR-A wants to make a plinthless turntable with no suspension per se, one which does away with so much of the 20/30 approach, then it's something you have to assume is worth pursuing. For Alastair is a man who does not make decisions lightly, nor issue new models with rapidity. Maybe he and Quad's Peter Walker come from the same 'anti-prolific' school.
Round Tables
At first glance, the new SME 10 calls to mind the plinthless turntables which precede it, working back from the Wilson-Benesch Circle through countless (usually British) designs now forgotten in the mists of time. Ariston, Transcriptors and others have released decks which would fit snugly under a dome, and all of which appealed for their compactness and aesthetic aptness.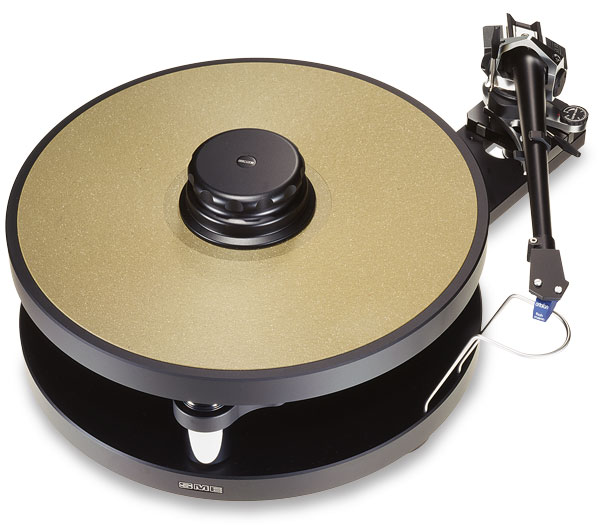 An LP is a 12in diameter disc, so why not create a turntable which is no larger, save for the arm mount, which exploits the perfectly round shape? Thus, the SME 10 will find instant favour with those who fancy a bit of space-saving and who find a rectangular plinth something of a stylistic fault. Even the earliest of the round decks still look 'modern'; the SME 10 looks positively futuristic, in a sinister, Stealth fighter way.
And yet, by virtue of its build integrity, it is utterly devoid of any of the frivolity which usually accompanies the deliberately ultramodern. This is no exercise in gimmickry, even though it bristles with novelty. The first thing I noticed was its simplest yet most desirable feature: a cartridge guard in the form of a bent wire defence surrounding a pick-up which would otherwise be unprotected from accidents. However minor a feature this may seem, it is in its own way the most telling of the thought processes which created the '10. Nothing, and I mean nothing, was left out, yet neither was anything superfluous left in or on the SME 10.
As one who lives in an old house, in which dust is endemic, I asked about a dust cover – the curse of plinth-less decks. AR-A immediately replied that dust covers affect the performance, confirming what others have always argued. But the fastidious AR-A is not the type to allow dust to settle on his wares, so he whipped out a perfectly-shaped soft cover, its precedents being those supplied with every '20 and '30 turntable.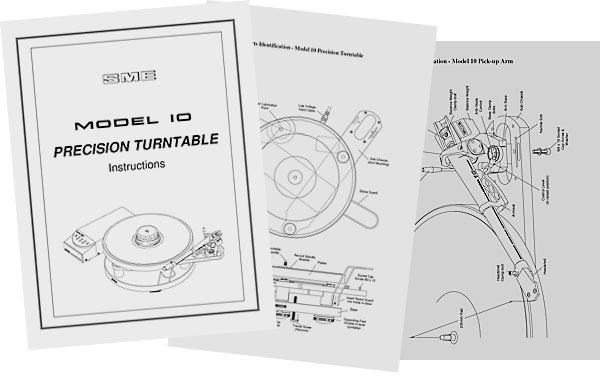 Because the '10 follows years after the '20/'30, it benefits from a new power supply and housing which I wouldn't be surprised to see supplied with the older turntables in future production. Most notable is the sloped front panel, making it much easier to use than the vertical panel of the earlier unit. It contains a row of three buttons which operate stop/start and choose 33.3rpm or 45rpm. Five LEDs indicate main power on, 'on' mode when the start button is pressed, the chosen speed and speed lock to indicate that the deck is up to 33.3rpm or 45rpm, as measured 120 times per revolution by a crystal reference.
Eerie Behaviour
Because the power supply is an 8-bit microprocessor-controlled device with regenerative braking, the turntable possesses an eerie sort of behaviour, as if unseen hands are whipping the deck up to speed when called into play, then applying ultra-smooth braking when the stop button is pressed. It's most impressive, almost a party trick and the kind of behaviour rarely seen in audio since the days of top-end, costly and highly-sophisticated open-reel tape recorders with superior tape handling.
Its connection to the deck itself is via a small connector of the S-video/PS mouse type, the socket positioned at the rear of the SME 10's solid aluminium base. This is a circular plate resting on three screw-in feet filled with a polymer reminiscent of Sorbothane. The broad feet are finely threaded, so adjustment for levelling is quick, easy and very precise. Fitted to the base plate are the motor housing – so silent that it's positively creepy – and three pillars also filled with the squishy material found in the feet.