The Pentangle: Basket Of Light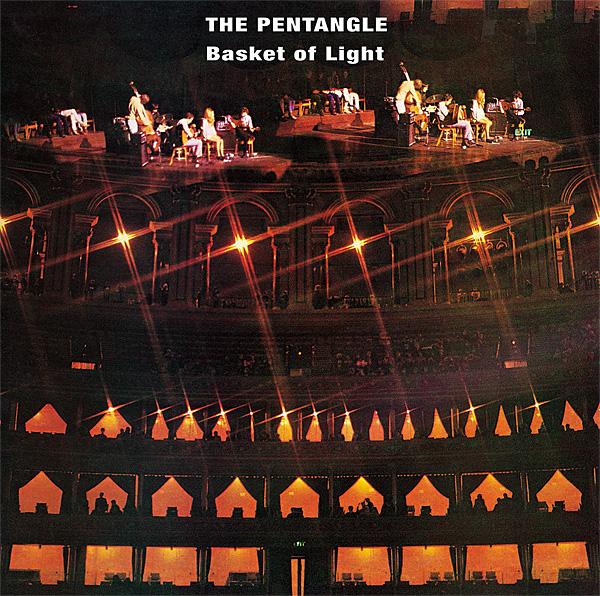 This band of talented '60s musicians were one of those rare breeds – a British folk supergroup. Steve Sutherland revisits their hit LP from 1969, reissued on 180g vinyl
Way back in the mists of time, before every rapper and R&B star worth his, or her, ice degraded it all by cottoning on to the commercial boost of cramming all their releases with famous guests, there was this strange and rare phenomenon called The Supergroup.
While most bands tended to result from friendships forged at school or college, The Supergroup was a coming together of established talents, already admired for their ability in their chosen fields, in order to make sweet music together.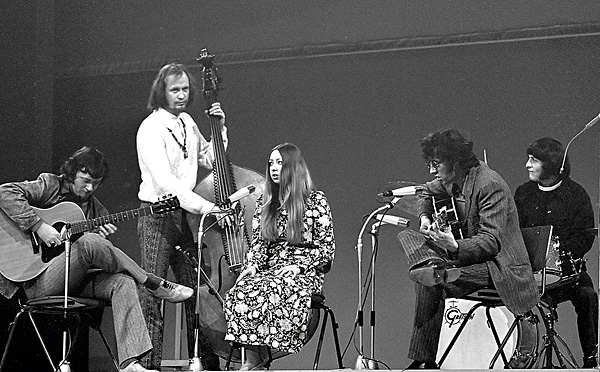 Off The Radar
A quick look through The Supergroup's Wikipedia entry will introduce you to the likes of Blind Faith (Eric Clapton and Ginger Baker from Cream, Stevie Winwood from Traffic/Spencer Davis Group and Ric Grech from Family); Crosby, Stills, Nash & Young (two Buffalo Springfields, a Byrd and a Hollie); and The Traveling Wilburys (Bob Dylan, ex-Beatle George Harrison, Tom Petty of The Heartbreakers, Jeff Lynne of ELO and Roy Orbison). These were all gods of a kind, adored for their vocal and instrumental dexterity.
The strange thing is, though, just about the most innovative – and, in many opinions, the best of the lot – is nowhere to be found. They were called, in case you haven't guessed, Pentangle, or The Pentangle if you so prefer, and they were a superlative aggregation of talents already renowned within their scene. Which happened to be British Folk – presumably the reason why they're off the Wiki radar.
Their instigator was a young guitarist from London, John Renbourn, who lived the boho life and had done his fair share of busking around the continent. Likewise his co-conspirator, another guitar wizard called Bert Jansch, from Glasgow, who was busy passing on the unwanted British Bob Dylan tag to Donovan. Teaming up and steeping themselves in blues, jazz, folk, skiffle, ragtime, medieval traditional, African tribal and anything else that appealed, they arrived at quite the catholic brew dubbed by somebody or other 'Folk Baroque'. And this basically covered the fact that they were experimenting with a modal-based finger-picking style that enabled them to travel just about anywhere the notes wished to take them.
Their collaboration bore early fruit in a 1966 LP called, imaginatively enough, Bert And John. It was in thrall, as were so many others, to the grand master of the Britfolk revival, Davey Graham.
Debut Sell-Out
The pair decided they could do with another, more appealing voice (both were a bit flat and gruff) and they found one in London-born floor singer Jacqui McShee, who was running her own folk club at the Red Lion in Sutton, Surrey. Double-bass arrived courtesy of the larger than life Danny Thompson, a demon player from Devon who'd go on to brilliantly accompany John Martyn, Nick Drake, Kate Bush and Talk Talk, et al.
Finally, the percussive part of the rhythm section was covered by Terry Cox from High Wycombe, who'd played with Thompson in Alexis Korner's The Blues Incorporated, and would himself go on to do sterling stuff with David Bowie and Sir Elton John.
The project coalesced in 1967 at a regular Sunday night jam session at the Horseshoe Hotel on London's Tottenham Court Road, and when they were ready to take on the world, they launched themselves as The Pentangle, deliberately chosen as an apt symbol for the five of them and something to do with a shield in the Middle English poem Sir Gawain And The Green Knight, which had taken Renbourn's fancy. Such were the reputations that each brought with them, their official debut took place in May '67 at the Royal Festival Hall and this gig sold out.