Paul Butterfield Debut LP (180g)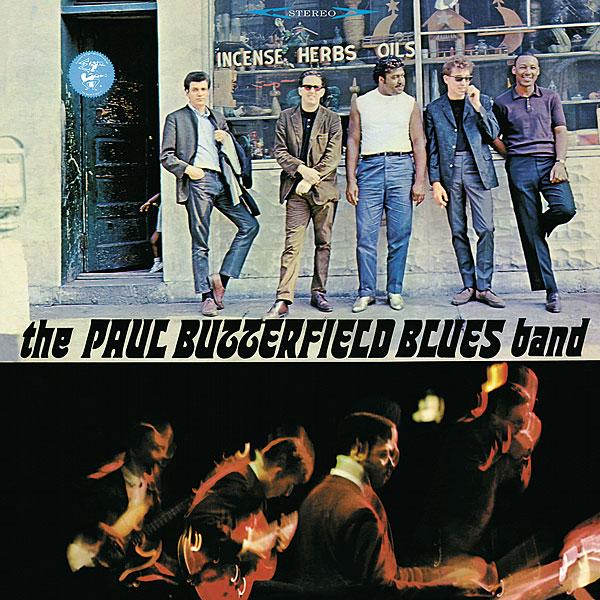 Two of the band's principals were found dead from drug overdoses. Steve Sutherland tells the sad story and welcomes this 1965 album as an orange vinyl reissue!
At 11 o'clock in the morning of Sunday the 15th of February 1981, the police were called to a quiet side-street in the upscale neighbourhood of Forest Hills, San Francisco. There they found a beat-up beige 1971 Mercury Marquis. All four doors were locked, and slumped in the front seat behind the steering wheel was a body. An empty Valium bottle was discovered in the pocket of a coat on the back seat.
Music On Legs
The body was soon identified as that of 37-year-old Michael Bernard Bloomfield, a native of Chicago who'd been lately residing in Mill Valley – a man raised in an affluent Jewish family who broke away to play guitar and was once referred to, in the late 1960s, by Eric Clapton as 'music on two legs', claimed by Muddy Waters as 'my son' and rated by those who knew about these things as 'the future of the blues'.
His guitar style – cutting-treble tone, a breakneck ability to improvise and incisive, melodic articulation – was hugely admired and much sought-after. 'He had so much soul… he knew all the styles,' observed Bob Dylan. 'Michael was organic – he played directly from his heart into an amp,' said a former bandmate. 'Without a guitar, I'm like a poet with no hands,' Bloomfield himself said when he was 24.
The autopsy revealed that when Bloomfield died he had a poisoning amount of cocaine and amphetamine in his system. Yet Bloomfield, a chronic insomniac, hated coke and amphetamine. This is the scenario that those who knew him best pieced together: Bloomfield had gone to a party on his own, OD'ed on smack, was shot-up with cocaine in an unsuccessful effort to counteract the lethal effects of the H, then driven by a couple of dealers to his car where they dumped him and promptly scarpered.
Bloomfield's rise had been as meteoric as it was troubled. Left-handed, he taught himself to play the other way round. By the early '60s, at age 17 he was active in Chicago's blues scene, recording with Sleepy John Estes and Big Joe Williams, and jamming in local clubs invited by the legendary likes of Muddy Waters and Howlin' Wolf.
In the summer of 1965, having witnessed his stunning ability at club engagements, Bob Dylan invited Bloomfield to join sessions for his sixth studio album, Highway 61 Revisited, at CBS's studios in Manhattan. Another top-notch sessioneer, Al Kooper, was expecting to play guitar. Then Bloomfield 'Walked in, sat down next to me, said hello and started warming up. I'd never heard anybody that good, much less somebody my age. I put my guitar in the case and slipped it under the chair. He got rid of me in five minutes.'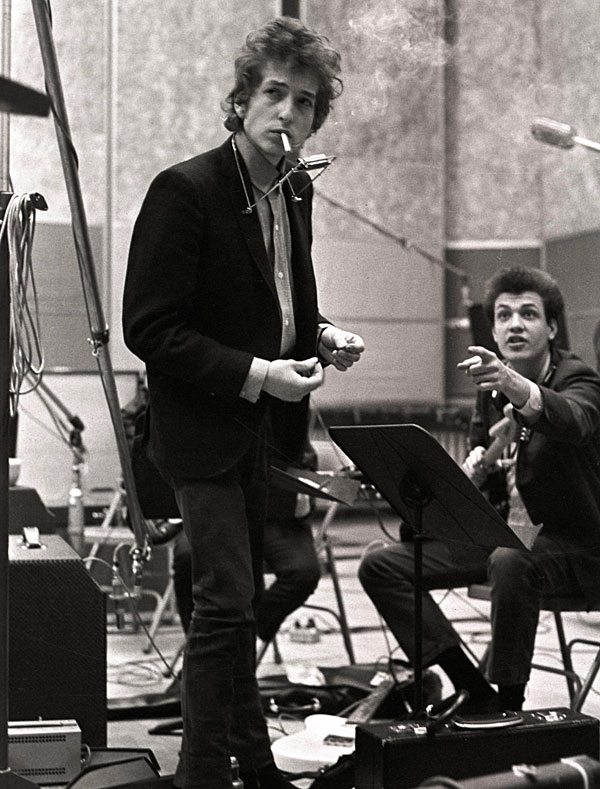 Scribbled Note
The first thing they did at the session was 'Like A Rolling Stone'. 'I figured he wanted blues, string bending, because that's what I do,' Bloomfield recalled. 'Dylan said "Hey, man, I don't want any of that BB King stuff". So I really fell apart. I was thinking "What the heck does he want?". So we messed around, I played the way that he dug, and he said it was groovy.'
Bloomfield also played on the tracks 'Tombstone Blues' and 'Desolation Row'. The results were, to put it mildly, historic, and Bloomfield stayed around to back Dylan at the Newport Folk Festival weeks later. That performance, in July 1965, was a landmark moment in Dylan's career – and, indeed, in the whole of rock music: the day folkie Bob turned Judas on the protest scene and 'went electric'.
Other revered Bloomfield records over the next few years include The Super Session, a proposed two-day jam organised by Al Kooper in LA. The first day produced pure gold, easily enough tracks for one side of an album. Then Bloomfield went AWOL. Kooper found a scribbled note in his room: 'Alan, couldn't sleep. Went back home to San Francisco. Sorry, thanks, and good luck. MB'. Kooper called up Stephen Stills to complete the album.
Talking Tough
Then there was Electric Flag, an outfit he put together briefly in 1967 with a horn section and drummer Buddy Miles to, 'prove that white boys have soul'. They debuted at the Monterey Pop Festival, made an appearance in and soundtracked the Peter Fonda/Roger Corman movie The Trip, did one LP in 1968, called A Long Time Comin', then split when drug abuse and personality clashes yanked them asunder.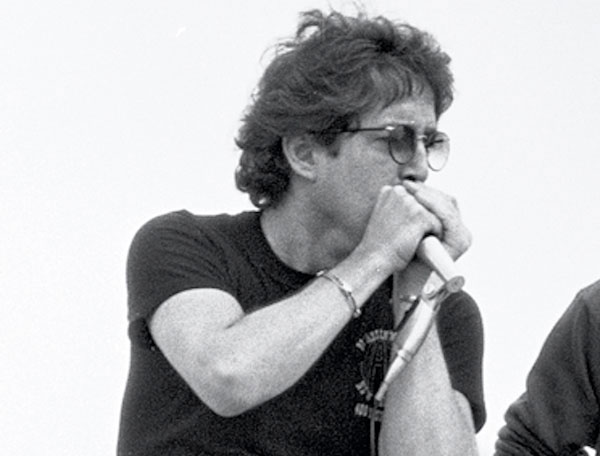 But how the world at large really got to know about Bloomfield was in early 1965, when he reluctantly accepted an offer to join The Paul Butterfield Blues Band at the behest of Elektra's brilliant in-house producer Paul Rothchild. Bandleader Butterfield was a fellow white pretty-well-to-do Chicagoan blues aficionado, a harmonica player who, with his pal Nick Gravenites, hung around the same blues joints as the youthful Bloomfield.
Butterfield put together a band and in 1963 they were invited to play at Big John's, a club located on Chicago's White North Side. They stole bassist Jerome Arnold and drummer Sam Lay from Howlin' Wolf with an offer of more money and became one of the first racially-mixed outfits on the blues scene.
By now Butterfield had a bit of a reputation as a tough taskmaster. 'I didn't like him,' Bloomfield admitted later. 'He was just too hard a cat for me.' Another initial problem was that the band already had a pretty ace guitarist in Elvin Bishop, but the pair soon ironed out a musical relationship and their first eponymous album – the one that we're here to celebrate – was recorded in autumn '65, completely live. 'Some of it was one take, some of it was 50 takes', claimed Bishop.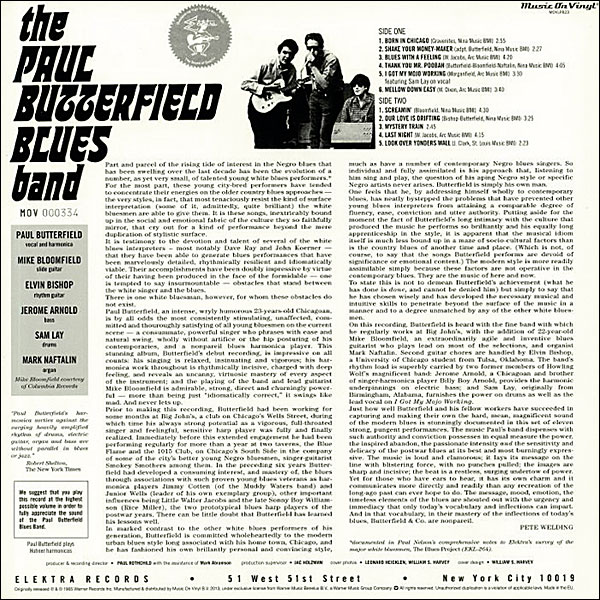 The album was released to so-so sales but immediate acclaim. Up until now young white kids having a crack at the blues had done so somewhat sheepishly and with deep reverence. TPBBB changed all that at a stroke, one critic summing it up nicely as, 'a voluminous blast that hipped the white college crowd to the electric roar of black America'.
Fade Away
Mixing ferocious takes on blues classics such as Muddy Waters' 'I Got My Mojo Workin'', Willie Dixon's 'Mellow Down Easy', Elmore James' 'Shake Your Money-Maker' and the Junior Parker and Sam Philips song 'Mystery Train', with instrumental originals 'Screamin'' and 'Thank You Mr Poobah', this was one tough, thrilling and forward-looking LP. And it would act as an instant inspiration to a generation of new American guitar-slingers in much the same way as John Mayall's Bluesbreakers with Eric Clapton had in the UK.
Their follow-up album, East-West, heavily influenced by John Coltrane and Ravi Shankar, went even further out into psych improv, 'like a hippie raga superimposed on a blues tune', according to Elvin Bishop. By Feb '67, Bloomfield couldn't stand to work with Butterfield any longer, his insomnia and drug intake were well out of hand and he quit TPBBB, moved to San Francisco, did Electric Flag and, aside from guesting with Janis Joplin, Otis Rush, Albert King and Canned Heat, never really reached the heights again and just faded away.
Butterfield bashed on but also never regained the heights that he did while playing with Bloomfield. On the 4th of May 1987, after nearly a decade of suffering from peritonitis, he was found dead in the kitchen of his apartment by his manager. An autopsy revealed he was the victim of an accidental mixed drugs overdose.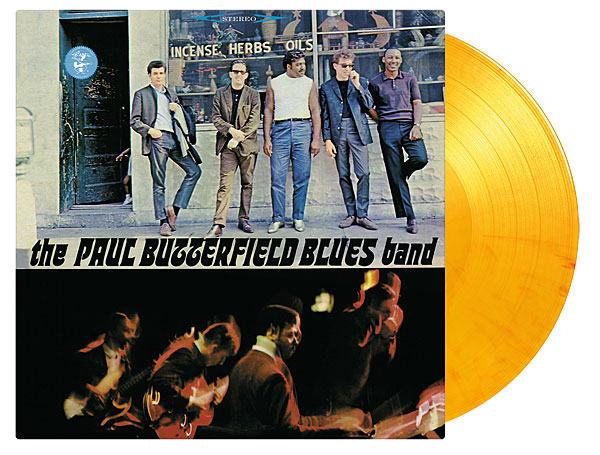 Re-Release Verdict
The band's 11-track eponymous debut Chicago blues/rock album, with Butterfield on harmonica and vocals, and produced by Paul Rothchild, was first released in 1965 in the US on the Elektra label [EKL294 – UK catalogue no EKS-7294]. Our 180g LP reissue comes as part of a Music On Vinyl limited edition of 1000 numbered copies which are pressed on flaming orange coloured vinyl [MOVLP823]. Sleeve design was by 1960s Elektra art director William S Harvey. HFN