Ortofon Vivo Blue (£275)
An entry level moving coil with many strong sonic qualities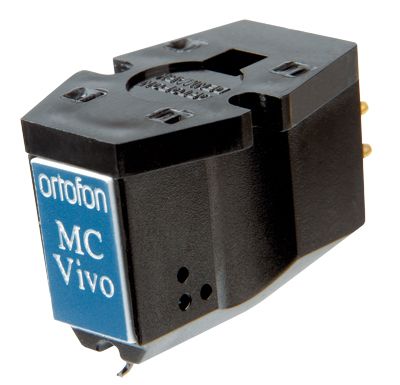 As the largest producer of phonograph cartridges in the world, Ortofon (which is Greek for 'correct sound') produces a wealth of models and ranges to suit every type of listener, from scratch DJ to discerning audiophile. The Vivo range represents Ortofon's entry-level, low output moving-coil models, with the Vivo Red (£220) priced just below the Vivo Blue on test here.
The extra outlay accounts for improved profiling of the Blue's nude elliptical stylus which, according to Ortofon's website, affords a wider frequency range and better tracking ability. The conservative looking casework is made from Lexan DMX, a rigid polycarbonate-based resin which houses coils made from 7N oxygen-free copper wire.
Thanks to the recessed sections on the bodywork, there's plenty of space to hold the nuts while threading the bolts. To protect the stylus and aluminium cantilever, a detachable flip-down guard comes ready fitted. Before removing this, it's worth noting which way round this attaches, and into which holes (there are three on each side), or it will foul the stylus assembly.
BLUE SUEDE GROOVES
Being a brand new sample, our Vivo Blue was treated to an extended break-in, to which 48 hours in a Sting run-out groove can attest. I admit I couldn't resist a listen beforehand, which revealed an even but restrained presentation. Two days later, things had improved further and while a level of control remained, the sound had clearly loosened up. Bass was firm and deep, although with less punch than the Grado or the precision of the Benz Micro.
Surface noise was surprisingly absent, especially for an MC, yet the Vivo Blue removed a considerable amount of dust from pre-cleaned records suggesting the elliptical tip is finely profiled. In contrast to the plain looks of this cartridge the sound is sophisticated, hinting that the real money has been invested into what's going on inside rather than how it's presented.
Beginning with the Mahler, first impressions sounded thin, especially compared to the bolder-sounding models in the group test. Repeated listening, however, revealed the Vivo Blue as more evenly focused, without over-emphasising particular instruments or elements of the soundstage. Treble was sweet and clear but never harsh, although it lacked the crystal clarity of the Benz.
Vocals were a particular strong point. On the Tim Buckley material, his voice was open and expansive and the Vivo integrated his baritone registers seamlessly. Moving on to Led Zeppelin, the Vivo got on with the job in hand, although it lacked some of the excitement of the Nagaoka, and the tone of Jimmy Page's lead guitar had a tendency to sound flat in comparison with the Grado's delivery. With 'White Chalk', PJ's peripheral vocal echoes and harmonies emanated from around the room rather than solely from the plane of the speakers.

Originally published in the September 2011 issue