My Bloody Valentine: Loveless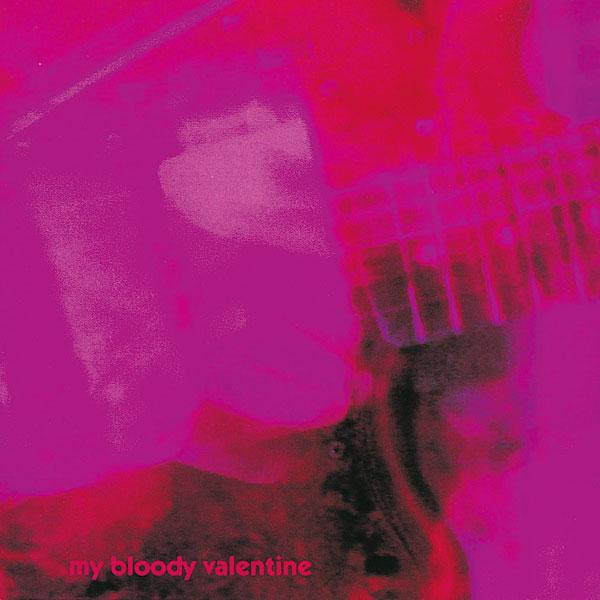 The Dublin quartet's second album took three years to produce and cost them their record deal, but Steve Sutherland couldn't be happier to hear it once again
Before we get started, be warned: 'It's too easy for this album to turn you into a pretentious t**t.' These aren't my words by the way. They're from a book all about Loveless by an American chap called Mike McGonigal, who immediately goes on to prove his point by stating that the first time he heard the album in question, he felt, 'as if I'd been suspended upside down in a tank filled with beautiful fish'.
Masters Of The Universe
Here's a quick shufti at a few other things that Loveless has made hapless scribes scribble down the years: 'It's like a drunken fight between a syrupy Disney soundtrack and an Eastern mantra'; 'the outermost, innermost, uttermost rock record of 1991'; 'a work so grand that it connects us to the limitless universe and reminds us how small we are as individuals within it'.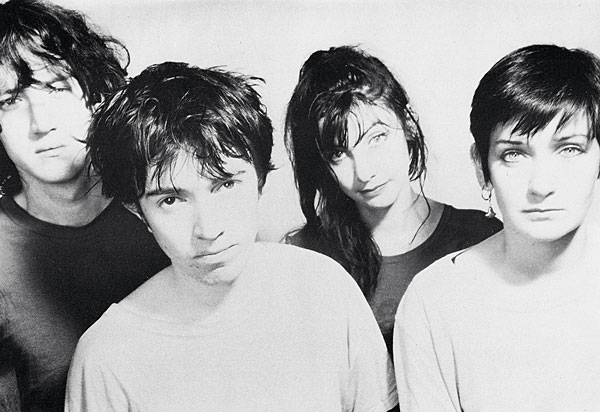 More literary flourishes have been heaped upon Loveless than just about any other record in the whole of history, but we should probably get down to some facts. Loveless was the second LP released by My Bloody Valentine, a quartet from Dublin comprising drummer Colm Ó Cíosóig, bassist Debbie Googe, guitarist and vocalist Bilinda Butcher, and band leader, guitarist, singer, songwriter, producer, boss and visionary Kevin Shields. The group started out kind of Gothy, then sort of Dinosaur Jr-y, and by the time they got round to recording their first LP, 1988's Isn't Anything, for Alan McGee's Creation label, they were way out on their own. 'The sound of this record owes nothing to the past, in any sense – livid, lurid and lucid, it's the shattering racket of the moment, an audio snapshot of the overwhelmed senses, a noise like nothing you've ever heard', waxed one critic.
Such hyperbole was in part fuelled by the fact that My Bloody Valentine went out on tour and played some of the loudest live gigs on the planet. These gigs weren't just, y'know, loud, they were deliberately, painfully and harmfully loud, with a passage – sometimes going on for 40 minutes or more – during a track called 'You Made Me Realise' purposely performed as an extreme experiment in audience manipulation.
'Usually people would experience a type of sensory deprivation', recalled Shields years later. 'They would lose the sense of time. It would force them to be in the moment, and since people don't usually get to experience that, there'd be a sense of elation. It was such a huge noise, with so much texture to it, it allowed people to imagine anything...' And it was in this calculated, meticulous spirit that Loveless was begun.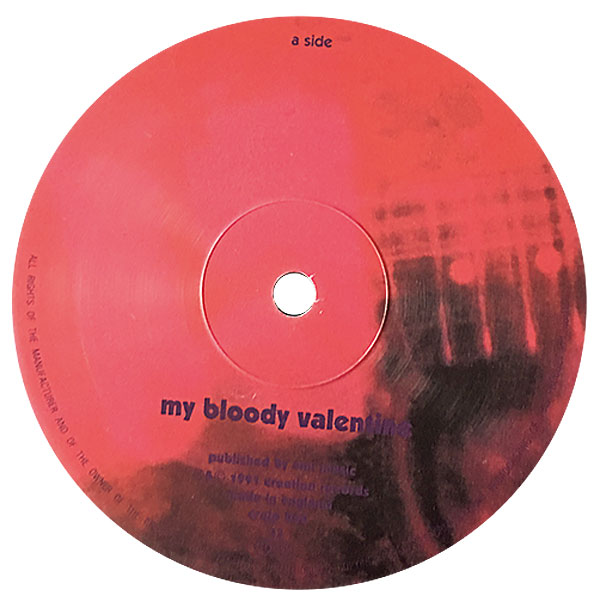 Perfect Storm
It took a long time. Nearly three years in fact, due to a set of circumstances that included the band suffering from tinnitus due to the aforementioned shows and Ó Cíosóig, who was homeless, becoming so ill he could only drum certain patterns. And then there was Shields' now legendary perfectionism, which saw him crawl through 19 different – and in Shields' estimation, mostly sub-standard – studios and pretty much the same number of different engineers, in an attempt to achieve his creative goals.
Of the latter, only Alan Moulder (Jesus & Mary Chain, Ride, U2, Smashing Pumpkins, The Cure, Depeche Mode, etc), who arrived late in the process, and his replacement Anjali Dutt, receive any credit from Shields. Everything, he says, was created and, apart from the drums and co-vocals, was played, recorded and mixed by him.
The vocals were consciously buried under the swirling, swooning guitar, not quite male, not quite female, the mysterious lyrics all but decipherable.
'On "When You Sleep" it sounds like me and Bilinda singing together', recalled Shields. 'But it's just me – me slowed down and me speeded up at the same time. Some songs we sang over and over until we got bored – usually between 12 and 18 times. I started sorting through the tapes and it did my head in, so I just played them all together and it was really good – like one, vaguely distinct voice.'
Here's another peek inside the so-called process, Shields again using 'When You Sleep' as an example: 'We recorded the drums in September '89. The guitar was done in December. The bass was done in April. [This is in] 1990. Then nothing happens for a year really... the melody line was done in '91. The vocals were '91. There were huge gaps though. Months and months of not touching songs. Years. I used to forget what tunings I'd used'.
Later, he estimated that the actual time spent recording Loveless during the three years was, 'about four months'.
Vocals were taped in London's Britannia Row and Protocol studios. On most days, Shields and Butcher arrived without having written any lyrics, 'Kevin would sing a track', Anjali Dutt recalled, 'and then Bilinda would get the tape and write down words she thought he might have sung'.Shields claimed to have 'absolutely no idea' what she was singing.
Loveless was largely recorded in mono with 'the guitar smack bang in the middle and no chorus, no modulation effect, no flange pedals', explained Shields. A disorienting effect came from him using his guitar's tremolo bar while strumming, to bend the strings slightly in and out of tune. 'People were thinking it's hundreds of guitars, when it's actually got fewer guitar tracks than most people's demo tapes', claimed the songwriter.
Creation Myth
Oldsters might consider Shields smitten with a somewhat psychotic Phil Spectorish obsession. Alan McGee on the other hand – never one to pass up on a chance to myth-make – claims the album's snail-paced progress brought him to the verge of a breakdown. When the band entered Blackwing Studios in 1989, he'd expected the record to be made in five days. Instead, he says, it ended up costing a monstrous £250,000, forced him to borrow money from his family, and brought Creation to the brink of bankruptcy.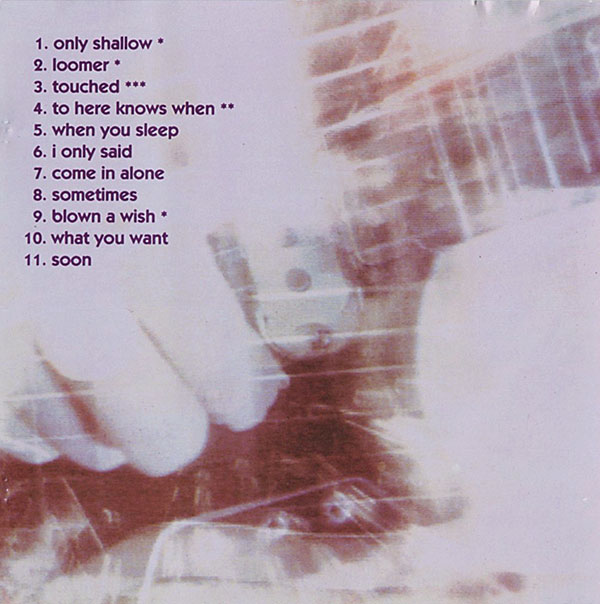 Yet Loveless was perfectly Loveless, right down to the vague song titles – 'Only Shallow', 'Loomer', 'Soon', 'Come In Alone' – and the cover, which looked pretty much the way the album sounded – a blurry image of a guitar, shrouded on a pink haze.
Jettisoned by Creation despite Loveless' glowing reviews – McGee said he couldn't cope with them any longer – My Bloody Valentine signed to Island with the avowed intention of recording a follow-up. Nothing happened. The label stopped paying them in 1997 and dropped them for good (or bad) in 2003. Shields had (temporarily?) lost his mojo and the band disappeared and may have split, only to re-emerge years later in 2013 with an album called m b v. It was good. In fact, it was very good. But it wasn't Loveless, because nothing was, is, will or ever could be.
Re-Release Verdict
Issued by Domino/MBV Records, this 180g gatefold re-release of My Bloody Valentine's ten-track album features a printed inner sleeve, rear-pocket inserts and a WAV/MP3 download card. There are two versions: the analogue-cut Deluxe Edition [REWIGLP159X] and a standard edition mastered from 'new hi-res uncompressed digital sources' [REWIGLP159]. The label has also reissued the band's 1988's Isn't Anything and 2013's m b v on standard and deluxe 180g vinyl. HFN