Musical Fidelity M8pre/ M8700m (m8pre, £3500; M8700m, £4000 Each)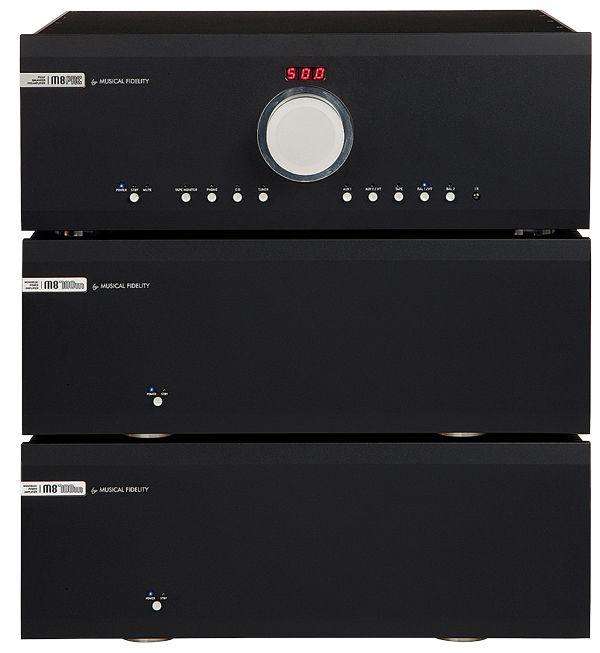 Given the eye-watering cost of today's ultra-high-end amplifiers these M8 components can be counted a relative 'bargain'
Enter Musical Fidelity's latest ultra-high-power creation, described as 'a true heir to the [2008] Titan, delivering near-identical sound'. It's a monoblock design that's considerably more bank-balance friendly, rated at 700W/8ohm, although this transpired to be conservative. It is part of a new series of high-end components, also including the M8PRE preamplifier.
The sturdy casework has a finely-textured black finish and thick aluminium fascias while the M8700m's heatsinks are smoothly finished. The M8PRE is a fully balanced Class A design (although single-ended outputs are provided too). Much of its 17kg mass is due to its heavy casework and substantial twin regulated power supplies, employing a 350VA toroidal transformer and regulation circuitry for each stage of each channel. Extensive use is made of surface mount components to ensure very short signal paths.
There are seven line inputs, two balanced (XLR) and five single-ended (RCA). One of the balanced inputs and/or one of the single-ended inputs can be used as a unity gain pass-through.
A proper tape monitor loop is also provided, while the M8PRE includes a high quality built-in MM/MC phono stage. We found the moving-coil stage to be really excellent – and super-quiet.
The large volume knob controls a laser-trimmed electronic attenuator. MF's remote handset includes a mute button (there's no mute switch on the fascia), and direct input switching.
Virtually identical in size to the M8PRE, each fully balanced M8700m monoblock comprises two power amplifiers in a bridged design to sustain high voltages. Again, a single-ended (RCA) input is provided alongside the balanced input so that the M8700m can be used with any preamp source. Two sets of identical speaker binding posts are provided for easy bi-wiring. Each monoblock weighs 30kg.
Safety belts on
If you crave muscle you'll have little trouble filling a barn of a room with high SPLs with this pre/power combo, even if using the least sensitive loudspeakers you could imagine. With our Townshend Sir Galahad speakers we could barely turn the preamp past 'go'.
We began with Harald Kloser's score to the feature film The Day After Tomorrow [Varèse Sarabande], its achingly beautiful main theme containing thunderous low-end grumbles. Where the subsonic effects can blur the image and harden the sound of the orchestral score, the MF combo's reproduction was grain-free and three-dimensional, without a hint of stridency, dryness or coloration. The sound was fast, explicit, open and sweet in equal measures.
Voices, in particular, popped out of the sonic fabric in a manner that sounded natural, unforced, and alive – razor sharp and vivid yet without a hint of edge or bite. And the bottom end was immensely powerful and full-bodied, tightly controlled and explicit but never sounding over-damped or artificial.
The combo also made easy work of Rickie Lee Jones's Girl At Her Volcano [Warner]. The MF's detailed and refined midband and treble was tied to a punchy bottom end and stunning dynamic range. 'Under The Boardwalk' was clearly etched with an open and airy quality despite the digital recording's dry character.
Verdict
This powerful and refined pre/power combo tracks dynamic swings in recordings with consummate ease. And given the eye-watering cost of today's ultra-high-end amplifiers these M8 components can be counted a relative 'bargain'.
Originally published in the 2013 Yearbook