Mordaunt Short Performance 2 (£2495)
Some very sophisticated technology doesn't quite come together as a cohesive whole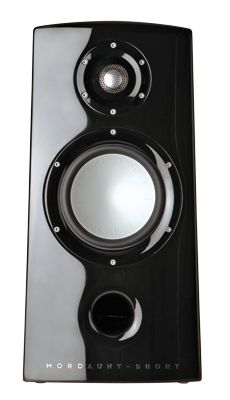 In loudspeaker cabinet construction, curves are good. Curved panels are stiffer than equivalent flat ones – but more difficult to make than the V-groove and wrap box construction that so many speakers today employ. In creating what is the most expensive model in this month's group, Mordaunt-Short clearly devoted a good deal of its budget to abandoning the traditional rectangular wooden cabinet in favour of a curvaceous enclosure moulded from a well damped polymer resin. Deeper at the bottom than at the top, in profile it looks positively Falstaffian.
A second eye-catching feature is the aluminium spike protruding from behind the tweeter, which is vented along its length to dissipate radiation from the rear of the 25mm aluminium dome. Beneath the tweeter, aluminium also features in the concave diaphragm of the Continuous Profile Cone bass-mid unit, which is subtly ribbed for extra rigidity. A flared port beneath provides the reflex loading that helps the Performance 2 to combine the highest sensitivity of the group with acceptable bass extension.
No plug – foam or otherwise – is provided to adjust the bass alignment. Mating the two drivers is a second-order crossover network which includes ClarityCap capacitors 'in all critical parts'. Alternative finishes to the pictured midnight black are granite grey or silver.
SPACE - AT A COST
It's a promising set of ingredients but the Performance 2 didn't quite persuade me in the listening comparisons that it's worth its price premium over the Dynaudio or the PSB, both of which look distinctly puny by comparison but punch above their weight.
What the Performance 2 lacks, for me, is precision. It produces a large, spacious stereo image but it's more generalised than specific.
This was the case on both the Kodály cello miniature and the Scheherazade excerpt – pieces involving quite different forces and acoustic scales. The M-S also just failed to deliver the transparency that the Kodály craves or the unflappable control that's essential to stitch together the quiet and loud parts of the Rimsky-Korsakov in a convincing manner – in fact, the sound hardened and homogenised somewhat on fortissimo passages.
Surprisingly, given its size, the Performance 2 also couldn't match the bass extension and weight of the Dynaudio, a shortfall that was obvious both in the climactic moments of Scheherazade and throughout 'Come Together', which didn't enjoy either the tight, pulsating delivery of the ATC or the sheer 'oomph' of the Focus 160. 'Songbird' also tended a little towards hardness, while 'The Dog Song' – which combines wide, compression-free dynamic range with some searing acoustic guitar transients – didn't live and breathe as it did via the diminutive PSBs.

Originally published in the October 2011 issue