Metallica: The Black Album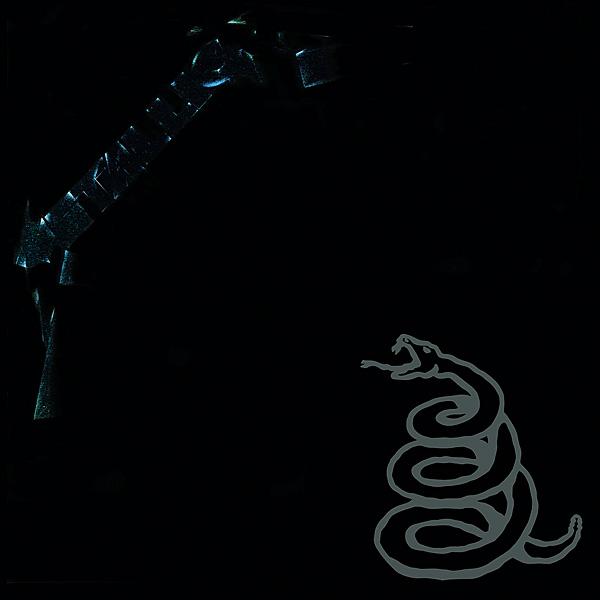 For this fifth long-player, the thrash-metal pioneers transformed into heavy rock titans. Now the LP is out on 180g vinyl, Steve Sutherland relates its rocky birth
Lars Ulrich is not amused. 'Is this the test pressing?' he asks his manager, Peter Mensch. 'No', Mensch answers emphatically. 'That's the jacket, the cover that's going out across the country.'
The Metallica drummer looks at the record sleeve he holds in his hands. 'It's not gonna say anything?'
'No', says Mensch. 'It's gonna be black. Simple. Beautiful. Classic.'
'There's something about this that's so... black.' This is guitarist/vocalist James Hetfield now. 'It's like, how much more black could this be? And the answer is, none. None more black.'
All of this, of course, never happened. It's a scene from This Is Spinal Tap, with the members of Metallica and their manager substituted for the members and manager of Spinal Tap because… well, there's no denying that the cover of Metallica's fifth LP, the eponymously titled Metallica, is 'none more black'. So black, in fact, that it's commonly known as The Black Album, the way The Beatles' 1968 double The Beatles is known as The White Album.
Metallica's previous LP, 1988's ...And Justice For All, had been a monster success in metal circles, reaching No 6 on the Billboard Hot 100 and selling more than six million copies worldwide. It kept the band credible with their fanbase, while growing the audience via the heavily TV-rotated video for 'One'.
Everyone was chuffed in Metallica land. Everyone except the band. For them it felt like more of the same. 'We'd pushed that 50-riffs-and-25-time-changes-in-ten-minutes thing about as far as we could go', said Ulrich.
Sleeper Hit
In 1991 they wanted something different, something more. And that something more came in the shape of the track 'Enter Sandman', built on the heaviest riff Hammett could think of and titled after the terrifying boogeyman who punishes naughty children by visiting them in their sleep and rubbing sand in their eyes. 'Some of the things we tell our kids that are supposed to be soothing, aren't', Hetfield later explained.
On its release, 'Enter Sandman' became the band's defining anthem, even though some hardcore fans accused them of selling out. 'We were scared of falling into the trap of autopilot', says Ulrich. 'People wanted to define us. "Enter Sandman" was the gateway to the next phase of Metallica.' And there were other crucial changes afoot. All previous Metallica albums had been co-produced and mixed by the band themselves on the premise that to relinquish any control would inevitably diminish their true essence.
This time, though, they reached out to Bob Rock, the producer of Mötley Crüe's 1989 album Dr Feelgood, to take a hand in the mix. Rock, who was commercially astute, was apparently equally flattered and bemused by the offer. His mind was made up when, on a vacation driving around the Grand Canyon, he came across a Native American kid by the side of the road, miles from anywhere, wearing a Metallica T-shirt.
Rock got back to the band. His offer? He would mix and produce the album. It wasn't the answer the band expected, let alone the one they wanted. At first they demurred but then, in some sort of cathartic epiphany, they acceded.
'We thought that maybe we shouldn't be so stubborn', recalled Hetfield, 'and maybe see where this would bring us'.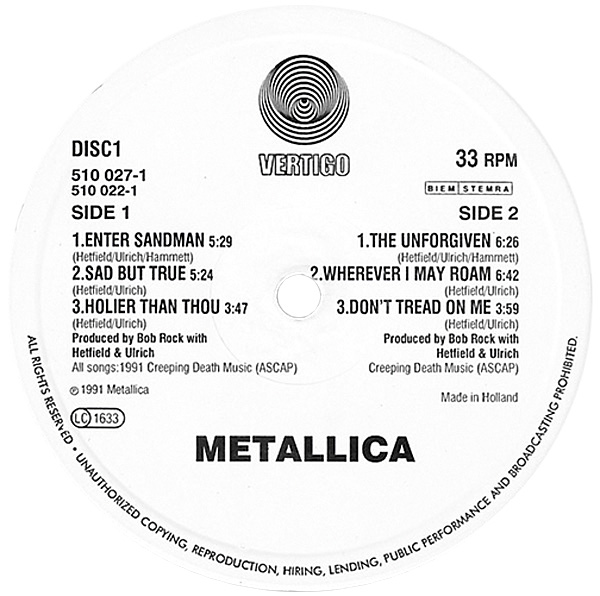 'Some people thought Bob would make us sound too commercial', Hammett continued, 'but we wanted to create a different record and offer something new to our audience… A lot of bands put out the same record three or four times, We made a conscious effort to alter and expand the band's basic elements'.
That's when the trouble really started. Bob Rock had never worked anywhere else but his native Vancouver. Metallica weren't up for that. They compromised, settling on One On One studios in Hollywood, where renowned perfectionist Rock insisted the band play the songs through together, take after take after take, creating a groove and a feel – a method contrary to Metallica's usual working practices. 'The whole first three months of pre-production were very difficult. They were suspicious', noted Rock.
Strange Orchestra
'In retrospect', confirmed Ulrich, 'the months we spent in this room were pure hell. We were just really reluctant. The door was open just enough for Bob to open it more and pull us through. Our reaction was initially negative but when the first few songs started to develop, we realised that the s**t we were doing was a little more open-minded. In the past our stubbornness has been one of our shortcomings, as well as the reasons for our success'.
There were other hassles. Ulrich liked to work at night. Hetfield preferred the day. So Rock ended up in the studio '24-7'. The songs, though, were taking shape beautifully. 'It's too easy to watch the news and write about what you saw', admitted Hetfield. 'Writing from within is a lot harder but once it's out, it feels a lot easier to put your weight behind.' The singer dug deeper and more personal than ever before, and Rock then challenged Metallica to come up with a ballad. And a big one at that, with a symphony orchestra. 'Nothing Else Matters' was scored by Michael Kamen and worked out so well that eight years later Metallica performed (and recorded) a full orchestrated concert.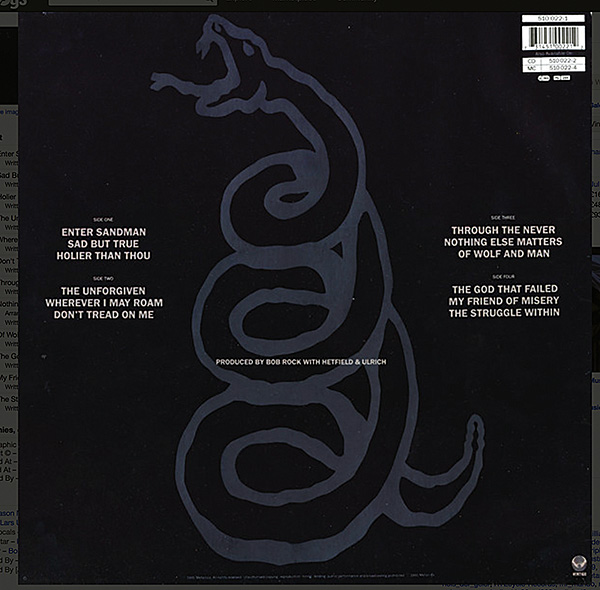 Rock And Roll
The album eventually took a gruelling nine months to complete, mostly down to Rock's fastidious methods. He would spend five hours patching a perfectly pitched note into a Hammett solo. He would push Ulrich through 40 takes, then cut them together 'into one magical track'. Three band members managed to get divorced during this period, which naturally added to the tension. 'To have one record like that in your career, it's truly amazing', Ulrich recalls. 'It was a very creative time. I also remember a lot of nastiness.'
The album cost a million dollars to make – it was mixed three times, searching for the one – but it was money very well spent. It debuted at the top of the Billboard charts, staying there for four weeks and going platinum in two. It claimed top spot in nine other countries and was a fixture on the Billboard chart for 488 weeks. Total US sales would reach over 16 million copies. This may account for the fact that, despite the record's painful birth, the band and Rock settled their differences and continued to work together for a further three albums.
To mark the making of The Black Album, the band created a documentary entitled A Year And A Half In The Life Of Metallica. And guess who featured in it, comparing black album covers. Yup, Spinal Tap!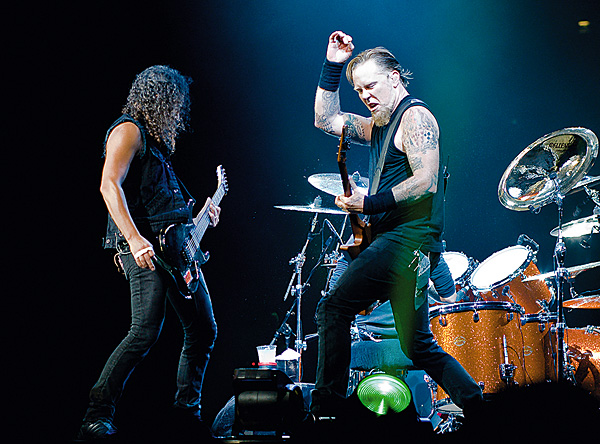 Re-Release Verdict
This double-disc 180g vinyl pressing, issued on Metallica's own Blackened Recordings label, is part of a wave of releases to celebrate The Black Album's 30th anniversary – fans can also choose from the triple CD 'Expanded Edition' and a 6LP/14CD/6DVD 'Deluxe Boxset'. Also released in October is the not-for-profit The Metallica Blacklist, a version featuring the album's 12 tracks covered by 52 artists, including Elton John, Royal Blood and Yo-Yo Ma. HFN