Mastersound Phl 5/845 (£13,790)
A sumptuous Italian pairing with sonics to match the exquisite looks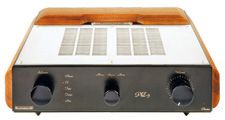 You have to hand it to Italian designers: they sure do know how to make a statement. These mightily imposing valve power amplifiers dubbed 845 Monoblock and accompanying PhL-5 preamplifier simply ooze luxury.
At £9995 per pair, the monoblock employs twin 845 tubes in parallel single-ended pure Class A mode, with two 6SN7 dual-triodes used as drivers and, as you might expect, zero negative feedback. The transformers are hand-wound with litz wire to avoid the use of solder and are 'potted' in a mix of resin and gravel to provide mass damping. Yes: gravel.
To the rear of each 845 are three heavy-duty speaker terminals to provide 8 or 4ohm taps and an unbalanced RCA input. The amp also offers a semi-automatic biasing system which, once regulated at the factory, is designed to give optimal life to the output tubes.
The PhL-5 preamplifier has four line inputs along with a MM-only phono stage for high output cartridges. Two sets of outputs are provided for biamped systems – imagine four of these monoblocks adorning your listening room! – plus a fixedlevel 'record' line output. The preamp can also be switched to mono operation.
These Mastersounds don't employ 'old school' point-to-point wiring throughout. Rather, their printed circuit boards feature 24k gold tracks, and every amp is handassembled over several days in true artisan fashion.
FREE-FLOWING
Our listening notes refer consistently to 'mellifluous' and 'relaxed', the presentation erring on the warm side of neutral with lower registers sounding generously weighty. The SACD of The Look Of Love by Diana Krall [Verve 589 507-2] revealed deliciously warm overtones of female voice and a free-flowing ease, with stringed instruments and piano accompaniment layered beautifully in a deep and airy soundstage. The bass was rich and deeply extended if a little softened around the edges, the luxuriant tonality tending to mask the snap of the plucked strings. High frequencies, meanwhile, were deliciously smooth and sweet. A challenge for any component is the dense and scarily energetic 'wall of sound' on Chase & Status's No More Idols [Mercury 2745135], with its swathes of trouser-flappin' synth bass notes delivered in impressive fashion. The Mastersounds didn't shy away from the chunky blocks of electronica, serving up a full-bodied rendition and avoiding stridency.
VERDICT
Mastersound's 845s aren't hugely powerful, which makes judicious speaker matching essential. But they are Italian, and beautifully finished, thanks to their stainless steel top plates and walnut wood trim. If the price is not off-putting you should give them a listen. With partnering PhL-5 preamp the result is a truly sumptuous sound.

Originally published in the Yearbook 2011