Mark Levinson No52 (£28,000)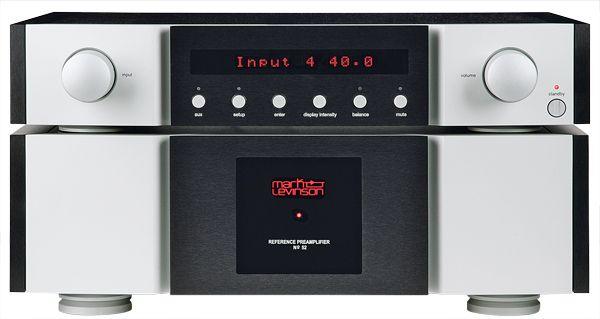 Mark Levinson's development engineers have certainly designed a most glamorous preamplifier
At last, Levinson's flagship No53 monoblock amplifiers [see HFN Jan '11] now have a Reference-status preamplifier with which they may be rightly partnered.
The No52 is a two-chassis component designed with meticulous attention to detail both in its topology and in features that offer comprehensive system configurability. The rationale of this approach is to isolate the pure analogue audio circuitry from any possible source of pollution: it physically separates the power supply and microprocessor-driven controls from the audio electronics contained in the larger chassis.
Volume control is via a precision ladder resistor network with fine gain adjustment in 0.1dB steps. This sits in the No52's audio stage chassis and is shielded in a central chamber, while the rotary encoder that governs it is in the control box.
The controller chassis contains four universal-input power supplies, one for low-current standby, one each for the two audio channels, and an independent supply driving the front panel, power management, RS232 and Ethernet ports. A custom-built toroidal transformer and regeneration circuitry provide 'clean' DC to control relays and audio circuits.
The user interface is simply wonderful – enhanced by a new hardware platform developed specifically to add Ethernet capabilities, firmware access, and configuration backup on a USB thumb drive.
The setup menu for the RIAA stage features multiple loading and gain options to confer compatibility with most high and low-output cartridges. It also provides a switchable 20Hz high-pass filter and allows correction for a cartridge's channel imbalance in very fine (0.1dB) increments.
Being a fully balanced design – including its phono gain stage – single-ended inputs are converted to balanced signals and processed as such throughout. There are three independent outputs available: two Main and one Auxiliary, each available on balanced (XLR) and single-ended (RCA) connectors.
Bewitching
How to describe the sonic character of a preamplifier designed to sound of nothing at all? What we can say is that the No52 transformed the overall performance of our system whatever amplifier we partnered it with, its transparency allowing forensic inspection of fine detail buried in recordings.
And with appropriate audiophile-quality recordings it helped serve up an expansive and enveloping soundstage that drew us in to a musical performance in a manner that was dangerously addictive.
Playing host to the No52 was of course a perfect reason to enjoy hearing those top-of-the-line Mark Levinson No53 Reference monoblocks again. But we don't remember them being quite as bewitching as we experienced on this occasion. The sound was more 'beautiful', brimming with deeply saturated and vibrant tone colours, and always inviting.
We revisited the 96kHz/24-bit recording of the jazz/rock combo Vantage Point on Resolution [AIX]. The No52 opened the musical window so that the texture and resonance of each instrument was portrayed with fabulous accuracy.
All the while the sound was luscious and relaxed, smooth and sweet but without being too creamy or mellow. It was also vivid and ultra-detailed without appearing antiseptically clean, and with instruments' transients sharply spotlighted, it was light of foot while still meaty and powerful.
Verdict
Mark Levinson's development engineers have certainly designed a most glamorous preamp. Not only does it get out of the way of the music, its flexible configurability and pleasing user interface make it a delight to operate. Fabulous.
Originally published in the 2014 Yearbook