Magico A5 Loudspeaker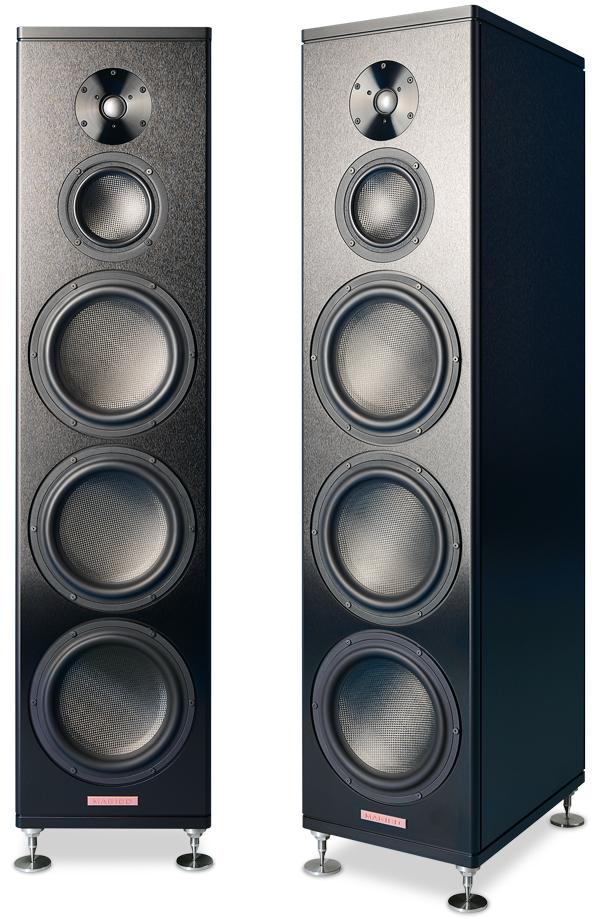 Flagship A series model from California's premier speaker brand is its most advanced 'affordable' floorstander yet
Finding positives during a time when audiophiles and civilians alike are under the cosh of 'that-which-shall-not-be-named' is important, and celebrating those rays of sunshine when we discover them, doubly so. And Magico's flagship A series floorstander is a particularly golden beam of musical light that, so the story goes, might not have been released so soon if it were not for the coercions of Covid. Oops, I mentioned it...
Back in the old world of 2019, Magico had planned a worldwide tour to showcase numerous of its new performance technologies in the very large and very expensive M9 flagship. That, of course, never happened and, instead, the 'trickle-down' of tech to its more affordable A series happened well before the main event itself. This £28k A5, the 180lb/82kg gorilla of the A range, is the result.
A Series Evolution
While the look and feel of the A5 is very much that of an A1 [HFN Jan '20] writ large, in practice the common ground diverges beyond the shared 28mm beryllium dome tweeter and use of 6061-T6 'aircraft grade' aluminium slabs for the cabinet, braced and reinforced by an internal matrix of square-section alloy tubing. Debuted in the A5, and surely the real star of the show here, is Magico's new 105mm midrange driver – the first 'pure mid' unit from the brand, working within its own sealed enclosure. It's smaller, lighter and more rigid than Magico's previous upper bass/mid units, boasting improved dispersion and a higher 350Hz-2.2kHz bandwidth.
The devil, as always, is in the detail and while there's nothing especially satanic about this diminutive 'Nano-Tec' driver, its composite of modern materials is still devilishly clever. Here we find a cellular alloy honeycomb core that's skinned top and bottom with a layer of carbon-fibre and graphene. The increased stiffness pushes primary breakup resonances out beyond the cone's passband so there's less need for (weighty) damping countermeasures. Magico supports and terminates the cone with a very light and compliant foam surround that's simply less restrictive than a rubber roll.

Sure enough, a more substantial rubber surround is deployed for the partnering 175mm woofers, but these are supporting a larger cone with a far longer throw. Otherwise these beefier drivers share the same cone construction as the new mid, again with titanium for the voice-coil former but with a more powerful neodymium-doped magnet instead of the pure ferrite 'engine' of the midrange.
Black Hole
I've already alluded to the A5's substantial weight, the cabinet supported on equally hefty spikes, but there's more to this brushed black anodised enclosure than its slab alloy sidewalls and internal scaffold of bracing. Rarely reported, but key to the cabinet's 'vibration management', is Magico's application of Blackhole 5 damping sheets to the inside surfaces of the alloy panels. This 25mm laminate of foam and glue is cut around the metal bracing matrix and applied to all the exposed internal surfaces.
Another upgrade due for roll-out in the M9, but issued first in the A5 are Mundorf's new 'M-Resist ultra foil' resistors, offering better power handling and thermal performance in Magico's otherwise familiar three-way 'Elliptical Symmetry' crossover. The passive components are heavy, so the crossover PCB is mounted flat on the base of the cabinet. True to form, it's a Linkwitz-Riley network offering fourth-order combined acoustical/electrical roll-offs, preserving positive phase across all drivers, while doing little to dent the high-ish rated 88dB/2.83V sensitivity. This was largely met in practice, albeit at the expense of a tougher-than-average nominal 4ohm load.

Solid As A Rock
With both the Classé Delta pre/power amps [HFN Jun '21] still on hand together with my default Constellation Inspiration Monos [HFN Oct '19] sitting alongside, I was rather spoilt for choice when time came to fire-up the A5s and hear what all that graphene, carbon-fibre and beryllium could deliver. And deliver it does, not just 'in spades' but with a breathtaking lightness of touch that finds the midrange as fast and transparent as the treble, underpinned by a bass that's not only quick but as deep as it is slick. There's not one facet of the A5's sound that's out of step with the other, its performance combining the litheness of a marathon runner with the dynamic power of a 100m sprinter.