Karen Dalton: In My Own Time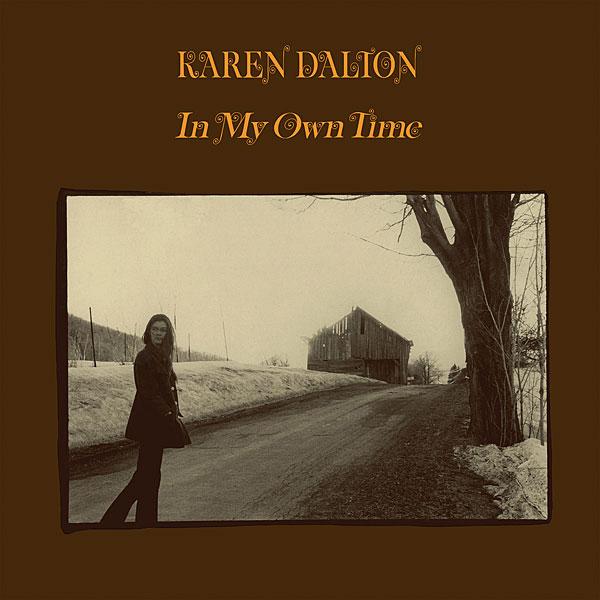 This 180g reissue of the American folk singer's second – and final album – gives Steve Sutherland a chance to sample a voice that's 'best served with whiskey...'
I'm reading a book at the moment called Seasons They Change: The Story Of Acid And Psychedelic Folk by Jeanette Leech. Pretty much on every page there's reference to an artist or band that I've never heard of, which is some going as I like to think I know a thing or two about music. Anyway, with Spotify or YouTube at the ready, over the past few weeks I've sampled the wares of such artists as The Habibiyya, Jan Dukes De Grey, Malicorne and many more.
Truth be told, much of the time the excitement of discovery and the stories in the book turn out to be way, way more enjoyable than listening to the artists themselves. But not Karen Dalton.
Oh, she's in the book alright, but nothing – and I mean, nothing – written about Dalton comes close to doing justice to the thrill of listening to her play and sing. She's become one of those almost mythical figures who seems to embody everything real and true and great about music and yet, despite the evangelical efforts of some famous disciples, she so far evades widespread recognition.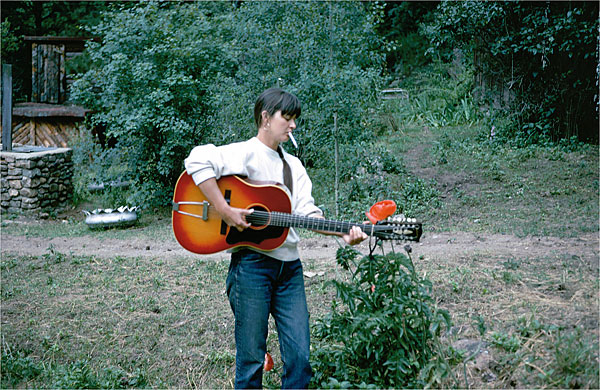 Jamming With Dylan
Born in 1937, Dalton grew up in Texas and Oklahoma but had reached New York by the time she was 21, with two divorces behind her and two young children to fend for. Playing 12-string guitar and banjo, she gigged around the Greenwich Village folk circuit, jamming with such future luminaries as Fred Neil, Tim Hardin and Bob Dylan. According to the latter, in his memoir Chronicles: Volume One, she had 'a voice like Billie Holiday and played guitar like Jimmy Reed'.
There's scant material to go on, but what there is backs up Dylan. Apparently she was a fairly reluctant performer (who always sang with her eyes closed) and getting her to record anything was a tricky task. She only ever did two albums, and the first, released under the title It's So Hard To Tell Who's Going To Love You The Best in 1969, was nabbed on the sly. Dalton had been invited to contribute to a Fred Neil studio session and, whilst there, she jammed with a bunch of other attendee musicians unaware that the tape was rolling. These precious one-takes are raw as hell and all the more pure for it.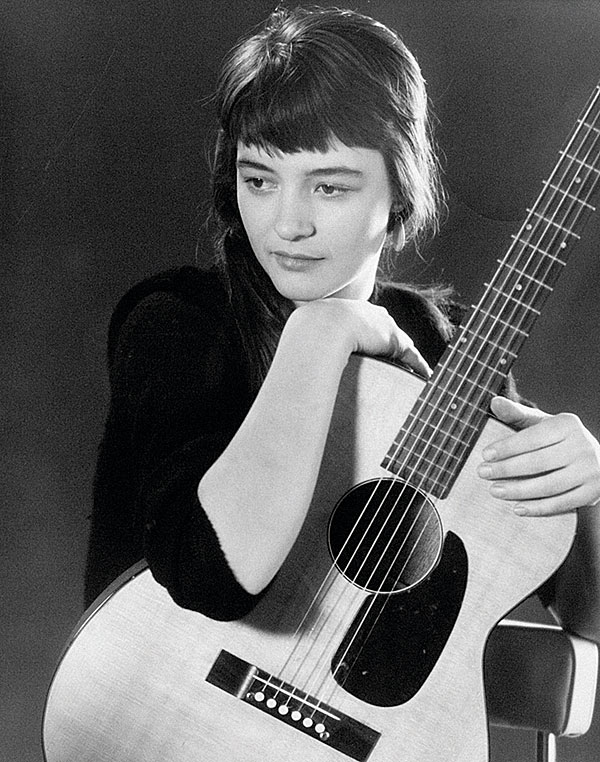 Apart from the style of her music – you might call it country blues – the big difference between Dalton and other recently (re)discovered and revered artists such as Judee Sill and Linda Perhacs was that she penned few original compositions and recorded none, preferring to pour her energy into carefully chosen covers. And that's what constitutes her final and second LP, In My Own Time, that we're celebrating here.
Recorded at Bearsville Sound Studio in Woodstock, New York and released in 1971 on the Just Sunshine label, the album was produced over a six-month period by Harvey Brooks. Brooks had played bass on Dalton's debut and rounded up a choice posse of local session players to back her. It's said she brought her two teenage kids, her dog and her horse from Oklahoma to help her feel more at ease.
Smashed To Pieces
In My Own Time kicks off with what has become her signature tune, a cover of Dino Valenti's 'Something On Your Mind'. Valenti was something of a tragic figure himself – jailed for drug possession in the early 1960s and forced to sell on the publishing rights of his biggest money-maker, the hippie anthem 'Get Together', to pay his legal bills – but Dalton's version of 'Something...' is as majestically mournful as it ever gets. Her pensive vocal is paired with the melancholy violin of Bobby Notkoff, who had contributed similar deep sadness to Neil Young And Crazy Horse's 'Running Dry (Requiem For The Rockets)' on 1969's Everybody Knows This Is Nowhere.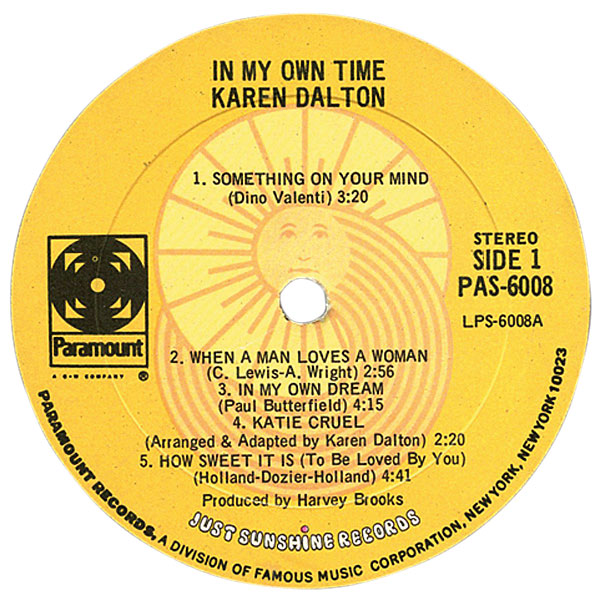 'I must have played (it) a million times', says Dalton fan Nick Cave of 'Something On Your Mind'. 'It's just the most extraordinary vocal I've ever heard. And I've heard Billie Holiday and I guess that there are comparisons, but there is something else as well going on in this voice. I was going to say it's a fragile voice but of course it's not a fragile voice, because it's been smashed into a million pieces.'
Writing in the sleeve notes to this new 180g vinyl release, rock veteran Lenny Kaye concurs: 'Her voice was as much horn as vocal chord, a muted trumpet or alto saxophone that slid downward towards the bluish'. Or, as another critic put it: 'Both supple and gravelly, and sad as hell, hers is the kind of sound that complements solitude and is best served with whiskey'.
In My Own Time is more fully-arranged and musically furnished than Dalton's debut, and the choice of material way more broad, but her voice retains the quality of scorched earth. A plaintive cover of the Percy Sledge soul hit 'When A Man Loves A Woman' is achingly beautiful, and such is her ability to make the work of others her own, she turns the sugar-coated Holland-Dozier-Holland Motown hit 'How Sweet It Is To Be Loved By You' into something damn near devotional. Her gospel embodiment of the George Jones/ Leon Payne country ballad 'Take Me' takes us straight to church, while her bruisingly personal retelling of the traditional folk song 'Katie Cruel' is all frayed and naked nerves, accompanied by plucked banjo.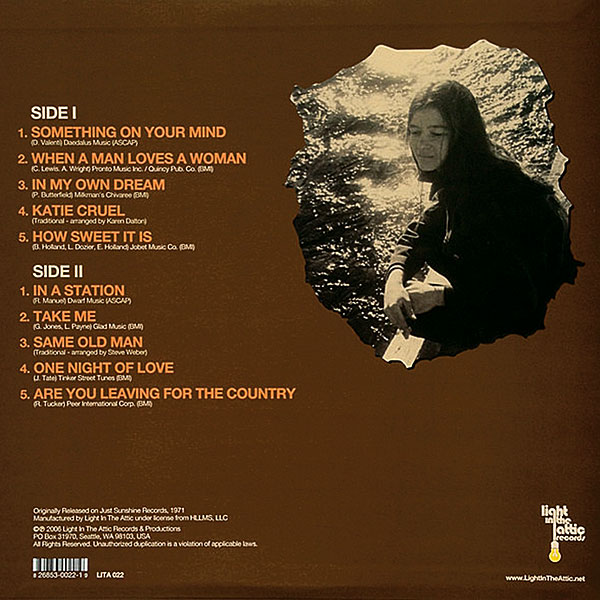 Beat Generation
In My Own Time was not the commercial breakthrough that Dalton hoped for and from then on, she partially retired, eventually falling into alcoholism and hard drug use. She died with AIDS-related complications, aged 55, in 1993.
'She was of the old beat generation that felt you had to be burning the candle both ends and dying of hunger to call yourself an artist', recalled fellow musician (and no relation) Lacy J Dalton. 'I've always called them canaries in the coalmine, because they were in some ways hypersensitive to what was going on in the world.'
Light In The Attic first reissued the album in 2006, and has returned with a '50th Anniversary Super-Deluxe Edition' featuring a new remaster across three sides of 180g vinyl, plus a fourth with alternate takes from the Bearsville sessions. There's also a recording of Dalton's performance at The Montreux Golden Rose Pop Festival in May 1971, the first time this audio has been made available in any physical format, plus other treasures [see boxout below].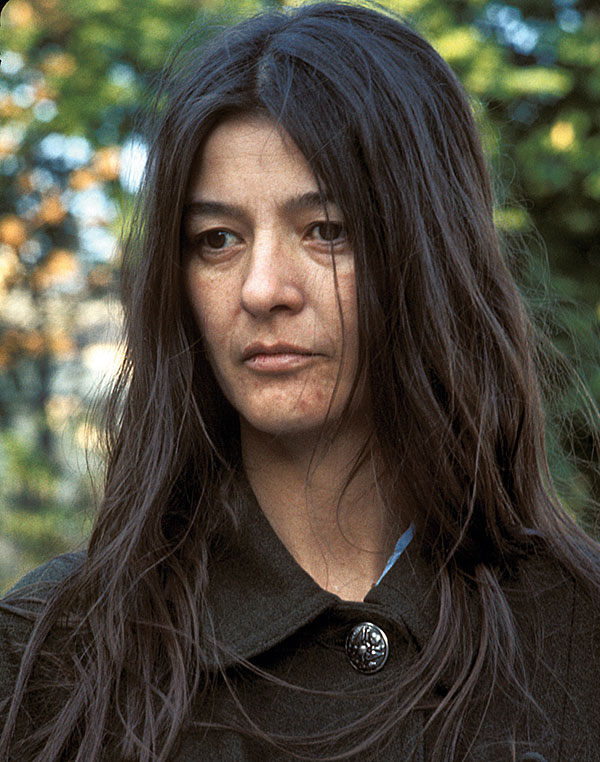 Lenny Kaye's liner notes conclude: 'Such manifest talent should be hosanna'd from the highest peaks, and yet Karen Dalton is a name known only to cognoscenti'.
I beseech you now, become one.
Re-Release Verdict
Described by Light In The Attic as the 'definitive edition' of Karen Dalton's 1971 album, this triple-gatefold 180g vinyl release [LITAC 200] has been pressed at RTI (Record Technology Inc). Included in the In My Own Time 50th Anniversary Super Deluxe reissue are a bonus 12in live festival recording, a pair of 7in singles, a CD of all tracks, replica Montreux playbill, and a 20-page booklet. The production is limited to 2000 individually foil-stamped and numbered copies. HFN